The Gentleman's Daughter
WARNING
You are viewing an older version of the Yalebooks website. Please visit out new website with more updated information and a better user experience: https://www.yalebooks.com
Women's Lives in Georgian England
Amanda Vickery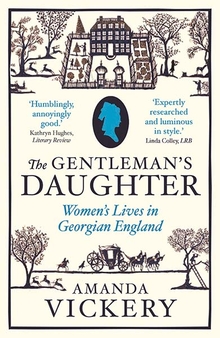 View Inside
Format:

Paper


Price:

$28.00
Also Available in:
Paper
Cloth
Click here to listen to the author discussing the life of Elizabeth Shackleton on the Oxford Dictionary of National Biography Podcast.
What was the life of an eighteenth-century British genteel woman like? In this lively and controversial book, Amanda Vickery invokes women's own accounts of their intimate and their public lives to argue that in the eighteenth and early nineteenth centuries the scope of female experience did not diminish—in fact, quite the reverse. Refuting the common understanding that in Georgian times the daughters of merchants, the wives of lawyers, and the sisters of gentlemen lost female freedoms and retreated into their homes, Vickery shows that these women experienced expanding social and intellectual horizons. As they embraced a world far beyond the boundaries of their own parishes through their tireless writing and ravenous reading, genteel women also enjoyed an array of emerging new public arenas—assembly rooms, concert series, theater seasons, circulating libraries, day-time lectures, urban walks, and pleasure gardens.

Based on the letters, diaries, and account books of over one hundred women from commercial, professional, and gentry families, this book transforms our understanding of the position of women in Georgian England. In their own words, they tell of their sometimes humorous, sometimes moving experiences and desires, and of their many roles, including kinswoman, wife, mother, housekeeper, consumer, hostess, and member of polite society. By the nineteenth century, family duties continued to dominate women's lives, yet, Vickery contends, the public profile of privileged women had reached unprecedented heights.
Amanda Vickery is lecturer in modern British women's history at Royal Hollowly College, University of London.
"This is an enthralling book, pungently written, vivid in detail, rich in insights. Reading it we feel we are privileged but invisible spectators of the daily life of a distant era."—Roger Hainsworth, Adelaide Review


"Gentleman's Daughter makes an important contribution to our understanding of what elite women were doing in the eighteenth and early nineteenth centuries. . . . This is a marvelous study that introduces important new evidence about elite women's relationships to marriage, their children, material possessions, servants, sociability and a host of other topics. It is destined to have an enduring influence on the field."—Margaret R. Hunt, Albion



"[An] ambitious, richly detailed, and important book. . . . Vickery . . . provides the basis for a fascinating and useful rethinking of both separate spheres and public and private and how they changed. . . . [Vickery] has been careful, honest, and respectful of those she studies, and has given new life to their experiences in a well-written and beautifully produced book. It is no small accomplishment."—Susan Dwyer Amussen, American Historical Review


"This scholarly, self-assured work is both a major contribution to the study of women in eighteenth-century England and a delight to read. . . . [Vickery] is much to be congratulated for producing a bold, well grounded and interesting study."—Jeremy Black, Archives




"Readers of this controversial and well-argued book will find much detail about everyday life in the provinces, and excellent index, and dozens of informative contemporary engravings."—Linda V. Troost, Biography



"Amanda Vickery uses a sharp eye and a wickedly acerbic wit to point out the differences between Kent and Yorkshire during that period between the panniered skirts of William and Mary and the corsets and crinolines of Queen Victoria."—Christine Barker, Birmingham Post



"Phenomenally at ease with the detail of her meticulously researched primary sources, [Vickery] meanders with accuracy and deceptive insouciance through the honeycomb of late Georgian correspondences and diaries of a considerable number of what she describes as 'elite women.' . . . The perceptions are diverse and the range of subjects is ambitious."—Anthony Mould, British Art Journal


"A unique and fascinating picture of a neglected group."—Hannah Barker, British Journal of 18th Century Studies



"Vickery's lively, hard-hitting book challenges the standard model of women's relegation to a separate, private sphere over the course of the 18th century in England. . . . This is an important book that will demand attention for its adventurous thesis and thoughtful use of evidence."—Choice



"This engrossing book . . . has already won three prestigious prizes and satisfies the fascination for details about the loves, marriages, motherhood and domestic activities of gentlewomen in an era once dismissed by feminists as too trivial a topic for study. . . . By beavering scrupulously away through hundreds of dusty documents, Vickery has produced an historical analysis that demolishes the popular notion that during the 18th century women lost their freedom and retreated to the home."—Val Hennessy, Daily Mail


"A lively and engrossing, sometimes funny study of 18th century genteel women. Serious history if rarely this much fun."—Financial Times


"This scholarly, self-assured work is both a major contribution to the study of women in eighteenth-century England and a delight to read."—Jeremy Black, History Today



"The Gentleman's Daughter is written with charm and suffused with wry commentary that testifies to Vickery's intimacy with her subjects. It is both an academic triumph and a spell-binding read."—Julie Wheelwright, Independent



"Vickery allows her 'gentlemen's daughters' their own voices. What they tell us opens a fascinating window into a world where challenges common to both our live and theirs find very different responses, and where the satisfactions of 18th-century society can be thoughtfully compared with our own."—Judith Fiedler, JASNA News


"This book successfully refines several prevalent interpretative paradigms, most notably the purported decline of propertied women in indolence and luxury and the rise of separate spheres. Vickery instead reveals the extent of female activity, and that women saw themselves as strong, with great powers of fortitude and self-command. . . . Charmingly challenging."—Linda A. Pollock, Journal of Social History


"In this entertaining and important book Amanda Vickery provides 'a study in seemliness.' . . . Her meticulous research is evident throughout, and the intellectual achievement in marshalling the teeming detail is considerable. . . . With depth and insight Vickery has shown how—for provincial genteel women in the eighteenth century, at least—'masculine authority was formally honoured, but practically managed.'"—David Wilkinson, Journal of the Historical Association



"This meticulously researched social history should be welcomed by specialists in British and European women's history. Vickery . . . challenges the standard argument that once the industrial revolution took production out of the home, women's lives were marginalized in the domestic sphere. . . There is good information here on household management, servants, material culture, shopping and consumption, and female attitudes on courtship, pregnancy, motherhood, and child rearing."—Library Journal


"The Gentleman's Daughter achieves a near-perfect synthesis of narrative and analysis. It is humblingly, annoyingly good."—Kathryn Hughes, Literary Review


"Innovative, expertly researched and luminous in style."—Linda Colley, London Review of Books



"Based on a wonderfully rich trove of period documents (including 66 illustrations) Vickery's analysis is both rigorous and readable."—Publishers Weekly



"It is an engrossing book. At one level it can be enjoyed for the vivid social detail that it purveys—the absolute stuff of history."—Antonia Fraser, Sunday Times


"Come up with the idea that women were marginalized (in almost any century since the Middle ages) and historians can then ignore them. Amanda Vickery refuses to follow grand generalizations . . . and uses letters, diaries and account books of more than 100 women to let them speak about their lives for themselves. The result will please the academic who wants a good argument and the general reader who will enjoy a read that wittily shows women living within the bounds of a propriety which turn out to be less restricting than has been thought until now."—Desmond Christy, The Guardian


"A graphic, voice-filled study of Lancashire gentry."—The Observer



"Written with such common sense and sensitivity. . . . A richly enjoyable feast of social history."—Kate Chisholm, The Sunday Telegraph



"The best book on 18th-century women. Turning her back on 'victim studies,' Vickery shows women as robust participants in commercial and family life."—Amanda Foreman, The Week



"The Gentleman's Daughter is the most important work of social history since Lawrence Stone's Family, Sex and Marriage. From now on, any historian writing about 18th-century women will have to address the arguments in Vickery's book. . . . [It] is the first book to bring out into the open the debate about separate spheres. It succeeds on two levels, first as an academic argument of the highest order, and second as a fascinating and enjoyable read. Serious history is rarely this fun."—Amanda Foreman, Times


"In the record offices of Lancashire, Yorkshire and Cumbria, [Vickery] has found a gold mine in the realm of women's history: letters and pocket-book diaries kept by the daughters, wives and mothers of gentlemen of the eighteenth and nineteenth centuries, allowing us to hear their voices as they experience courtship, marriage, motherhood and widowing, and to enjoy direct accounts of their domestic and social preoccupations. Material of the kind is precious, and Vickery, who teaches history, is to be congratulated on her discoveries, and on her careful handling and publication of the material. . . . Vickery . . . is to be congratulated on her discoveries, and on her careful handling and publication of the material."—Claire Tomalin, Times Literary Supplement


"The most important thing in English feminist history in the last ten years."—Roy Porter


Co-winner of the 1998 Longman-History Today Book of the Year Award
Co-winner of the 1998 Wolfson Literary Award for History

Winner of the 1998 Whitfield Prize
ISBN:
9780300102222
Publication Date:
August 11, 2003
448 pages, 5 x 7 3/4
66 b/w illus.