Behind Closed Doors
WARNING
You are viewing an older version of the Yalebooks website. Please visit out new website with more updated information and a better user experience: https://www.yalebooks.com
At Home in Georgian England
New in paperback
Amanda Vickery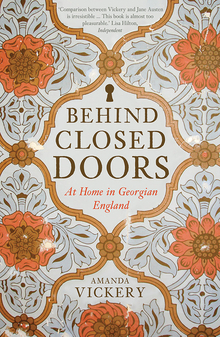 View Inside
Format:

Paper


Price:

$25.00
Also Available in:
Cloth
Paper
e-book
In this brilliant work, Amanda Vickery unlocks the homes of Georgian England to examine the lives of the people who lived there. Writing with her customary wit and verve, she introduces us to men and women from all walks of life: gentlewoman Anne Dormer in her stately Oxfordshire mansion, bachelor clerk and future novelist Anthony Trollope in his dreary London lodgings, genteel spinsters keeping up appearances in two rooms with yellow wallpaper, servants with only a locking box to call their own.
Vickery makes ingenious use of upholsterer's ledgers, burglary trials, and other unusual sources to reveal the roles of house and home in economic survival, social success, and political representation during the long eighteenth century. Through the spread of formal visiting, the proliferation of affordable ornamental furnishings, the commercial celebration of feminine artistry at home, and the currency of the language of taste, even modest homes turned into arenas of social campaign and exhibition.
Amanda Vickery is Professor in Early Modern History at Queen Mary, University of London, and the author of The Gentleman's Daughter: Women's Lives in Georgian England, which won the Whitfield, Wolfson, and Longman History Today prizes.
"If until now the Georgian home has been like a monochrome engraving, Vickery has made it three dimensional and vibrantly colored.  Behind Closed Doors demonstrates that rigorous academic work can also be nosy, gossipy, and utterly engaging."
—Andrea Wulf,
New York Times Book Review
"Vickery's great skill lies in combining a sharp forensic eye with the ability to spot and tell stories, moving between different scales so smoothly that you can't see the joins. And then there is the wit of the thing. Few academic historians manage to be so funny without compromising the seriousness of their work. She did it 10 years ago in The Gentleman's Daughter and she has done it again here. It was worth the wait."—Kathryn Hughes, The Guardian

"We see the Georgians at home as we have never seen them before in this ground-breaking book. Vickery can make a young wife's arrangement of china into an event of thrilling social and psychological tension. Behind Closed Doors is both scholarly and terrifically good fun. Worth staying at home for."—Frances Wilson, Sunday Times
"Amanda Vickery has uncovered wonderful stories and characters, and written a book that is amusing as it is scholarly. You can hear her voice on every page."—John Mullan

"How many academic books make readers laugh out loud? My guess is that I won't be alone in having that experience of Behind Closed Doors ... [Behind Closed Doors] reveals in a fundamentally novel way how the language of taste actually functioned for those outside of the well-known literary and philosophical elite in this period. Indeed, as someone who imagined they knew the scholarship on interiors, I learned something on almost every page; and it's also not a small thing to say that unlike almost all the other published books on interiors available, I got the strongest possible sense that Vickery had lived in an interior, and understood how interiors work on a day to day level." - Dr. Jason Edwards, University of York
"Vickery is rare as an author who can speculate as to how certain events might actually have felt to those involved, whilst keeping the discussion firmly rooted in the sources and not seeming overfanciful. This is a beautifully written book. It includes important research and thorough engagement with current debates, whilst managing to tell a whole series of cracking good stories."—Dr. Kate Retford, Birkbeck College, University of London
"[Behind Closed Doors] stands out … [It] not only revels in the details of domestic life, it offers a very funny way of looking at otherwise familiar historical characters. Whoever would have guessed that the Duke of Cumberland, the Butcher of Culloden, had such an eye for a well-turned vase?" — Dominic Sandbrook, Daily Telegraph
"An evocative account of life in Georgian England … How much we owe historians who trawl through the illegible and scattered archives for us to assemble these alternative accounts of history." — Margaret Drabble, The Guardian
Behind Closed Doors was highly commended by the judges of the Hessell-Tiltman prize for history and described as "outstanding in every way."
"Driven by colorful diaries of the time, as well as illuminating letters and other contemporary material such as household accounts, Vickery's scholarly but amusing narrative brings the high and lows of Georgian housekeeping to brilliant life.--Mitchell Owens, Elle Decor
 
"To say something that is at once original to the expert and exciting to the common reader, the historian must combine a heightened mastery of the material with a clarity of prose. No wonder such works are rare; Amanda Vickery's wonderful book should therefore be celebrated."--The New Republic

'This history of house interiors in Georgian England is a sparkling and erudite work from one of our best historians.' — Daily Telegraph
"Vickery crosses disciplinary divisions and pursues her subject through an array of sources, from diaries and letters and ledgers, to novels, pattern books and advertising. . . . Absorbingly narrated."—Eighteenth-Century Fiction

"Amanda Vickery's study charts Georgian's ceaseless attempts, successful and not, to form homes and homelike spaces for themselves and then furnish them with objects that expressed their personalities, their status, and their times."—Margaret R. Hunt, American Historical Review
"An impressive book. Vickery should take a bow for her masterful use of visual and material culture as objects of historical inquiry."—The Journal of British Studies
Shortlisted for the 2009 Hessell-Tiltman Prize for History: Behind Closed Doors was highly commended by the judges of the Hessell-Tiltman prize and described as "outstanding in every way."
ISBN:
9780300245721
Publication Date:
February 26, 2019
400 pages, 5 x 7 3/4
80 b/w + 25 color illus.