Household Gods
WARNING
You are viewing an older version of the Yalebooks website. Please visit out new website with more updated information and a better user experience: https://www.yalebooks.com
The British and their Possessions
Deborah Cohen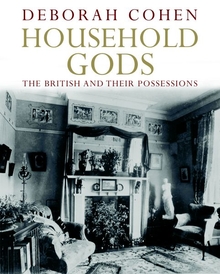 View Inside
Format:

Paper


Price:

$25.00
Also Available in:
Cloth
A fascinating account of the British preoccupation with homes, interior decoration, and personal possessions since 1830

At what point did the British develop their mania for interiors, wallpaper, furniture, and decoration? Why have the middle classes developed so passionate an attachment to the contents of their homes? This absorbing book offers surprising answers to these questions, uncovering the roots of today's consumer society and investigating the forces that shape consumer desires. Richly illustrated, Household Gods chronicles a hundred years of British interiors, focusing on class, choice, shopping, and possessions.

Exploring a wealth of unusual records and archives, Deborah Cohen locates the source of modern consumerism and materialism in early nineteenth-century religious fervor. Over the course of the Victorian era, consumerism shed the taint of sin to become the preeminent means of expressing individuality. The book ranges from musty antique shops to luxurious emporia, from suburban semi-detached houses to elegant city villas, from husbands fretting about mantelpieces to women appropriating home decoration as a feminist cause. It uncovers a society of consumers whose identities have become entwined with the things they put in their houses.
Deborah Cohen is associate professor of history at Brown University. She lives in Providence, Rhode Island.
"A beautifully composed and compellingly written tour d'horizon of the growing British obsession with decorating the home. . . . A wonderful book."—Peter Mandler


"[An] excellent new history of the British and their possessions… So much of what Cohen identifies in her insightful survey of Victorian and Edwardian consumerism seems to reflect upon our own age… We have rediscovered the sanctity of our household gods, and the sense of moral wellbeing that they impart."---Ben Macintyre, The Times
"Deborah Cohen's book looks in another, and more rewarding, direction... Cohen herself does not make judgements; it's clear, however, that what she seeks out and admires is individuality and an independent spirit...[that] the social historians of the past had overlooked... What we've lost is the sense of fun that Deborah Cohen glowingly conveys. This is a good book, and a salutary one."---Miranda Seymour, Literary Review
"This book wonderfully illuminates how close to the British heart is the domestic, how much home explains about British character and history.  Splendidly illustrated, Household Gods is a breathtaking achievement."— Peter Stansky
 "In Deborah Cohen's invigorating study, houses and their decoration become battlefields in which husbands and wives fight for mastery or are mastered by their possessions." —Mark Girouard
"In this riveting and revealing book, Deborah Cohen takes the reader on a journey through interiors cluttered with papier-mâché beds, fire screens set with stuffed birds, soup tureens shaped as boar's heads and baths decorated with shells. . . . If you want to understand the roots of Britain's peculiar taste for home improvement and today's obsession with DIY, IKEA shop openings, makeover and property TV programmes, Household Gods provides all the answers."—Andrea Wulf, The Guardian
"[Cohen's] is a genuinely fresh approach, diverging from the mainstream furrow ploughed by most historians to concentrate in the main on real lives and real choices—of 'life lived outside the tyranny of grand design'—and she does it subtly, confidently and with real pace."—Kate Colquhoun, Daily Telegraph
"Cohen writes with great wit and clarity. She's as perceptive on contemporary property programmes (covered in an epilogue) as she is on Henry Cole and fin de siècle orientalism."—John O'Connell, Time Out  (Book of the Week)
"[A] wonderful book."—Katherine A. Powers, Boston Globe
"By the close of the 19th century . . . the department store (and the model room) had been invented and one's things and how they were arranged were seen to be an expression of another new invention: personality. These are the themes of Household Gods by Deborah Cohen, who cheerfully explores a century of thinking about home in England, from 1830 to 1930, with a focus on the raucous period of 'bad tastes'—when rooms become choked with bric-a-brac, draperies and dried flowers—around the turn of the century."—Penelope Green, New York Times (Home & Garden)
"[A] witty and beguiling history of a hundred years of British domestic interiors."—Ligaya Mishan, New York Times Book Review
"By relating matters of style and taste in the home to the larger trends in contemporary thought, and substantiating her findings from fresh sources like unpublished diaries, trade journals, household magazines and even stockbooks, Cohen has produced a hugely informative book which is also a delight to read. It is even a delight to look at, with just over 150 well-chosen contemporary illustrations, essential in a work on such a subject. . . . Household Gods itself is a treasure-trove."—Jacqueline Banerjee, The Victorian Web
"[An] interesting new study."—Alison Lurie, New York Review of Books
"This diverting, tellingly illustrated book takes us through the dim heart of Victorain clutter and into the fresh air of the modern design that swept it away."—The Atlantic
"...entertaining and scholarly..."---Paul Barker, Times Literary Supplement
"In her research, academic Deborah Cohen has gone far beyond the cosy confines of the V&A, mining unpublished diaries, trade papers and the stockbooks of provincial retailers. This is entirely apt, as the design reformers whom we regard as important now - John Ruskin, William Morris and Henry Cole - had minimal impact on the tide of gutta-percha mouldings, faux inlay and pinr grained to look like mahogany. Instead it was a new breed of amateur 'lady art advisors' linked to new interiors magazines, that were the Delias of their day."---Damian Thompson, World of Interiors
"Household Gods is engagingly written, well researched and beautifully illustrated. It makes a significant contribution to our understanding of consumption, especially in terms of its articulation with domestic space and the making of cultural identities."---Times Higher Education Supplement  
'...Household Gods is an extremely well-researched and fascinating approach to a subject that couldn't be more timely, considering the plethora of home-decorating television programs that have cropped up in the past decade.'  - Karl Green, International Auctioneers Magazine
"Beautifully illustrated, finely crafted. . . . Cohen's fine book rescues this important subject from the collectors and connoisseurs, providing us with a stimulating account of one of the most prominent, if often trivialized, dimensions of modernity."—John R. Gillis, American Historical Review
"In Household Gods, [Cohen] has produced a wonderfully evocative and richly illustrated account of the bourgeois household and set out an intriguing thesis that will exercise the minds of historians for some years to come. . . . This is an impressive volume, ambitious in scope and wonderfully presented."—Matthew Hilton, Victorian Studies
"The study reveals the author's extensive knowledge of art history combined with a broad expertise in the history of nineteenth-century Britain. Splendid illustrations provide an excellent complement to the elegant writing." —Heinz-Gerhard Haupt, Journal of Modern History
'Well-researched and beautifully illustrated, it is also a very good read, an increasingly rare thing among works of historical scholarship…This is an attractive work of cultural history.'
"Readable and excellently illustrated." - Tablet
Shortlisted for English PEN's Hessel-Tiltman History Prize
Winner of the 2007 Morris D. Forkosch prize given by the American Historical Association, for the best book in English on Britain since 1485.
Co-winner of the 2007Albion Book Prize from the North American Conference on British Studies for the best book on any aspect of British Studies since 1800.
ISBN:
9780300136418
Publication Date:
October 27, 2009
336 pages, 234 x 189
100 b/w + 15 color illus.