The Facts of Life
WARNING
You are viewing an older version of the Yalebooks website. Please visit out new website with more updated information and a better user experience: https://www.yalebooks.com
The Creation of Sexual Knowledge in Britain, 1650-1950
Roy Porter and Lesley Hall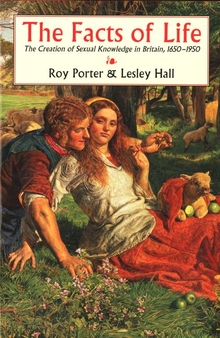 View Inside
Format:

Cloth


Price:

$65.00
This remarkable book traces the development of sexual knowledge and guidance in Britain over three centuries. An absorbing, shocking, and often moving narrative, it investigates how views on sexual activities, sexual disorders, sexual pleasures, and sexual proprieties evolved through the years.

Roy Porter and Lesley Hall explore the moral, religious, scientific, medical, domestic, social, and cultural backgrounds of various periods in which sexual information was received. They assess, for example, the impact of literature on sex on the legal regulation of prostitution, the control of contagious diseases, gender relations in and out of marriage, social purity movements, and social hygiene concerns. They describe the emergence of evolutionist and laboratory discourses on sexuality, the origins of sexual surveys, debates about marriage and free love, and associated revelations of personal sexual experiences.

Examining texts that range from Nicolas Venette's Mysteries of Conjugal Love Reveal'd, written near the close of the seventeenth century, to Marie Stopes's Married Love, a famous tract of the twentieth century, Porter and Hall show how these texts established and authorized sexual knowledge and sexual practices. They describe the authors of these texts, their careers, and the motives for involvement in medico-moral campaigns that were often thought unsavory and commonly led to criticism and censure.

Challenging and overturning common assumptions and historiographical traditions—from hoary myths of the Victorians to the work of Michel Foucault—the book adds a great deal to our understanding of the origins of sexual mores and knowledge.

Roy Porter is professor in the social history of medicine and Lesley Hall is senior assistant archivist, Contemporary Medical Archives Centre, at the Wellcome Institute for the History of Medicine, London. Porter has written or contributed to over fifty books and is a regular reviewer and broadcaster in England. Hall is the author of Hidden Anxieties: Male Sexuality, 1900-1950. 

"A detailed and scholarly volume that draws on a wide range of primary sources."—Nature
"[An] entertaining, splendidly documented history of the sexual advice industry in England from the Renaissance to the mid-twentieth century."—Terry Castle, New Republic
"[A] stimulating survey...The Facts of Life is well worth reading. Scholarly in scope it is also affirmative and, yes, exciting in its penetrating exploration of a provocative subject."—Alan Bold, The Herald
"In The Facts of Life, Roy Porter and Lesley Hall bring their own extraordinarily rich knowledge of human sexual matter to the study of attempts to understand, regulate and improve sex life in Britain over the past 300 years."— Lynne Segal, New Statesman & Society
"[A]s Roy Porter and Lesley Hall so intelligently argue in their history of sexual knowledge in Britain, the relationship between social practice and social prescription if often complex."—Julie Wheelwright, The Guardian
"[A]mong the academic rhetoric and Foucauldian theory there is a wealth of fascinating and often very funny material."— Adam Lively, Times Educational Supplement
"Porter and Hall's scholarly dedication to their task. . .[and] the energy and enthusiasm with which they approach it [is evident]."—Beata Duncan, The Spectator
"This is the kind of book that you have trouble putting down after you pick it up. . . . Interesting, fully documented, and filled with those kinds of bits of obscure information which you never knew existed, but which help give a human touch to history."—Gordon Stein, The American Rationalist
"This book is the first scholarly survey of the rise of English language treatise of sexual knowledge and guidance in which the authors survey the attempts in Britain to create a literature and discipline of sexual information and advice over the last 300 years. . . . Challenging and overturning influential myths and engaging with powerful historiographical tradition, this important volume sets our understanding of the history of British sexuality on a sound footing for the first time."—Journal of the Inst. of Health Education
"This is a path-breaking book, giving us new insights into sexuality. . . . The book helps to further open a field, which is just beginning to be explored, and later scholars will be indebted to some of the pioneer work that the authors have done as indicated by the bibliography and notes. The details amassed by Hall will serve as a beginning point for many a future doctoral dissertation or other scholarly study."—Journal of the History of Medicine
"[This book] will be of interest particularly in this history of medicine, social science, and sexual politics."—John Money, PhD, JAMA
"An important book."—Barbara T. Gates, Journal on the History of Sexuality
"Among the many pleasures of the book — its meticulous scholarship, its critical discrimination, its breadth of allusion and scope — I would include its worldly, even slightly ribald tone. Though explicitly indebted, and patiently attentive, to feminist thought on sexuality, the authors do not fall into the trap of political correctness."—Trev Broughton, Isis
"Readers interested in the history of sexuality, the history of medical or conduct literature, and the history of reading will find this book a useful and informative, as well as pleasurable read. . . . The Facts of Life provides the necessary foundation for future research in the history of publishing and reading, and is a significant contribution in it own right."—Pamela K. Gilbert, Publishing Research Quarterly
"A lively, thorough, thoughtful analysis of sexual knowledge, and it will certainly become a standard source."—Lisa Cody-Forman, Bulletin of the History of Medicine
"The sweeping comprehensiveness of Porter and Hall's book represent significant contributions to our understanding of the multiple and often conflicting constructions of Victorian sexuality. Historical inquiries like these demonstrate both the difficulties and the rewards of Victorian studies, more generally; they teach us to live with contradictions, to question monolithic thinking, and to look more closely at the history that is also being made in the present tense."—Paul M. Puccio, Dickens Quarterly

"A comfortable book—it is often engaging, well-researched, and useful—about what has for too long been considered an uncomfortable subject."—Regina Barreca, Victorian Studies

ISBN:
9780300062212
Publication Date:
March 20, 1995
428 pages, 6 1/8 x 9 1/4
32 b/w illus.