The Puritan Origins of American Patriotism
WARNING
You are viewing an older version of the Yalebooks website. Please visit out new website with more updated information and a better user experience: https://www.yalebooks.com
George McKenna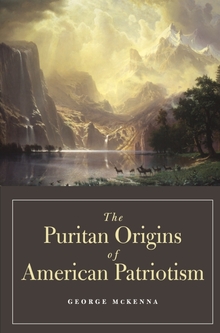 View Inside
Format:

Cloth


Price:

$35.00
Also Available in:
Paper
e-book
Out of Print
How the Puritans' belief in a providential mission led to a uniquely American form of patriotism

In this absorbing book, George McKenna ranges across the entire panorama of American history to track the development of American patriotism. That patriotism—shaped by Reformation Protestantism and imbued with the American Puritan belief in a providential "errand"—has evolved over 350 years and influenced American political culture in both positive and negative ways, McKenna shows. The germ of the patriotism, an activist theology that stressed collective rather than individual salvation, began in the late 1630s in New England and traveled across the continent, eventually becoming a national phenomenon. Today, American patriotism still reflects its origins in the seventeenth century. By encouraging cohesion in a nation of diverse peoples and inspiring social reform, American patriotism has sometimes been a force for good. But the book also uncovers a darker side of the nation's patriotism—a prejudice against the South in the nineteenth century, for example, and a tendency toward nativism and anti-Catholicism. Ironically, a great reversal has occurred, and today the most fervent believers in the Puritan narrative are the former "outsiders"—Catholics and Southerners. McKenna offers an interesting new perspective on patriotism's role throughout American history, and he concludes with trenchant thoughts on its role in the post-9/11 era.
George McKenna is professor emeritus, City College of the City University of New York, where he taught American government and American political thought for forty years.
"The Puritan Origins of American Patriotism exhibits a remarkable breadth and depth of learning and is brimming with insights. One sees here the work of a seasoned scholar, a person of discernment and good judgment."—Robert P. George, Princeton University
"A masterly intellectual history of America."—Barry Shain, Colgate University
"George McKenna argues that American Puritanism of the seventeenth century has been important throughout all of American history. He also wants to bring the Puritans back to life as living contributors to the parlous political discourse of the contemporary United States. On both counts—as historical primer and thought-provoking contemporary commentary—he is successful. This is a useful as well as an important book."—Mark A. Noll, University of Notre Dame 
"McKenna reminds Americans that their devotion to country runs deeper than the intellect, and that the Puritan legacy, for better or worse, continues to feed the wellsprings of American patriotism."—Rick Ostrander, John Brown University
"Written with narrative verve and investigative authority, George McKenna's The Puritan Origins of American Patriotism carefully traces the interwoven strands of American Puritan thought from the seventeenth century to the present day."—Darren Dochuk, Purdue University
"One of the year's best books. . . . An engaging narrative. . . . McKenna's judgments throughout are generous, and his book provides a memorable and thought-provoking account of the core national story: a sometimes limping, sometimes breakneck pursuit of the goodness to which America has been called from its earliest days."—Michael Potemra, National Review
"How America's sense of national identity was formed is a fascinating questions, and George McKenna goes a long way towards answering it.  In this wide-ranging, deeply researched and at times revelatory book, he shows how Puritan ideas and values spread across the country from New England in the 1630s and came to define a distinctly American patriotism."  - John Gray, FT Magazine
"This thoughtful and well-written book makes a powerful case that Puritan values and ideas continue to shape American identity and politics down to the present day. . . . Readers leave this book, the product of a lifetime of scholarship, convinced that those seventeenth-century New Englanders continue to haunt us today."—Walter Russell Mead, Foreign Affairs
"Certainly it fulfils what it promises, but it goes on to show how this relationship between religious belief and Americanism has grown and mutated, sometimes unexpectedly, down through the century. The book has had almost unanimous praise, and deservedly so."—George Fetherling, Seven Oaks
"No one has told [this story] better or presented it in a timelier manner. . . . Recommended."—Choice
". . . the overall trajectory of the argument is convincing and interesting.  The strength of McKenna's book is in his successful tracing of the development of Puritanism from the seventeenth century to the present. . . . In McKenna's thorough book, the old story of the Puritan is made new and relevant, fascinating if at times troubling. . . . McKenna's nuanced interpretation of Puritanism and America's relation to it make this book worthwhile reading for all citizens interested in better understanding their nation." —John Perryman, Southern Humanities Review
ISBN:
9780300100990
Publication Date:
September 28, 2007
448 pages, 6 1/8 x 9 1/4