Voyages of Delusion
WARNING
You are viewing an older version of the Yalebooks website. Please visit out new website with more updated information and a better user experience: https://www.yalebooks.com
The Quest for the Northwest Passage
Glyn Williams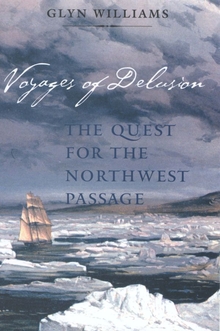 View Inside
Format:

Cloth


Price:

$77.00
The eighteenth century—the Age of Reason—was characterized by determined attempts by philosophers, scientists, and political theorists to dispel myth, superstition, and ignorance. But the Age of Reason also witnessed some of the most irrational and vainglorious attempts by sailors and speculators to find a navigable Northwest Passage that would lead through the icy seas of the Arctic from Hudson Bay to the wealth of the Pacific Ocean. Lured by the promise of fame and riches, men endured paralyzing cold, malnutrition, and terrifying storms. Many lives and fortunes were lost in the quest for the elusive "maritime philosopher's stone."

In this gripping work of narrative history, Glyn Williams describes the adventures and mishaps of these misguided expeditions. Vividly written and replete with fascinating characters, Voyages of Delusion is a riveting contribution to the history of North American exploration.

Glyn Williams is emeritus professor of history at the University of London. He is the author of many highly acclaimed books, including The Prize of All the Oceans, Atlas of North American Exploration, and The Great South Sea, the last published by Yale University Press.

An alternate selection of Readers' Subscription

"An excellent overview of European exploration."—Rob Meltzer, Boston Globe

"An exceptionally well-written account. . . . Voyages of Delusion is perhaps the best narrative history yet written on Arctic exploration. . . . Williams does a superb job of telling the story of remarkable, ill-fated, and exceptionally challenging northern explorations while reminding readers throughout that this experience speaks volumes about the nature of the eighteenth-century imagination, of the state of the emerging sciences, and of the risks that men and nations would take in the pursuit of knowledge, economic opportunity, and political advantage."—Ken Coates, Canadian Journal of History

"[An] extraordinary history—strewn with shipwrecks and dashed hopes, enlivened by noble failures and ignoble intrigues. . . . The story is gripping. Such tales of hardship and grizzled stoicism . . . could hardly fail to entertain."—Steve King, Financial Times

"In a well-written, authoritative work, Voyages of Delusion, the British historian Glyn Williams examines the motivations, conflicts, and tensions among and around the various characters who explored and developed the Arctic. . . . A great book that is detailed in its research but alive in its storytelling."—Tony Smith, History: Reviews of New Books

"As gripping as a good mystery novel."—Cal McCrystal, Independent on Sunday



"Glyn Williams's treatment of this frequently heralded search takes a special approach . . . as a result, this is a book of considerable interest and originality." —Richard C. Davis, International History Review
"Entertaining."—Mark Lovewell, Library Review of Canada


"Expect to be tantalized, bewildered. . . . Part of the beauty of this lucidly written history is in its details. . . . His detective work examining the fate of Knight's lost voyage in Hudson Bay is a fine example of responsible yet provocative history, and his subtle analysis of interesting personalities like Cook and Vancouver gives those figures a depth that is impressive in a work of such broad scope. . . . Both in his painstaking detail and his fine eye for human folly, Mr. Williams's strokes really smart."—Jerome Tharaud, New York Sun

"Students of maritime exploration and 18th-century British politics will find this work engrossing, especially the detailed notes on sources."—Publishers Weekly
"Should be bought by anyone interested in maritime history, 18th century history or the foibles of human nature."—Chris Woodhead, Sunday Telegraph

"Voyages of Delusion will undoubtedly stand as the authoritative piece on eighteenth century quests for . . . the Northwest Passage. . . . The strength of Williams' book lies in his detailed and exciting prose seamlessly interwoven with primary sources. . . . The result is an indispensable contribution to any library building its collection on exploration in general and on eighteenth century Arctic exploration in particular. . . . An indispensable and integral addition to any library on Arctic exploration."—Elizabeth Elliot-Meisel, The Northern Mariner

"Williams's book is inevitably about folly and failure . . . [and] is also about a certain type of dogged heroism. . . . Williams brings to life [these] extraordinary feats of endurance."—Frank Egerton, Times Literary Supplement

"In this well researched history of courageous seamen, Williams has written a gripping tale of valiant men who were out on a fool's errand. Readers can only admire their courage."—Virginia Quarterly Review

Won honorable mention for the 2003 Keith Matthews award sponsored by the Canadian Nautical Research Society

ISBN:
9780300098662
Publication Date:
February 8, 2003
496 pages, 5.25 x 8.5
51 b/w illus. + 6 maps