Jonathan Edwards
WARNING
You are viewing an older version of the Yalebooks website. Please visit out new website with more updated information and a better user experience: https://www.yalebooks.com
George M. Marsden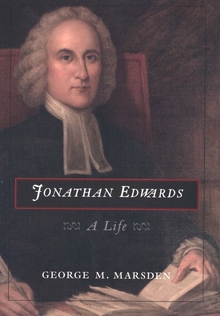 View Inside
Format:

Cloth


Price:

$40.00
Also Available in:
Paper
e-book
Out of Print
 A finalist for the 2003 National Book Critics Circle Award for Biography and winner of the 2004 Bancroft Prize and of the American Society of Church History's Philip Schaff Prize
 
"The finest biography of this towering figure. . . . Marsden guides readers through Edwards's profoundly alien world with authority and fluidity."—Benjamin Schwarz, Atlantic Monthly

A controversial theologian and the author of the famous sermon Sinners in the Hands of an Angry God, Jonathan Edwards (1703-1758) ignited the momentous Great Awakening of the eighteenth century. In this definitive and long-awaited biography, Jonathan Edwards emerges as both a great American and a brilliant Christian. George Marsden evokes the world of colonial New England in which Edwards was reared—a frontier civilization at the center of a conflict between Native Americans, French Catholics, and English Protestants. Drawing on newly available sources, Marsden demonstrates how these cultural and religious battles shaped Edwards's life and thought. Marsden reveals Edwards as a complex thinker and human being who struggled to reconcile his Puritan heritage with the secular, modern world emerging out of the Enlightenment. In this, Edwards's life anticipated the deep contradictions of our American culture.
 
Meticulously researched and beautifully composed, this biography offers a compelling portrait of an eminent American.
George M. Marsden is Francis A. McAnaney Professor of History at the University of Notre Dame. He has written numerous books, including The Soul of the American University and The Outrageous Idea of Christian Scholarship.

A selection of the History Book Club

"At last! A highly readable biography of Jonathan Edwards that takes account of the mountain of recent Edwards scholarship and is willing to acknowledge the agonies and ambiguities as well as the triumphs of Edwards life. A great companion to the Jonathan Edwards Reader and TheJonathan Edwards Sermons."—Amy Plantinga Pauw, Louisville Presbyterian Seminary
"Marsden has brought together in a magisterial synthesis the details of the man's daily life and the range of ideas that challenged the assumptions of his time and ours."—Edmund S. Morgan
"In this biography, Marsden has produced a masterpiece. It is eloquent, reliable, and comprehensive. I found it insightful and inspiring throughout."—George S. Claghorn, West Chester University, editor of Letters and Personal Writings of Jonathan Edwards
"This is the finest biography of Edwards that I have read. It will be the standard benchmark for Edwards scholarship for generations to come."—Harry S. Stout, Yale University
"There is no question that Marsden's biography is the best book ever written about America's (and perhaps the world's) greatest theologian."—Sam T. Logan, Jr., Westminster Theological Seminary
"Whether the reader is an academic . . . or a nonprofessional, this imaginative, . . . sympathetic reading of Edwards's life is informative and enjoyable."—John P. Fitzgibbons, America
"It will endure as the standard account."—E. Brooks Holifield, American Historical Review
"This universally lauded biography portrays America's greatest theologian, 300 years after his birth."—Richard N. Ostling, Associated Press
"This biography of one of the founding fathers of American religion is the first to appear in 60 years. The fact that it is an emotionally complex, almost novelistic account by one of the country's foremost evangelical thinkers makes it an extraordinary read."—Paul Elie, Belief.net (A Best Spiritual Book of the Year Finalist)
"Better than anyone else before, Marsden enters Edwards' world—physically, mentally, and spiritually—and helps us understand his significance as an 18th-century leader. . . . Marsden tells a wonderful story, enriching his narrative with a wealth of little-known gems from Edwards' world."—Douglas Sweeney, Books & Culture
"Marsden has succeeded in the daunting task of exploring the fullness of Edwards's life and work while avoiding hagiography or demonization. Marsden's style is clear and his research thorough, yielding an unapologetic account of one of America's most amazing personalities. . . . A volume that will stand for generations. Recommended."—Choice

"Marsden has written a life of Edwards the way Edwards would have liked such a life to be written."—Allen C. Guelzo, Christian Century
"In this conscientious and eloquent biography, pious Jonathan Edwards comes to unruly life with all his unresolved complexity intact."—Thomas D'Evelyn, Christian Science Monitor

"The author thoroughly demolishes the stereotype of Edwards as the purveyor of sadistic religion that damns most people to hell. Setting him and his ideas in context like no other, Marsden handles Edwards's complex ideas with brilliant clarity without oversimplifying them."—Christianity Today
"It is one of the great merits of Marsden's biography that he shows us the decidedly unheroic aspect of Edwards' life (which is, of course, the stuff of every human life) while at the same time doing justice both to his towering intellectual achievements and to his incandescent faith, animated by a palpable sense of the sheer beauty and majesty of God. Neither debunking nor hagiographic, it is an almost supernaturally fair-minded portrait."—John Wilson, Christianity Today
"What non-specialists have needed for some time is an accessible biography that integrates his tumultuous ministerial career with his serenely logical mind. That need has at last been met, thanks to the magisterial synthesis of Edwards's life and thought presented in George Marsden's Jonathan Edwards."—Christopher D. Levenick, Claremont Review of Books
"Not only the definitive biography but also a narrative that reads like a novel. . . . [Marsden] lets Edwards' magnificence shine through."—Edward T. Oakes, Commonweal
"Magnificent. . . . This is a book that tells us as much about the intellectual foundations of America as it does about Jonathan Edwards."—Damian Thompson, Daily Telegraph

"One of the grand features of this latest biography of Edwards is Marsden's success in demonstrating that Edwards was far more than a mere intellect."—Scott A. Wenig, Denver Post

"Marsden provides a less tidy, which is to say, much more complete, account of Edwards' life and work, bringing in a wealth of detail that forces us to qualify practically everything we had ever heard about Edwards. . . . By showing the complexity of the man and correcting many of the misunderstandings about him, Marsden has prepared the way for serious conversation with him."—George McKenna, First Things
"George M. Marsden is truly a Christian scholar who respects both the Faith and the canons of historical research. . . . In this finely presented biography, Edwards stands forth both as an historical being and a Christian. If one wants to understand him and his world, this biography is the starting point."—H-Net Book Review
"Magisterial. . . . Definitive, and it will remain so for decades to come."—Avihu Zakai, Journal of American History
"George Marsden's study of Jonathan Edwards is a magnificent one. While admittedly sympathetic to Edwards's Augustinian and Calvinistic theology, Marsden examines the life of this greatest of American minds with a great deal of clear-sightedness."—Don M. Shipley, Jr., Journal of Church and State
"Splendid. . . . Scholarly, balanced, fair-minded, and highly readable. . . . Ministerial students would profit immeasurably by reading Marsden's vivid account of Edwards's shining integrity and glaring flaws as a pastor."—Joe E. Barnhart, Journal of the American Academy of Religion
"A very readable biography."—William O. Paulsell, Lexington Theological Quarterly
"A comprehensive, compelling, and intensely human portrait of Edwards. . . . Marsden's accessible style will appeal to laypeople and scholars alike. . . . This meticulously researched look at one of America's most prominent thinkers and theologians is sure to set the standard for future studies of Jonathan Edwards's life and work."—Pegge Bochynski, Magill's Literary Annual
"This is the first full-scale critical biography of Edwards in 60 years. Marsden's biography represents the re-awakening of great scholarship on the works, life, and influence of Jonathan Edwards. . . . The book is accessible to a general audience, but it does not surrender rigor for academic use. Marsden offers a balanced perspective on Edwards who was clearly a great figure in the history of early America and in the history of western philosophy."—Joseph W. Ulatowski, Metapsychology
"[An] excellent, fascinating biography. . . . Absorbing."—Adam Kirsch, New York Sun

"It may not stretch the evidence to call Jonathan Edwards the most important religious figure in American history. . . . [Edwards'] arguments [are] analyzed with great skill and sensitivity in Jonathan Edwards: A Life. . . . Marsden, himself an evangelical believer, puts Edwards back where he belongs, firmly in the theological world of the Reformation. . . . Marsden makes a convincing case for his greatness."—Garry Wills, New York Times Book Review

"Marsden's elegant prose and vivid, vivacious storytelling brings Edwards to life. This magisterial and definitive biography reveals the complexities of Edwards's life and provides new appreciation for his commitment to fostering religious sensibilities in the increasingly secular world of his time. This is a beautifully written book about one of America's most important thinkers."—Publishers Weekly, Starred Review
"This is the new standard in the writing of Edwards's biographies."—Religious Studies Review
"[A] definitive biography."—Dave Wood, River Falls (Wisc.) Journal

"Jonathan Edwards: A Life alreadystands as the benchmark by which all biographical works on Edwards are to be measured. . . . Meticulously documented, truly captivating, occasionally speculative, and always instructive, Marsden's eloquent biographical account of this towering figure of early American history, a figure whose imprint on America arguably may be greater than Benjamin Franklin's, is nothing short of a triumph."—John J. Bombaro, Catholic Historical Review
"This book surpasses all earlier biographies of Jonathan Edwards. It is simply superb in its monumental scope, in its research into every corner of Edwards's life and much of his world, and in its insights."—Robert Middlekauff, The Historian
"[A] learned, lucid biography."—Michael Kazin, The Nation

"A masterpiece. . . . Far more than a biography."—Christopher Viscardi, The Way
"Throughout his extraordinarily thorough account of Edwards's life and thought, [Marsdem] succeeds both in moving beyond facile assumptions or scholarly distortions and in challenging the assumptions of our own culture with the very different assumptions of an earlier culture. . . . [Marsden] succeeds admirably in offering a truly critical but sympathetic account of the Puritan world and Edwards's place within that world."—Christopher J. Viscardi, Theological Studies
"This book will be a delight to lovers of religious biography and the history of revival. This may be the most comprehensive of the many biographies of Edwards. It also surpasses others by showing the human side of the great man better than most or all past biographies. There is some surprising material here that sheds light on key events of Edwards' life. All Christians should be interested in Edwards. This book is an excellent way to get to know him."—Ken Horn, Today's Pentecostal Evangel
"Authoritative."—Jay Tolson, U.S. News & World Report
"Magisterial."—Wall Street Journal
"In his superb and engrossing new biography of Jonathan Edwards, George Marsden has given us the most comprehensive account we have of the man who, as much as Benjamin Franklin—in some ways more than Franklin—is the spiritual godfather of our nation. . . . What sets Marsden's work apart, what makes it so accessible, is that he has committed the entire enterprise to narrative, to telling a story—the saga of Jonathan Edwards."—Robert D. Richardson, Washington Post Book World

"[A] mighty biography, . . . a humble product of years of devoted labor and scholarship. . . . Edwards. . . . would appreciate Mr. Marsden's dedication."—Evan Haeflli, Washington Times
"Marsden, one of the premier historians of American religion, has mastered the gargantuan sources, both secondary and primary. . . . More than any previous biographer, Marsden portrays a man with clay feet and inner demons."—Gerald McDermott, Weekly Standard
"Marsden's magnificent biography is a must read. Marsden not only gives us a vivid portrait of the life of Edwards, but an equally powerful analysis of the intellectual, religious, political, and social transformation of colonial society that ultimately led to the creation of the unique culture of the United States."—Lewis Galloway, Presbyterian Outlook (Summer Reading List)
"A masterful work, covering the life's duration of America's greatest theologian and philosopher. . . . A biography that both informs and transforms its readers. It is easy to see why it has won such prestigious recognition as the 2004 Bancroft Prize in American History and as a finalist for the 2003 National Book Critics Circle Award. . . . It is a pleasure to recommend it."—David W. McKinley, Evangelical Review of Theology
"George Marsden quite ably puts forth this critical biography of Jonathan Edwards. . . . Edwards's life is presented from birth to death in a manner fitting to the complexities of his person. . . . The real beauty of this work is Marsden's ability to take multiple pieces of fabric and weave them together into one complete multi-faceted story."—Harland Cason, Southwestern Journal of Theology
"[Marsden's] work has eclipsed standard biographies of Edwards, such as that of Ola Winslow, intellectual biographies such as Perry Miller's, and less-neutral works such as that of Iain Murray. Marsden's work is now unquestionably the gold standard so far as biographies of Edwards are concerned. There is indeed much to commend Marsden's work. By conducting substantial research and considering painstaking details, Marsden succeeds at producing a volume that has at once been embraced by the academic community, but also has gained acceptance at a more popular level. . . . It is objective, scholarly, and more, warm and personal, bringing out much of the texture of Edwards, his family, and his age."—Ted Rivera, Faith and Mission
"The scholarship and writing are first rate. . . . In this finely presented biography, Edwards stands forth both as an historical being and a Christian. If one wants to understand him and his world, this biography is the starting point."—Donald K. Pickens, H-Net Reviews
Winner of the Philip Schaff Prize sponsored by the American Society of Church History
A finalist for the 2003 National Book Critics Circle Award in the biography category
Winner of the 2001-2003 Annibel Jenkins Biography Prize sponsored by the Society for Eighteenth-Century Studies
Winner of the 2004 Bancroft Prize in American History
 
ISBN:
9780300096934
Publication Date:
March 11, 2003
640 pages, 6 1/8 x 9 1/4
30 b/w illus.