Louis
WARNING
You are viewing an older version of the Yalebooks website. Please visit out new website with more updated information and a better user experience: https://www.yalebooks.com
The French Prince Who Invaded England
Catherine Hanley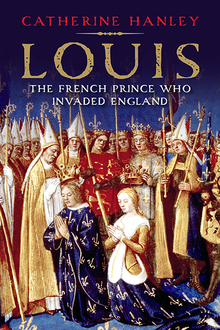 View Inside
Format:

Cloth


Price:

$40.00
In 1215 a group of English barons, dissatisfied with the weak and despicable King John, decided that they needed a new monarch. They wanted a strong, experienced man, of royal blood, and they found him on the other side of the Channel: Louis, eldest son and heir of the king of France.

"Louis emerges as a nearly man: nearly King of England, nearly a successful military campaigner, and nearly the man who terminated the Albigensian crusades. But what he nearly did allows for Hanley's biography to touch on some of the most complex issues of the early thirteenth century."—Alice Taylor, TLS

In this fascinating biography of England's least-known "king"—and the first to be written in English—Catherine Hanley explores the life and times of "Louis the Lion" before, during, and beyond his quest for the English throne. She illuminates the national and international context of his 1216 invasion, and explains why and how after sixteen fruitless months he failed to make himself King Louis I of England. Hanley also explores Louis's subsequent reign over France until his untimely death on the Albigensian Crusade. Published eight centuries after the creation of Magna Carta and on the 800th anniversary of Louis's proclamation as king, this fascinating story is a colorful tale of national culture, power, and politics that brings a long-forgotten life out of the shadows of history.
Dr Catherine Hanley is a writer and researcher specialising in the High Middle Ages, and the author of War and Combat, 1150-1270: The Evidence from Old French Literature (2003).
'As important as Magna Carta in the formation of England was the now forgotten French invasion which followed on from it. Prince Louis's failure to establish himself as king reveals unexpected strengths in the English institutions of law and government which challenged him. Catherine Hanley uncovers this remarkable episode through her mastery of the sources (in Latin and Old French) and her ability to tell a good story. This book is essential reading for students of English and European history, as well as being an exemplary biography in its own right.' - Michael Clanchy, author of England and Its Rulers
'A lively and accessible account of a neglected aspect of a crucial episode in English History and of the life of a King of France'. - David Bates, author of Normandy Before 1066
'Catherine Hanley has produced a highly readable, lively account of the ill-fated invasion of England by Prince Louis of France and his brief reign as king of France. Overshadowed by his father, Philip Augustus, and his son, St Louis, Louis VIII emerges here as a man of considerable talent and strong character, the embodiment of his age.' - Jeffrey Hamilton, author of The Plantagenets: History of a Dynasty
"…those who enjoy Plantagenet history or merely royal curiosities will find it an exciting and elegantly told tale."—Dan Jones, the Times
"Captivating…Hanley's work vividly depicts the texture of the times with an enthralling, novelistic narrative."—Publishers Weekly
"I have been waiting for a biography of Louis for a long time, and few are better qualified to write it than Hanley. She has a command of the sources and skilfully deploys her expertise in medieval arms and warfare… this is serious history, as well as a gripping – and poignant – story."—Sophie Ambler, BBC History
"Hanley breaks new ground with this engaging and readable first biography in English of Louis VIII."—Choice
ISBN:
9780300217452
Publication Date:
June 21, 2016
296 pages, 6 1/8 x 9 1/4
12 pp. b/w illus.