Ivan the Terrible
WARNING
You are viewing an older version of the Yalebooks website. Please visit out new website with more updated information and a better user experience: https://www.yalebooks.com
Isabel de Madariaga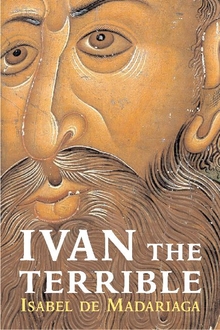 View Inside
Format:

Paper


Price:

$28.00
Also Available in:
Cloth
The definitive biography of Ivan the Terrible, setting the Tsar's infamous cruelty within the context of 16th-century Russia

"[A] magnificent biography . . . illuminated by the wisdom gained by its author from a lifetime of learning and reflection about the place of Russia in the wider world."— Orlando Figes, New York Review of Books 

"Likely to become the definitive work on Ivan for some time."—Publishers Weekly, Starred Review 

Ivan IV, "the Terrible" (1533–1584), is one of the key figures in Russian history, yet he has remained among the most neglected. Notorious for pioneering a policy of unrestrained terror—and for killing his own son—he has been credited with establishing autocracy in Russia. This is the first attempt to write a biography of Ivan from birth to death, to study his policies, his marriages, his atrocities, and his disordered personality, and to link them as a coherent whole.

Isabel de Madariaga situates Ivan within the background of Russian political developments in the sixteenth century. And, with revealing comparisons with English, Spanish, and other European courts, she sets him within the international context of his time. The biography includes a new account of the role of astrology and magic at Ivan's court and provides fresh insights into his foreign policy. Facing up to problems of authenticity (much of Ivan's archive was destroyed by fire in 1626) and controversies which have paralyzed western scholarship, de Madariaga seeks to present Russia as viewed from the Kremlin rather than from abroad and to comprehend the full tragedy of Ivan's reign.
Isabel de Madariaga is emeritus professor of Russian Studies in the University of London. She is the author of Russia in the Age of Catherine the Great, published by Yale University Press.

A selection of the History Book Club
"One can only admire the confident way in which she neatly picks her way through each historiographical thicket… Isabel de Madariaga's achievement deserves the highest praise, and one can only wish her more years of active scholarship." - Paul Dukes, Slavonic & East European Review
'This simply brilliant book is a colossal achievement of magisterial scholarship, beautifully readable prose and superb characterisation of a staggeringly degenerate monster who was both an appallingly sadistic criminal and a pathetically tragic victim of power."—Simon Sebag Montefiore, Evening Standard
"With a marvelous grasp of Russian, European, and comparative history, [de Madariaga] sets Ivan within the international context of his own time. . . . This superior book is suitable for both academic libraries and public libraries with Russian history collections."—Library Journal
"Almost every page of her magnificent biography is illuminated by the wisdom gained by its author from a lifetime of learning and reflection about the place of Russia in the wider world."— Orlando Figes, New York Review of Books 


"De Madariaga accomplishes a lot in this significant biography of the 16th-century Russian czar, contextualizing his life without minimizing his brutality. From a compendious knowledge of both primary and secondary sources, de Madariaga shows how Ivan increased his power in an attempt to assert his authority in a vast land still ruled by local princes. . . . Likely to become the definitive work on Ivan for some time."—Publishers Weekly (starred review)
"A splendid new study of Ivan. . . . de Madariaga has given us perhaps the finest account in English of a czar."—Woodford Mcclellan, Washington Times
"[The book ends with] a masterfully written conclusion both insightful and strangely moving. . . . De Madariaga addresses knowledgeable readers, but the beautiful prose of this great book will tempt all others. Highly recommended."—Choice
"Isabel de Madariaga's biography trawls through the surprisingly thin records of his life and times to assess the truth behind the myths. A scrupulous scholar, she has written a book that makes brilliant use of the material at her disposal." - The Sunday Times
"de Madariaga's intelligent and mature analytic narrative will be extremely useful."—Charles J. Halperin, The International History Review
"A powerful and shocking portrait of a ruler whose exalted sense of his own religious and political authority led him to torment his subjects. . . . A spirited assault on many obsolete notions about Ivan's reign that still haunt post-Soviet scholarship. At the same time, her biography is a brave and bold effort to bring Ivan back from recent neglect in the west."—Chester Dunning, The Slavic Review
"The author discusses all the major episodes of Ivan's tumultuous reign and proposes answers to many vexing questions. she brings to this difficult task a long experience in writing about eighteenth-century Russia, a formidable intelligence, and a highly readable, often witty, literary style."—Daniel Rowland, The Historian
"A work of encyclopedic scope which should serve to resuscitate questions not only about the impact Ivan's psychology made upon Russia, but also about the role of individuals in shaping history."—Andrew Gentes, Canadian Journal of History
"De Madariaga's masterly survey of the sixteenth-century 'court of the red tsar' is a welcome addition to the literature on a ruler who both fascinated and repelled his contemporaries and whose seemingly inexplicable actions and policies have challenged the explanatory ingenuity of historians ever since. Her account clarifies many of the puzzles for the general reader, while her discussion of competing interpretations serves as a guide to further exploration."—Ann Kleimola, Journal of Modern History
Selected for Association of American University Presses (AAUP) Books for Public and Secondary School Libraries, 2006
ISBN:
9780300119732
Publication Date:
September 25, 2006
526 pages, 6 1/8 x 9 1/4
16 b/w illus.