Nobody's Perfect
WARNING
You are viewing an older version of the Yalebooks website. Please visit out new website with more updated information and a better user experience: https://www.yalebooks.com
A New Whig Interpretation of History
Annabel Patterson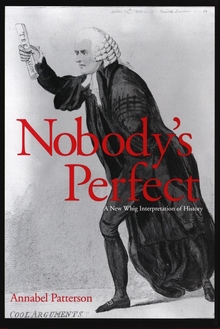 View Inside
Format:

Cloth


Price:

$65.00
Is history driven more by principle or interest? Are ideas of historical progress obsolete? Is it unforgivable to change one's mind or political allegiance? Did the eighteenth century really exchange the civilizing force of commercial advantage for political conflict? In this new account of liberal thought from its roots in seventeenth-century English thinking to the end of the eighteenth century, Annabel Patterson tackles these important historiographical questions. She rescues the term "whig" from the low regard attached to it; denies the primacy of self-interest in the political struggles of Georgian England; and argues that while Whigs may have strayed from liberal principles on occasion (nobody's perfect), nevertheless many were true progressives.

In a series of case studies, mainly from the reign of George III, Patterson examines or re-examines the careers of such prominent individuals as John Almon, Edmund Burke, Sir Joshua Reynolds, Thomas Erskine, and, at the end of the century, William Wordsworth. She also addresses a host of secondary characters, reshaping our thinking about both well-known and lesser figures of the time. Tracking a coherent, sustained, and adaptable liberalism throughout the eighteenth century, Patterson overturns common assumptions of political, cultural, and art historians. The author delivers fresh insights into the careers of those who called themselves Whigs, their place in British political thought, and the crucial ramifications of this thinking in the American political arena.

Annabel Patterson is Sterling Professor of English, Yale University.

"Patterson pursues her complex and original argument with admiral clarity, marshaling information from a wide range of sources to advance the claim for the conceptual integrity of liberalism. British history, and more specifically the history of ideas, is long overdue for this kind of serious attention."—April London, University of Ottawa

"A fresh and engrossing contribution to the history of English liberal thought. It combines an intellectual historian's intimate understanding of the evolution of ideas with a seasoned literary scholar's feeling for the workings of language and the shadings of nuance."—Claude Rawson, Maynard Mack Professor of English, Yale University


"This is a first-rate work of a first-rate scholar. It is provocative and exciting, it makes numerous contributions to our knowledge of eighteenth-century Whigs, and it will rouse discussion and controversy."—Melinda Zook, Purdue University

"Patterson goes a long way toward setting straight the currently popular view of Namierite and cultural materialist historians that interest took the place of principle with both politicians and artists of the later eighteenth century."—Ronald Paulson, Mayer Professor of the Humanities, The Johns Hopkins University


"Annabel Patterson's Nobody's Perfect is an eloquent, marvelous book: ardent in its overarching theme—that it is time to restore moral and political force to the often-scorned 'Whig interpretation of history'—and beautifully worked out in its literary, historical, and philosophical details. One comes away from it both awed by Patterson's learning--she here brings to life some of the eighteenth century's most profound debates about law, liberty, society, and the nature of human rights—and struck by the honesty, timeliness, and humanity of her arguments."—Terry Castle, Stanford University


"Provocative, impassioned and at the same time enormously erudite. Nobody's Perfect is a valuable work of literary and political history." —Julia Rudolph, Albion
Selected by Choice Magazine as an Outstanding Academic Title for 2003

ISBN:
9780300092882
Publication Date:
December 11, 2002
304 pages, 5 1/2 x 8 1/4
16 b/w illus.