The American Century
WARNING
You are viewing an older version of the Yalebooks website. Please visit out new website with more updated information and a better user experience: https://www.yalebooks.com
The Rise and Decline of the United States as a World Power
Donald W. White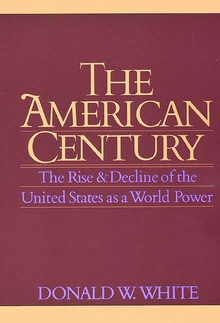 View Inside
Format:

Paper


Price:

$59.00
Also Available in:
Cloth
Why did the United States assume a preeminent world role after World War II, and why has that role declined since the Vietnam War? This magisterial book—the first intellectual and cultural history of America's evolving status as a world power in the twentieth century—addresses these questions by examining Americans' perceptions of themselves and of the world during this period.

Drawing on the writings of leading intellectuals, speeches by politicians, popular periodicals, movies and television, opinion polls, and dozens of other sources, Donald W. White explores what Americans thought about power in the twentieth century, how they evaluated America's expanding world role and the confrontations of the Cold War, and how they perceived the erosion of this unprecedented accumulation of power in the years after the Vietnam War. With colorful anecdotal detail, White presents a new perspective on foreign affairs during these years, recounting the global spread of American democratic philosophy, technology, industrial goods, literature, arts, and way of life against a backdrop of military crises and diplomatic negotiations. In the process he identifies major trends in past American foreign policy and suggests possibilities for the prospects of international relations in the future.
Donald W. White teaches history at New York University.
A selection of the History Book Club

"Readable, informative and broad in scope."—David Kaiser, Boston Globe
"This is a first-rate work, a kind of inner history of the cold war."—Fareed Zakaria, New York Times Book Review
"The product of twenty years' labor, this work contains a wealth of fascinating material charting the manifold ways in which Americans have understood the rise, fall, and occasional renovation of American power."—David C. Hendrickson, Foreign Affairs
"White's ambitious, provocative study examines underlying reasons for the rise and decline for U.S. power since World War Two. . . . White's ability to supplement diplomatic, political, and economic evidence with cultural and sociological perspectives distinguishes his study from other examinations of U.S. decline as a world power, and makes his conclusion all the more persuasive."—Choice
"This is a large and fascinating book, rich in detail, thoroughly buttressed by a vast quantity of research. Despite this research, it is engagingly written and highly readable."—Esmond Wright, Contemporary Review
"A monumental task. . . . White's book should stimulate research and writing in this fertile area."—Library Journal
"This work contains a wealth of fascinating material charting the manifold ways in which Americans have understood the rise, fall and occasional renovation of American power. The author . . . investigates a wide range of sources in unfolding his subject, and he is alive to discoveries that challenge preconceived notions."—Foreign Affairs
"No topic could be of greater importance than the role the United States has played in world politics over the past half century, the subject of Professor White's massive tome. . . . White has an approach to the problem which is original."—The London Times
"The American Century might have lasted longer if it had been characterized by leadership rather than dominance. White's provocative book should prompt study of the question."—J. Howell Smith, Journal of Military History
"This wonderfully descriptive book deconstructs how Americans themselves—political leaders, novelists, journalists, economists, sociologists, historians, theologians, even songwriters—explained American purpose and preeminence after World War II and then accounted for their erosion after Vietnam."—J. Garry Clifford, Journal of Political and Social Science
"This wonderfully descriptive book deconstructs how Americans themselves— political leaders, novelists, journalists, economists, sociologists, historians, theologians, even songwriters—explained American purpose and preeminence after World War II and then accounted for their erosion after Vietnam."—J. Garry Clifford, The Annals of the American Academy of Political and Social Science
"The American History is a mature and interesting work."—Paul M. Kennedy, The International History Review
"White's book is valuable . . . for its portraits of American thought and opinion during a tumultuous period of U.S. and global history."—Jeffrey Kimball, The Historian
"An ambitious and impressive book that will make a real contribution to discussions about American power in the twentieth century. There is a wealth of fascinating information drawn from a remarkably wide array of sources."—Richard Barnet, Institute for Policy Studies
ISBN:
9780300078787
Publication Date:
April 10, 1999
576 pages, 6 1/8 x 9 1/4