Agrippina
WARNING
You are viewing an older version of the Yalebooks website. Please visit out new website with more updated information and a better user experience: https://www.yalebooks.com
Sex, Power, and Politics in the Early Empire
Anthony A. Barrett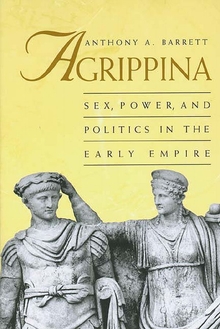 View Inside
Format:

Paper


Price:

$35.00
Also Available in:
Cloth
Agrippina the Younger attained a level of power in first-century Rome unprecedented for a woman. According to ancient sources, she achieved her success by plotting against her brother, the emperor Caligula, murdering her husband, the emperor Claudius, and controlling her son, the emperor Nero, by sleeping with him. Modern scholars tend to accept this verdict. But in his dynamic biography—the first on Agrippina in English—Anthony Barrett paints a startling new picture of this influential woman.

Drawing on the latest archaeological, numismatic, and historical evidence, Barrett argues that Agrippina has been misjudged. Although she was ambitious, says Barrett, she made her way through ability and determination rather than by sexual allure, and her political contributions to her time seem to have been positive. After Agrippina's marriage to Claudius there was a marked decline in the number of judicial executions and there was close cooperation between the Senate and the emperor; the settlement of Cologne, founded under her aegis, was a model of social harmony; and the first five years of Nero's reign, while she was still alive, were the most enlightened of his rule. According to Barrett, Agrippina's one real failing was her relationship with her son, the monster of her own making who had her murdered in horrific and violent circumstances. Agrippina's impact was so lasting, however, that for some 150 years after her death no woman in the imperial family dared assume an assertive political role.
Anthony A. Barrett is professor of classics at the University of British Columbia in Vancouver and the author of Caligula, published by Yale University Press.
A selection of the History Book Club

"Any reader with an interest in the history of Roman women, or of the Roman imperial system, whether scholar or interested layman, will find this biography indispensable."—Susan Wood, Bryn Mawr Classical Review
"This work elucidates nicely some of the problems one encounters in attempting to define the various roles played by, and the position of, imperial women in the first decades of the Roman Empire. Moreover, Barrett combines rigorous scholarship with a particularly engaging narrative style. Of great value to students is the essay on sources, as well as the appendixes, which tackle the genealogical quagmire of reconstructing the imperial family. Highly recommended."—Choice
"Barrett is to be congratulated on a book from which a great many will derive both knowledge and pleasure."—David Shotter, Classical Review
"All students of the Julio-Claudian dynasty should give careful consideration to this revisionist portrait of Agrippina."—William J. Dominik, Classical World
"One of history's most notorious monsters is rehabilitated as a politically successful woman whose power and reputation in first-century Rome fell victim to Roman sexism. . . . A scholarly yet accessible biography that largely succeeds in replacing Grand Guignol with something more satisfying: the tragedy of a natural leader born female in a society afraid to be led by women."—Kirkus Reviews
"[Barrett] does not exonerate Agrippina the Younger so much as give plausible explanations for her behavior and put her actions in a proper perspective. . . . Cleverly, insightfully arranged. . . . This is a wonderful book."—Library Journal
"A carefully reasoned and eloquently presented attempt to find redeeming virtues in one of the most infamous women of antiquity. . . . A fitting complement to a host of other popular imperial biographies and will be found stimulating to both students and scholars of the early Roman empire."—David F. Graf, Religious Studies Review
"Agrippina emerges in this thoroughgoing study as even more fascinating than her traditional reputation, and the ancient stories about her are themselves seen in a clearer light."—The Key Reporter
"Barrett has produced a smooth and readable plea for a dubious client. Moreover, his English and American publishers have between them turned his book into an interesting cultural document."—Timothy Barnes, University of Toronto Quarterly
ISBN:
9780300078565
Publication Date:
July 11, 1999
352 pages, 6 1/8 x 9 1/4
20 b/w illus.

---
Sales Restrictions: For sale in the U.S., its territories and dependencies, the Philippine Islands, and Canada only