Architecture and the Text
WARNING
You are viewing an older version of the Yalebooks website. Please visit out new website with more updated information and a better user experience: https://www.yalebooks.com
The (S)crypts of Joyce and Piranesi
Jennifer Bloomer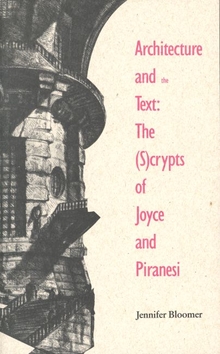 View Inside
Format:

Paper


Price:

$25.00
Also Available in:
Cloth
In this profoundly original book, Jennifer Bloomer addresses important philosophical questions concerning the relation between writing and architecture. Drawing together two cultural fantasies from different periods—one literary and one architectural—Bloomer uses the allegorical strategies she finds in James Joyce's Finnegans Wake to analyze three works of Giambattista Piranesi (Campo Marzio, Collegio, and the Carceri). Bloomer argues that architecture is a system of representation, with signifying possibilities that go beyond the merely symbolic.

Bloomer reads the texts and ideas of Joyce and Piranesi against one another, further illuminating them with insights from myth, religion, linguistics, film theory, nursery rhymes, and personal anecdotes, as well as from poststructuralist, Marxist, and feminist criticism. Combining the strategies of Finnegans Wake, which Joyce himself called architectural, with conventional strategies of architectural thinking, Bloomer creates a new way of thinking architecturally that is not dominated by linear models and that appropriates ideas, parts, and theoretical frameworks from many other disciplines. Demonstrating her argument by dramatic example, Bloomer's treatise—like Joyce's word-play and Piranesi's play with visual representation—offers the pleasure of ongoing discovery.

Jennifer Bloomer is associate professor of architecture at Iowa State University.

"Bloomer has produced a work of theoretical and aesthetic power. It releases language and architecture, theory and practice from divisions that are shown to have divided falsely and thereby reduced the force of each mode. No one should practice architecture or writing—or read Joyce or Piranesi—in the same way again."—Ann Bergren, University of California, Los Angeles, and Southern California Institute of Architecture
"This book will be of interest to Joyceans as well as to architectural theorists. It has intellectual passion. The sensibility informing it is rare and beautiful. And the imagination informing it is of the first order."—Guy Davenport
"[The book] arrives as a breath of fresh celestial air. . . . An absolute delight and capable of making poetry where most critics . . . make water. . . . Has the "intellectual passion" that Guy Davenport finds in it, and its sensibility is, as he claims, 'rare and beautiful.'"—Bernard Benstock, Comparative Literature Studies
"A breath of fresh, celestial air. . . . 'Intellectual [and] passionate'. . . . 'Rare and beautiful.'"—Bernard Benstock, Comparative Literature Studies
"Bloomer produces an intersection of architectural drawing and text, at once convincing and effective, that provokes rethinking and fertile speculation on the status of architectural, historical, literary and critical textualities."—Elizabeth Brunazzi, James Joyce Broadsheet

ISBN:
9780300063028
Publication Date:
February 22, 1995
240 pages, 6 x 9
36 b/w illus.