The Grammar of the Machine
WARNING
You are viewing an older version of the Yalebooks website. Please visit out new website with more updated information and a better user experience: https://www.yalebooks.com
Technical Literacy and Early Industrial Expansion in the United States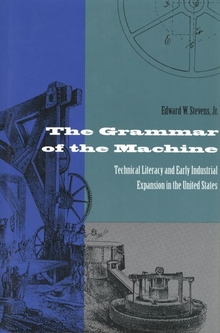 View Inside
Format:

Cloth


Price:

$65.00
During the late eighteenth and early nineteenth centuries, the American economy moved toward a manufacturing base and mass production, creating a demand for a literacy that encompassed not only the traditional alphabetic form of expression but also scientific and mathematical notation and spatial and graphic representation. How did the world of learning respond to this demand? What kinds of educational institutions, teachers, textbooks, and patterns of instruction emerged?

Edward Stevens, Jr., describes the important technological changes that took place in antebellum America and the challenges they posed for education. Investigating the instruction, curricula, and textbooks used in the common schools, in the mechanics' institutes, and, specifically, at the Troy Female Seminary and the Rensselaer School in upstate New York, he demonstrates how advocates of technical literacy attempted to teach new skills. Stevens shows that the tensions between the liberal and the vocational, between a culture of print and a nonverbal culture of experience, persisted in technical education through the first half of the nineteenth century but were resolved temporarily by a common moral vision.

Edwards W. Stevens, Jr., is professor of history and philosophy of education at Ohio University.
"This book will become the standard work in its field, widely read and cited by scholars in educational history and by those who study the history of technology and science. In fact, it will appeal to almost anyone interested in the cultural history of the nineteenth century."—William Reese, Indiana University
"The book belongs in all college libraries, especially those offering degrees in education and/or technical subjects."—Thomas W. Judd, History
"Examining the instruction, curriculum, and textbooks used in the mechanics' institutes and the common schools, this thought-provoking book demonstrates how the advocates of technical literacy attempted to teach new skills."—Historical Journal of Massachusetts
"Stevens has written a revealing grammar of scientific and technical education that a wide range of historians will find appealing."—Stephen H. Cutcliffe, Journal of American History
"Steven's highly useful volume not only instructs us on the nineteenth century but offers a more general commentary on the way in which changes in education and in technology must reinforce each other if both are to advance together."—W. J. Rorabaugh, History of Education Quarterly
"Specialists in nineteenth-century U.S. intellectual history and the history of education will appreciate the interesting and innovative way in which he has organized his information and assimilated it into the broad story of nineteenth-century industrial expansion. The book also provides food for thought for anyone concerned about current attempts to incorporate new technological innovations and cultural insights into contemporary public school and college courses of study."—Daniel R. Beaver, The Historian
ISBN:
9780300061062
Publication Date:
July 26, 1995
224 pages, 6 1/8 x 9 1/4
10 b/w illus.