Roman Sculpture
WARNING
You are viewing an older version of the Yalebooks website. Please visit out new website with more updated information and a better user experience: https://www.yalebooks.com
Diana E. E. Kleiner

Read this book online via the A&AePortal, our art and architectural history eBook platform. To learn more about how to access this book, please contact us.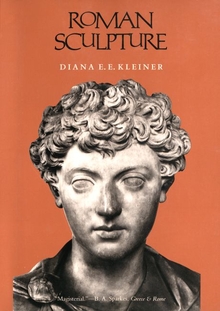 View Inside
Format:

Paper


Price:

$61.00
Also Available in:
Cloth
Art ePortal
Roman sculpture was an integral part of Roman life, and the Romans placed statues and reliefs in their fora, basilicas, temples, and public baths, as well as in their houses, villas, gardens, and tombs. In this beautifully illustrated book—the first in almost a century devoted solely to Roman sculpture—Diana E. E. Kleiner discusses all the major public and private monuments in Rome, as well as many less well known monuments in the capital and elsewhere in the empire. She examines art commissioned by the imperial elite and by private patrons, including freedmen and slaves, and she also highlights monuments honoring women and children. Kleiner demonstrates that the social, ethnic, and geographical diversity of Roman patronage led to an art that was eclectic and characterized by varying styles, often tied to the social status of the patron. She also examines the interrelations between works produced for different kinds of patrons.

Kleiner begins with a long thematic introduction that describes Rome and its empire, characterizes patrons from the capital and the provinces, discusses the position of the artist in Roman society and the materials he used, and presents a history of the study of Roman art. The remaining chapters constitute a chronological examination of Roman sculpture from the foundation of Rome in 753 B.C. to the transfer of the capital to Constantinople in A.D. 330. In each period the monuments are divided by type, for example, portraiture, state relief sculpture, the art of freedmen, and provincial art. Throughout, Kleiner treats Roman sculpture in its cultural, political, and social contexts and, wherever possible, as an element of the architectural complex in which it was set.



Published with the assistance of the Getty Grant Program
Diana E. E. Kleiner is Dunham Professor of History of Art and Classics at Yale University.

"A superlative book. All art historians, teachers, scholars, and concerned readers will be richer for its appearance."—Cornelius Vermeule, senior curator, Museum of Fine Arts, Boston
"Arguably the most important survey on the subject to date. The clearly written scholarly text moves majestically through the Late Republic to the reign of Constantine. . . . [Kleiner's] unique combination of scholarship, enthusiasm, clarity, intuition, her ability to provoke reappraisals of what had previously seemed fully explored while aware of recent archaeology, recommend her for this daunting project."— F. Williamson Price, Minerva
"The author discusses the major public and private monuments in Rome as well as lesser known monuments in other parts of the empire, examining the sculpture in its cultural, political and social contexts."—Smith Alumnae Quarterly
"The book is well written and easy to read. . . . A magisterial survey of Roman sculpture."—Thomas Jacoby, Art Documentation
"Kleiner's strength lies in the magisterial way in which she has ordered the mass of material. . . . A full-dress, up-to-date, and readable survey."—Greece and Rome
"A chronological survey devoted exclusively to Roman sculpture from the Republic to Constantine. . . . The book's outstanding strength is Kleiner's full discussion of contexts, whether historical, political, social, or architectural. . . . This beautiful, well illustrated book is a major contribution to its field."—Sally Schultz, Religious Studies Review
"A fascinating and important work for scholars and students of art."—Library Journal

"This book is a welcome addition to the field. It is a methodically balanced and lucid discussion of Roman sculpture. It will serve as a useful and accessible introductory text for the non-specialist and undergraduate reader, as well as being an excellent reference source for scholars."—Susan E. Kane, Apollo Magazine
"Such a book has long been needed. . . . [Kleiner's] is the best available study of Roman sculpture in its full range of manifestations."—Roger Ling, Journal of Roman Archaeology

ISBN:
9780300059489
Publication Date:
September 28, 1994
Publishing Partner:
Published with the assistance of the Getty Grant Program
489 pages, 9 x 11 1/2
421 b/w illus.