Art and Psyche
WARNING
You are viewing an older version of the Yalebooks website. Please visit out new website with more updated information and a better user experience: https://www.yalebooks.com
A Study in Psychoanalysis and Aesthetics
Ellen Handler Spitz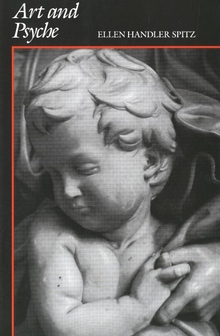 View Inside
Format:

Paper


Price:

$24.00
In this provocative, closely argued book, Ellen Handler Spitz explores three principal psychoanalytic approaches to art. The first considers the relations between an artist's life and work; the second focuses on the work of art itself; and the third encompasses the intricate relations between a work of art and its audience or beholders. To illustrate her theoretical discussion, Spitz draws on a variety of art forms, including painting, sculpture, literature, music, and dance.

"No one who is concerned with the psychoanalytic study of art can afford to neglect [this book]; no one who cares about the art of psychoanalysis should ignore it."—Aaron H. Esman, M.D., Journal of the American Psychoanalytic Association

"This book … should prove fascinating to all who are concerned with works of art as expressions of the human mind and heart."—Shehira Davezac, Hospital and Community Psychiatry

"This book is highly recommended to all who enjoy the multiple applications of analytic thought to extend our senses."—Jay Lefer, Journal of the American Academy of Psychoanalysis

Ellen Handler Spitz holds degrees in art history, aesthetics, and education from Barnard College, Harvard University, and Columbia University. She was trained as a special candidate at the Center for Psychoanalytic Training and Research, Columbia University.
Ellen Handler Spitz is a Senior Lecturer in the Humanities Program at Yale University. She writes and lectures widely on the arts, psychology, and culture. She is also the author of Art and Psyche and Museums of the Mind.
"Spitz possesses an exquisitely refined understanding of what psychoanalytic  criticism can and cannot do. . . . [A] lucid treatment of difficult theoretical  issues and her remarkably assured ability to draw on the worlds of dance, music, theater, painting, literature, philosophy, and, of course, psychoanalysis."—Bradley Collins, Art Journal
"In careful discussions she elaborates strengths and weaknesses....Spitz, clearly herself a sensitive and widely experienced student both of the arts and psychoanalysis, offers to the reader a carefully wrought conceptual model for the critical appraisal of efforts at application of psychoanalytic ideas to the realm of art....No one who is concerned with the psychoanalytic study of art can afford to neglect it; no one who cares about the art of psychoanalysis should ignore it."—Aaron H. Esman, M.D., JAPA
"The reader concerned with creative expression and its basis is here provided with a text that explores the relationship of the art experience and psychoanalytic theory. . . . Art and Psyche provides a strong foundation for integrative understanding of man's fascination with the raison d'etre of the art experience."—Donna Goffin-Girasek, Arts in Psychotherapy
"An instructive book on the ways psychoanalytic understanding has informed aesthetics, art criticism, biography of artists, and other facets of art theory in the past, and how it may continue to do so with increasing sophistication. The book is paced with well-presented summaries and thoughtful critiques of some of the leading investigators."—Paul W. Pruyser, Ph.D., Henry March Pfeiffer Professor Emeritus, The Menninger Foundation, Bulletin of the Menninger Clinic
"Spitz succeeds admirably in drawing parallels and connections between psychoanalytic theory and aesthetics."—Michael N. Macklin, M.D., Contemporary Psychiatry
"In this unusual book, . . . [Spitz] makes a sweeping exploration of Freud's goals of psychoanalysis: a method of treatment, a metapsychology, and an instrument of research into areas that have not been touched before. Her understanding of the psychoanalytic literature is interwoven with examples from literature, music, and aesthetics. The goal of the book is an understanding of the aesthetic experience. This book is highly recommended to all who enjoy the multiple applications of analytic thought to extend our senses and can only contribute to more effective clinical work."—Jay Lefer, M.D., Journal of the American Academy of Psychoanalysis
"Her book is useful from the point of view of aesthetics and literary criticism in that it emphasizes and explains aspects of American psychoanalytic thought which are seldom considered within aesthetic and critical discourse."—Institute of Psycho-Analysis
"Spitz is able to transcend any objections to applied psychoanalysis by bringing together her knowledge and competency in a number of areas....Spitz is able to move adroitly back and forth from psychoanalysis to art history in a manner that gives color, texture, and form to her writing."—Journal of the American Academy of Psychoanalysis
"Her sensitivity to and familiarity with the arts allay one's suspicions about psychoanalytic forays into art. . . . It should prove fascinating to all who are concerned with works of art as expressions of the human mind and heart."—Shehira Davezac, Hospital and Community Psychiatry
ISBN:
9780300046205
Publication Date:
September 10, 1989
195 pages, 6 1/8 x 9 1/4