Yield
WARNING
You are viewing an older version of the Yalebooks website. Please visit out new website with more updated information and a better user experience: https://www.yalebooks.com
Anne Truitt; Foreword by Rachel Kushner; Preface by Alexandra Truitt

Read this book online via the A&AePortal, our art and architectural history eBook platform. To learn more about how to access this book, please contact us.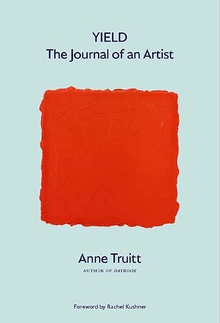 View Inside
Format:

Hardcover


Price:

$26.00
This posthumously published work serves as the fourth and final volume in Anne Truitt's remarkable series of journals
 
"Impressive. . . . Truitt lyrically looks back on 80 years of life. . . . [T]hese daily entries . . . offer a version of Truitt free of artifice as she meditates on the sacred and mundane. . . . This sparks with intelligence."—Publishers Weekly
 
"Truitt wrote as she sculpted, returning to the past again and again to find fresh truths. . . . A model of discipline and open-ended inquiry and a welcome counterweight to the kind of anxieties that so often accompany a creative practice."—Megan O'Grady, New Yorker
 
"In its stripped-down intimacy, Yield shows Truitt at her most eloquent in demonstrating, as her sculptures do, that all revelation in art is self-revelation."—Donna Rifkind, Wall Street Journal
 
In the spring of 1974, the artist Anne Truitt (1921–2004) committed herself to keeping a journal for a year. She would continue the practice, sometimes intermittently, over the next six years, writing in spiral-bound notebooks and setting no guidelines other than to "let the artist speak." These writings were published as Daybook: The Journal of an Artist (1982). Two other journal volumes followed: Turn (1986) and Prospect (1996). This book, the final volume, comprises journals the artist kept from the winter of 2001 to the spring of 2002, two years before her death.
 
In Yield, Truitt's unflinching honesty is on display as she contemplates her place in the world and comes to terms with the intellectual, practical, emotional, and spiritual issues that an artist faces when reconciling her art with her life, even as that life approaches its end. Truitt illuminates a life and career in which the demands, responsibilities, and rewards of family, friends, motherhood, and grandmotherhood are ultimately accepted, together with those of a working artist.
Anne Truitt was an American artist whose bold use of geometry and color signaled a new direction for modern sculpture. Today she is internationally acclaimed not just for her art but for her journals of her life as an artist. Rachel Kushner is an award‑winning writerknown for her art criticism and her novels Telex from Cuba(2008), The Flamethrowers (2013), and The Mars Room (2018). Her new book, The Hard Crowd (2021), collects twenty years of essays. Alexandra Truitt is the daughter of Anne Truitt and the noted American journalist James Truitt.
"Extraordinary."—Edmund de Waal, The Guardian
"In its stripped-down intimacy, Yield shows Truitt at her most eloquent in demonstrating, as her sculptures do, that all revelation in art is self-revelation."—Donna Rifkind, Wall Street Journal
"Truitt wrote as she sculpted, returning to the past again and again to find fresh truths. . . . A model of discipline and open-ended inquiry and a welcome counterweight to the kind of anxieties that so often accompany a creative practice."—Megan O'Grady, New Yorker
"Her sculptures spoke in restrained form, but the artist's journals reveal the complexities of thought and experience behind them."—Wall Street Journal
Named by the New Yorker as a Best Book of 2022
"Impressive. . . . Truitt lyrically looks back on 80 years of life. . . . [T]hese daily entries . . . offer a version of Truitt free of artifice as she meditates on the sacred and mundane. . . . This sparks with intelligence."—Publishers Weekly
"All of Truitt's journals are death-haunted, but these notebooks, written shortly before her own death, have the distinct emotional charge of someone coming to terms with their mortality."—Janique Vigier, Bookforum
"Through [Truitt's] writings, honesty shines as she considers her place in the world and grapples with intellectual, practical, emotional, and spiritual issues in her life."—Eileen Kinsella, Artnet.com
"Yield holds all the potential pathfinding of Truitt's previous journals, with the added power of documenting two years near the end of the artist's life. . . . Art-making until the end, Truitt is as ever a pathfinder worth following."—Ron Slate, On the Seawall
"Anne Truitt's Yield has a tone that is rich and spare, considered and sensuous, inward-looking and utterly vibrant and vivid, fully alive in the world, inspiring for the reader."—Colm Tóibín, author of The Master
"As a previously unpublished manuscript from Truitt's archive, Yield affords us the opportunity to see the artist in an unusually raw state. Her words are unfailingly erudite and abundantly human."—Miguel de Baca, author of Memory Work: Anne Truitt and Sculpture
"Completed two years before Truitt's death, Yield recounts in crystalline prose the decline of her generation, the horrors of 9/11 and the 'War on Terror,' and the gratification her art brings even as its execution proves more difficult. Here is Truitt's finest work of writing: a book as spare and deep, and ultimately wordless, as her art."—James Meyer, author of The Art of Return: The Sixties and Contemporary Culture
"This extraordinary journal is Anne Truitt's record of a searching intelligence, her meditations on memory, loss, creating art, creating a family and on age. It is a remarkable book, a tuning into 'very tiny singular differences' in a way that reveals Truitt's singular brilliance as both artist and writer."—Edmund de Waal, author of The Hare with Amber Eyes
"I have always kept Anne Truitt's Daybook, Turn, and Prospect near me as I write. Yield is a rich encounter with the same searching, wise voice of a woman artist grappling with the complexities of her life and work. What a gift it is to have her voice in my ears once again."—Dani Shapiro, author of Inheritance
ISBN:
9780300260403
Publication Date:
June 21, 2022
216 pages, 5 1/2 x 8 1/4