Hot Protestants
WARNING
You are viewing an older version of the Yalebooks website. Please visit out new website with more updated information and a better user experience: https://www.yalebooks.com
A History of Puritanism in England and America
Michael P. Winship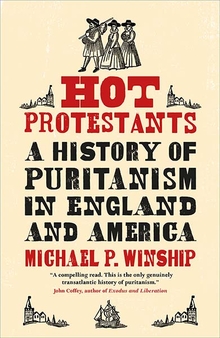 View Inside
Format:

Paper


Price:

$20.00
Also Available in:
Hardcover
On fire for God—a sweeping history of puritanism in England and America

Begun in the mid-sixteenth century by Protestant nonconformists keen to reform England's church and society while saving their own souls, the puritan movement was a major catalyst in the great cultural changes that transformed the early modern world. Providing a uniquely broad transatlantic perspective, this groundbreaking volume traces puritanism's tumultuous history from its initial attempts to reshape the Church of England to its establishment of godly republics in both England and America and its demise at the end of the seventeenth century.
 
Shedding new light on puritans whose impact was far-reaching as well as on those who left only limited traces behind them, Michael Winship delineates puritanism's triumphs and tribulations and shows how the puritan project of creating reformed churches working closely with intolerant godly governments evolved and broke down over time in response to changing geographical, political, and religious exigencies.
Michael P. Winship is E. Merton Coulter Professor in the Department of History at the University of Georgia.
"A fresh retelling of the ups and downs of the Puritan movement in England and New England, a story conveyed through vignettes that capture its dynamics in unusually insightful ways."—David D. Hall, author of A Reforming People
"An important work by one of our leading scholars of puritanism, placing the movement in its proper Atlantic context and offering valuable insights in a way accessible to all readers."—Francis J. Bremer, author of First Founders
"A compelling read. This is the only genuinely trans-Atlantic history of puritanism, taking in the full sweep of the story from the 1540s to the 1690s. Throughout, Winship displays an unmatched command of the field, astute judgment, and independence of mind. Hot Protestants is a tremendous achievement."—John Coffey, author of Exodus and Liberation
"A long needed study of the transatlantic Puritan movement, knitting together its disparate elements into a coherent whole.  Winship's mastery of the subject on both sides of the Atlantic is unparalleled, and his forceful account, told in vigorous and lucid prose, will remind readers why Puritanism had a powerful influence in shaping the modern world."—Mark A. Peterson, author of The Price of Redemption
"The rise and fall of transatlantic puritanism is told through political, theological, and personal conflict in this exceptional history. . . . With a clear narrative tied together with helpful clarifications, Winship's cogent work nicely lays out the history of how puritans emerged from Protestantism."—Publishers Weekly, starred review
"Hold on to your hats. Michael Winship has written one of the finest and most challenging studies of early modern Puritanism—and this in a field replete with gifted scholars."—Jonathan Wright, Catholic Herald
"Michael P. Winship tells an ocean-spanning story with a light touch and an ear for compelling vignettes."—Alec Ryrie, BBC History Magazine
"Winship has established himself as a leading authority on the history of the Puritans. While many works have focused on a specific aspect of Puritan history, . . . there are fewer works that show Puritanism as a multinational movement in Europe and the Americas. This book fills those gaps."—Jeffrey Meyer, Library Journal
"Hot Protestants is a fine work of scholarship, written in a gracefully understated style, and is among the fairest and most readable accounts of the glorious failure that was trans-Atlantic Puritanism."—Barton Swaim, Wall Street Journal
"Winship has produced one of the best introductions to puritanism that currently exists. Here is an accessible narrative spanning 150 years that never bogs down while still providing enough detail to understand what the puritans were all about."—Abram Van Engen, Reading Religion
"Engaging and informative, this is a must-read for any student of Puritanism."—M. Reardon, Choice
"Winship ventures a massive undertaking, the first of its kind, by providing a truly trans-Atlantic history of Puritanism for the historical community and an even wider readership. . . . Winship's impressively documented study of both primary and secondary sources is a welcome contribution to ongoing Puritan scholarship."—Joseph T. Cochran, Presbyterion 
"Exhilarating popular history...convincingly captures in one bold retelling decades of scholarship on Puritanism's origins, developments and characteristics"—Johanna Harris, Times Literary Supplement
Winship's "command of the Puritan story in England and America is authoritative, and I'm not aware of another book that so seamlessly tells the story in such a fluid, comparative way."—Thomas S. Kidd, The Gospel Coalition 
"A fresh interpretation . . . [and] a thoroughly researched, up-to-date narrative. . . . Hot Protestants is an outstanding read; it is well-researched and overflowing with detail. It is lively history at its best."—Robert W. Caldwell III, Christianity Today
"Michael Winship's brilliant and original book Hot Protestants shows, from 1540 to 1700 relations between Presbyterians and Congregationalists were anything but smooth or straightforward. . . . Essential reading for any Presbyterian curious about British antecedents to the rise and development of the church polity that American Presbyterians take for granted and that was implemented in America without any of the fanfare of civil war or regicide. Even better, Hot Protestants is a book that readers will not be able to put down."—Darryl G. Hart, Ordained Servant
"A unique and desperately needed synthesis. . . . Due in great measure to Winship's winsome writing style, nonexperts, including those in undergraduate history classes, will reap considerable benefit from reading it."—Paul C.H. Lim, Journal of Church and State
"Illuminating and enjoyable...the first properly transatlantic history of the Puritan movement."—Peter Marshall, Journal of British Studies 
 "A major achievement, one that will benefit students and specialists alike" — Adrian Weimer, William and Mary Quarterly
An essential reference for readers interested in early modern religion or politics, as well as British and Atlantic history."—Neal T. Dugre, Early American Literature
"[Winship] has added mastery of a massive secondary literature on English circumstances to his proven expertise on American developments to provide a fascinating account."—Mark Noll, New England Quarterly
"A highly textured story that plumbs the depth and breadth of puritanism while showing the complexities, successes, and failures of the puritan project. . . . Readers of all kinds will encounter stories that grab their interest and raise thought-provoking questions. Religious historians will undoubtedly find something new in these pages, while the relative brevity of the book makes it an excellent choice for the classroom. Hot Protestants deserves both a wide readership and close attention from scholars."—Paul J. Glutacker, Journal of Religion
"With the study's title, Winship makes clear that his intention is not to deal with revisions and developments of Puritanism and its reception history in the nineteenth and twentieth centuries, yet he nonetheless lays a significant cornerstone for such research. . . . Hot Protestants recommends itself as a standard work and basis for future scholarship."—Philipp Reisner, Journal of the American Academy of Religion
Listed on Choice's Outstanding Academic Titles List for 2019
 
ISBN:
9780300255003
Publication Date:
August 31, 2021
368 pages, 5 x 7 3/4
24 b/w illus.