Claretta
WARNING
You are viewing an older version of the Yalebooks website. Please visit out new website with more updated information and a better user experience: https://www.yalebooks.com
R. J. B. Bosworth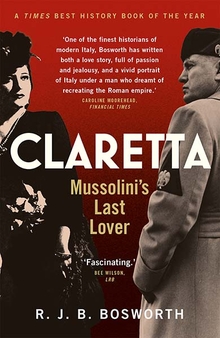 View Inside
Format:

Paper


Price:

$20.00
Also Available in:
Hardcover
A master historian illuminates the tumultuous relationship of Mussolini and his young lover Claretta Petacci

"One of the finest historians of modern Italy, Bosworth has written both a love story, full of passion and jealousy, and a vivid portrait of Italy under a man who dreamt of recreating the Roman empire."—Caroline Moorehead, Financial Times

Few deaths are as gruesome and infamous as those of Benito Mussolini, Italy's fascist dictator, and Claretta (or Clara) Petacci, his much-younger lover. Shot dead by Italian partisans after attempting to flee the country in 1945, the couple's bodies were then hanged upside down in Milan's main square in ignominious public display. This provocative book is the first to mine Clara's extensive diaries, family correspondence, and other sources that have only recently become available to discover how the last in Mussolini's long line of lovers became his intimate and how she came to her violent fate at his side.
 
R. J. B. Bosworth explores the social climbing of Claretta's family, her naïve and self-interested commitment to fascism, her diary's graphically detailed accounts of sexual life with Mussolini, and much more. Brimful of new and arresting information, the book sheds intimate light not only on an ordinary-extraordinary woman living at the heart of Italy's totalitarian fascist state but also on Mussolini himself.
R. J. B. Bosworth is senior research fellow in history, Jesus College, Oxford.
"A brilliant insight into Mussolini's relationship with his most persistent and devoted lover."—David Laven, author of Venice and Venetia under the Habsburgs
'Picking his way between myths, half-truths and downright lies Richard Bosworth has brilliantly documented the realities of the sordid and sometimes turbulent relationship between Benito Mussolini and Clara Petacci.' - John Pollard, University of Cambridge, author of The Papacy in the Age of Totalitarianism, 1914-1958


'By taking us deep into this private world, this important book illuminates the inner workings of the fascist regime and gives a better insight into Mussolini than any other political biography ever could.' – Stephen Gundle, author of Mussolini's Dream Factory: Film Stardom in Fascist Italy
'In his magisterial biography of Mussolini, Richard Bosworth showed how the Fascist dictator ruled by interview. Between meetings, he rang his lover, Claretta Petacci, often every half an hour, a display of devotion and distraction in equal measure. Claretta's life with the dictator is an extraordinary tale and Bosworth is the perfect historical narrator for it. A must.' - Nicholas Stargardt, author of The German War: A Nation Under Arms, 1939-1945
"Readers are fortunate that the Australian-­born historian is the first English-­language specialist to make extensive use of this material… He writes with erudition, perceptiveness and humour about Claretta and Mussolini — she called him Ben, and he called her Clara —and about the light cast by their affair on the dictator's personality, his style of rule and Italian social conditions during his 1922­-43 spell as national leader."—Tony Barber, Financial Times
"That fateful first encounter and the passionate, but doomed affair that followed between Claretta and her 'Ben' is detailed in a riveting new biography of Petacci by historian Richard Bosworth."—Christopher Stevens, Daily Mail
"Most of the world – as Richard Bosworth points out at the start of this scrupulously forensic examination of a woman for whom his own sympathy is discreetly scant – has forgotten about Claretta Petacci… Xenophobic, anti-Semitic, ruthless, amoral and idle, she is fortunate to have fallen into the hands of a calm, kind and fair-minded biographer, one who balances Petacci's vices against the fact that her life ended with humiliation, hardship and a shameful death."—Miranda Seymour, Daily Telegraph
"Bosworth ably demonstrates how histories of amorous adventurism can be used to explore central themes of modern political history to great effect."—Neil Gregor, THES
"Claretta: Mussolini's Last Lover is a book that casts a new light on Mussolini as a failed leader. For readers interested in World War II and the path upon which its leaders trod, this is informative and interesting."—New York Journal of Books
"RJB Bosworth draws on rarely consulted papers that Petacci kept of their nine-year relationship. One of the finest historians of modern Italy, Bosworth has written both a love story, full of passion and jealousy, and a vivid portrait of Italy under a man who dreamt of recreating the Roman empire . . . Claretta is an extremely enjoyable read."—Caroline Moorehead, Financial Times
A TIMES BEST HISTORY BOOK FOR 2017.
ISBN:
9780300254891
Publication Date:
August 17, 2021
320 pages, 5 x 7 3/4
24 b/w illus.