Italian Venice
WARNING
You are viewing an older version of the Yalebooks website. Please visit out new website with more updated information and a better user experience: https://www.yalebooks.com
R. J. B. Bosworth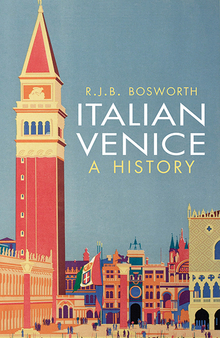 View Inside
Format:

Paper


Price:

$30.00
Also Available in:
Hardcover
In this elegant book Richard Bosworth explores Venice—not the glorious Venice of the Venetian Republic, but from the fall of the Republic in 1797 and the Risorgimento up through the present day. Bosworth looks at the glamour and squalor of the belle époque and the dark underbelly of modernization, the two world wars, and the far-reaching oppressions of the fascist regime, through to the "Disneylandification" of Venice and the tourist boom, the worldwide attention of the biennale and film festival, and current threats of subsidence and flooding posed by global warming. He draws out major themes—the increasingly anachronistic but deeply embedded Catholic Church, the two faces of modernization, consumerism versus culture.
 
Bosworth interrogates not just Venice's history but its meanings, and how the city's past has been co-opted to suit present and sometimes ulterior aims. Venice, he shows, is a city where its histories as well as its waters ripple on the surface.
R. J. B. Bosworth is a senior research fellow at Jesus College, Oxford.
'[Italian Venice] is a work far more colourful and enjoyable than the usual dust-dry tomes on Venice. . .Bosworth has previously published exemplary works on Mussolini and on Rome, and this one on the real, living Venice is equally fascinating.'—Tobias Jones, Sunday Times
'This is unquestionably one of the boldest approaches to the realities of modern Venice to have appeared in recent years. Superbly judged as an exercise in style and exemplary in the range of its documentation, it is required reading for anyone whose engagement with the city and its historical experience goes beyond mere sentimental nostalgia'—Jonathan Keates, Literary Review
'[This] highly readable book skilfully captures detail at a human scale while surveying two centuries of political, social, economic and cultural history. It is also a history book with a contemporary mission, seeking to contribute to current debates about how Venice might best live in the 21st century.'—Kate Ferris, THES
'. . . Bosworth, a subtle and stylish historian, believes that the best way to keep Venice alive (and authentic) is to embrace its unofficial histories.' His stimulating book decodes monuments that are not to be found in the tourist guides but which are nonetheless emblematic of a city that 'is washed by multiple pasts enjoying their historians or summoning them to write another telling story.''—Christopher Silvester, The Financial Times
'RJB Bosworth, a historian who has previously specialised in Italian fascism, does superlatively well to write about a more post-Renaissance and les-documented Serenissima – the one sacked by Napoleon, who stripped the churches and galleries of their Titians, Tintorettos, Bellinis and Carpaccios; the belle-epoque playground of the Lido, where the Grand Hotel des Bains, the setting for Thomas Mann's novella (and the Dirk Bogarde film), was opened in 1900; and the city that spent time under Austrian rule, to whom we can give credit for the coffee houses and pastries.'—Roger Lewis, The Times
'Weaving together political, social, economic and cultural strands in an extremely rich and engaging fashion, Bosworth shows the extent to which Venice continued to be an active player in the broader history of the nineteenth and twentieth centuries. This is a beautifully written, stimulating and constantly entertaining book.' - Christopher Duggan, author of Fascist Voices: An Intimate History of Mussolini's Italy
'Bosworth brings a fresh eye to Venice's history, telling us lots that we didn't know already and providing a masterly overview allied with numerous fascinating details. The account is provocative at times - painting a picture of a city which at the same time seems unaffected by history, but that was also profoundly altered by the twentieth and twenty-first centuries and the forces which have marked the last 150 years or so of this remarkable but troubled place.' - John Foot, author of Modern Italy
'. . .Bosworth's book often makes for lively and informative reading. He writes very well, and he lays before us a cornucopia of colourful incidents and characters, gleaned from a thorough scouring of newspapers, memoirs, and other sources.'—Theodore K Rabb, TLS
'Bosworth's treatment of Venice and its history is evocative and revealing, and what he says about the gliteratti and literati such as Cole, Noel Coward et al, deserves to be enjoyed out loud.'—John Easton Law, History Today.

ISBN:
9780300216127
Publication Date:
October 27, 2015
352 pages, 5 x 7 3/4
37 b/w illus.