Emperor
WARNING
You are viewing an older version of the Yalebooks website. Please visit out new website with more updated information and a better user experience: https://www.yalebooks.com
Geoffrey Parker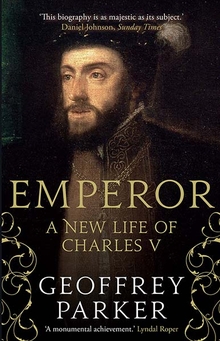 View Inside
Format:

Paper


Price:

$22.00
Also Available in:
Hardcover
Drawing on vital new evidence, a top historian dramatically reinterprets the life and reign of Holy Roman Emperor Charles V, ruler of the world's first transatlantic empire
"Masterly."—William Anthony Hay, Wall Street Journal

"Seldom does one find a work of such profound scholarship delivered in such elegant and engaging prose. Drawing deftly on an astonishing volume of documentary evidence, Parker has produced a masterpiece: an epic, detailed and vivid life of this complex man and his impossibly large empire."—Susannah Lipscomb, Financial Times

Selected as a book of the year (2020) by Simon Sebag Montefiore in Aspects of History magazine
The life of Emperor Charles V (1500–1558), ruler of Spain, Germany, the Netherlands, and much of Italy and Central and South America, has long intrigued biographers. But the elusive nature of the man (despite an abundance of documentation), his relentless travel and the control of his own image, together with the complexity of governing the world's first transatlantic empire, complicate the task.  
Geoffrey Parker, one of the world's leading historians of early modern Europe, has examined the surviving written sources in Dutch, French, German, Italian, Latin, and Spanish, as well as visual and material evidence. He explores the crucial decisions that created and preserved this vast empire, analyzes Charles's achievements within the context of both personal and structural factors, and scrutinizes the intimate details of the ruler's life for clues to his character and inclinations. The result is a unique biography that interrogates every dimension of Charles's reign and views the world through the emperor's own eyes.
Geoffrey Parker teaches history at The Ohio State University. He has published forty books, including Global Crisis and Imprudent King for Yale University Press.
"Masterly."—William Anthony Hay, Wall Street Journal
"'An extraordinary man who achieves extraordinary things' requires an extraordinary biographer. In Parker, he has one. Seldom does one find a work of such profound scholarship delivered in such elegant and engaging prose. Drawing deftly on an astonishing volume of documentary evidence, Parker has produced a masterpiece: an epic, detailed and vivid life of this complex man and his impossibly large empire"—Susannah Lipscomb, Financial Times
"This is a beautifully written and accessible work, presumably pitched for general as well as academic readers."—Susan Broomhall, Parergon
"Parker's biography offers an impressive interweaving of narrative and analysis."—Carlos M. N. Eire, Journal of Modern History
"Thought-provoking, deeply learned. . . . A well-rounded, deeply researched, and exhaustive portrait of an iconic ruler that captivates the reader's attention throughout. . . . An instant classic that will become the definitive analysis of one of sixteenth-century Europe's most famous rulers."—Christopher W. Close, The Historian
"An exhaustive biography of the remarkable Habsburg ruler coupled with important insights into the birth of the modern state system of Europe."—Francis P. Sempa, NY Journal of Books 
"An extremely impressive biography.... A work of intellectual force and power.... Fascinating and brilliant—it will be of enormous interest to historians of the period, but also would be of interest to non-specialists."—Jon Balserak, Reading Religion
"Parker has given us a very impressive look at the greatest of the Hapsburgs, one which will certainly be the standard work on Charles for a long time to come."—NYMAS Review
"A magnum opus of what Marc Bloch called 'the historian's craft', both in terms of archival research . . . and, above all, in its narrative power. . . . Parker narrates with refreshing ease and in gripping detail a vast array of events, details and stages of the life of Charles V, from his early years to his legacy, covering the global geographies and local complexities of the Habsburg Empire."—Stefan Hanss, History: Review of New Books
"A new landmark biography of the sovereign whose power and influence reached five continents and around whom the major events of Europe's high politics in the first half of the sixteenth century turned."—Kurt Stadtwald, Lutheran Quarterly
"Parker employs his encyclopedic knowledge, archival know-how, and new primary sources to bring the first half of the sixteenth century alive for us—giving the starring role to a very human, harried, yet extraordinary Charles V."—Elizabeth A. Terry-Roisin, Bulletin for Spanish and Portuguese Historical Studies
 
"Researching the personality and reign of a 'European' ruler like Charles V presents serious challenges: the need to engage with a multitude of archives in different countries as well as primary source evidence in a wide variety of languages. Fortunately, Parker is uniquely qualified to undertake such a herculean task."—Francois Soyer, The Court Historian
"A remarkable book, a panorama full of astounding and memorable details, and a gripping read. No other living scholar could have organised and analysed the vast and dizzying array of source materials. Parker is both psychologically astute and sets Charles in the huge canvas against which he operated, always presenting the diplomatic, religious, structural and systemic contexts of the decisions he had to make. A monumental achievement."—Lyndal Roper, author of Martin Luther
"This is a splendid book. It's well-written, engaging the reader, even while marshalling to good use a truly impressive erudition . . . [T]his is the only book I know that stands comparison with Brandi in that respect, and Parker covers a lot more ground."—James D. Tracy, author of Emperor Charles V
"Emperor leaves me in awe. It is an unprecedentedly thorough imperial, and indeed, global, biography. The book marshals a breath-taking quantity of evidence, while paying meticulous attention to its quality. Brilliant."—Bethany Aram, author of Juana the Mad, professor of modern history at Pablo de Olavide University, Spain, and principal investigator of the interdisciplinary project An Artery of Empire: Conquest, Commerce, Crisis, Culture and the Panamanian Junction 1513-1671
"No other scholar now has such a deep impact on the writing of the history of 16th-century European history."—Wim Blockmans, Rector Emeritus of the Netherlands Institute for Advanced Study
 
"No one has understood the Habsburg emperor better than the master historian Geoffrey Parker. In this meticulously- researched and brilliantly- narrated account, Parker strikes a perfect balance, highlighting Charles's strengths as a warrior-king together with his personal weaknesses as a family man. A tour-de-force."—Richard L. Kagan, author of Clio and the Crown
"Geoffrey Parker's biography of Charles V immediately takes its place as the premier study of the emperor available in English. Its significance, however, like the research that supports it, is global. I cannot remember reading anything that offered so much depth of perspective on both the emperor as a ruler and the age as a whole, the work of Karl Brandi included. It is a masterpiece of historical reconstruction."—C. Scott Dixon, author of The Church in the Early Modern Age
CHOICE Outstanding Academic Title, 2020
ISBN:
9780300254860
Publication Date:
February 2, 2021
760 pages, 5 x 7 3/4
40 color illus. + 5 maps + 3 figs.