The Great War and the Twentieth Century
WARNING
You are viewing an older version of the Yalebooks website. Please visit out new website with more updated information and a better user experience: https://www.yalebooks.com
Edited by Jay Winter, Geoffrey Parker, and Mary Habeck; Contributors to this volume: Modris Eksteins, Gerald Feldman, William C. Fuller, Jr., Mary R. Habeck, Holger H. Herwig, John Horne, Michael Howard, A.S. Kanya-Forstner, Leonard V. Smith, Zara Steiner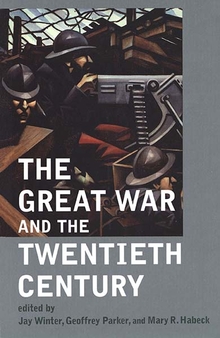 View Inside
Format:

Paper


Price:

$34.00
Also Available in:
Cloth
World War I, the first "total war" in history, set in motion profound changes in the economies, demographics, and philosophies of the warring states. In this book, leading experts on the Great War discuss its causes, character, and legacy. Their writings show that to study World War I is to encounter not only the dissolution of the four defeated empires—Russia, Germany, Austria-Hungary, and Turkey—but also the collapse of the optimistic assumption of progress that had defined the nineteenth century. The analysis of the Great War, in fact, provides an essential framework for our understanding of the entire twentieth century. The book draws together military history, international history, and cultural history to offer a wide-ranging summary of current knowledge and debate regarding the First World War.

Contributors to this volume:

Modris Eksteins, Gerald Feldman, William C. Fuller, Jr., Mary R. Habeck, Holger H. Herwig, John Horne, Michael Howard, A. S. Kanya-Forstner, Leonard V. Smith, Zara Steiner, David Stevenson

Jay Winter is reader in modern history at Cambridge University. Geoffrey Parker is professor of history at Ohio State University. Mary R. Habeck is assistant professor of history at Yale University.

 "Breaking away from the still-strong tendency to see the Great War from the perspective of particular national compartments, this collection deepens our understanding of central issues."—Dennis Showalter, Colorado College
"Despite the passage of eight decades, there are numerous unresolved historical controversies regarding World War I; they include disputes over causes, conducts, and the legacy of the conflict. This anthology of essays does not "settle" these controversies; rather, it illuminates them. . . . For specialists and readers with good knowledge of the period, these essays are bound to inform and stimulate further discussion."—Booklist



"This remarkable addition to the literature on World War I offers original and provocative analyses of the war's most important aspects. . . . An excellent and thought-provoking volume."—Stanley Hoffman, Foreign Affairs
"The contributions . . . cover an ambitious range of topics."—Arthur Wheeler, History: Reviews of New Books

"[A] stimulating collection of essays. . . . This volume attempts to provide an introduction to recent scholarship on the Great War, a venture drawing on both new historical approaches and archival materials only available since the Soviet Empire collapsed."—Priscilla Roberts, Journal of Military History

"An interesting and generally well thought out series of cautiously revisionist monographs dealing with a broad gamut of issues and themes on recent research into the impact of the Great War on our times. . . . Jay Winter and his collaborators deserve to be widely read."—Len Shurtleff, STANDTO! The Journal of the Western Front Association

"Organized well and clearly written, the book will appeal both to scholars of the Great War and of war in general, as well as to generalists and laymen."—L. L. Farrar Jr., The Historian


"Although particularly valuable for students of the 1914-1918 war, this work can also be of profit to students of any aspect of the history of twentieth century."—The New York Military Affairs Symposium Newsletter

ISBN:
9780300212044
Publication Date:
July 15, 2014
366 pages, 5 1/2 x 8 1/4