Trading with the Enemy
WARNING
You are viewing an older version of the Yalebooks website. Please visit out new website with more updated information and a better user experience: https://www.yalebooks.com
Britain, France, and the 18th-Century Quest for a Peaceful World Order
John Shovlin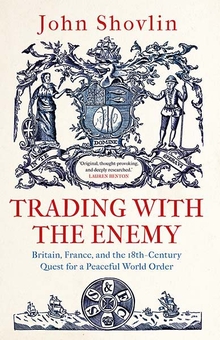 View Inside
Format:

Hardcover


Price:

$35.00
A ground-breaking account of British and French efforts to channel their eighteenth-century geopolitical rivalry into peaceful commercial competition

Britain and France waged war eight times in the century following the Glorious Revolution, a mutual antagonism long regarded as a "Second Hundred Years' War." Yet officials on both sides also initiated ententes, free trade schemes, and colonial bargains intended to avert future conflict. What drove this quest for a more peaceful order?

In this highly original account, John Shovlin reveals the extent to which Britain and France sought to divert their rivalry away from war and into commercial competition. The two powers worked to end future conflict over trade in Spanish America, the Caribbean, and India, and imagined forms of empire-building that would be more collaborative than competitive. They negotiated to cut cross-channel tariffs, recognizing that free trade could foster national power while muting enmity. This account shows that eighteenth-century capitalism drove not only repeated wars and overseas imperialism but spurred political leaders to strive for global stability.
John Shovlin is associate professor of history at New York University and the author of The Bordeaux–Dublin Letters, 1757 and The Political Economy of Virtue.
'Original, thought-provoking, and deeply researched. Shovlin topples textbook oppositions of war and peace, rivalry and collaboration, and protection and free trade.'—Lauren Benton, author of A Search for Sovereignty
'Lucid, subtle, and wide-ranging. Trading with the Enemy decisively revises views of eighteenth-century Franco-British relations as a scene of endless war, imperial rivalry, and jealousy of trade. Its recovery of more cooperative and peaceful history provides both lessons for the present and signposts for the future.'—David Armitage, author of Civil Wars: A History in Ideas
'A refreshing interpretation. Through his skilful unpacking of the intertwined histories of capitalism and the state, Shovlin shows us once and for all how mythic was the supposed opposition between free trade and protectionism.'—Renaud Morieux, author of The Channel
"Shovlin challenges the conventional perception of unbridled Franco-British rivalry and aggression in the 18th century by giving greater emphasis to the cumulative process by which diplomats negotiated and merchants lobbied to cut cross-channel tariffs and pursue other means of enabling free trade."—Christopher Silvester, Financial Times
ISBN:
9780300253566
Publication Date:
July 13, 2021
416 pages, 6 1/8 x 9 1/4
20 color illus. + 4 maps