Sex, Money and Personal Character in Eighteenth-Century British Politics
WARNING
You are viewing an older version of the Yalebooks website. Please visit out new website with more updated information and a better user experience: https://www.yalebooks.com
Marilyn Morris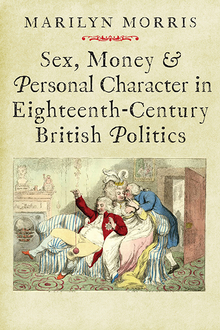 View Inside
Format:

Cloth


Price:

$85.00
A sophisticated analysis of changing views of political virtue in the 18th century and the origins of the modern dilemma over probity and suitability for high public office

How, and why, did the Anglo-American world become so obsessed with the private lives and public character of its political leaders? Marilyn Morris finds answers in eighteenth-century Britain, when a long tradition of court intrigue and gossip spread into a much broader and more public political arena with the growth of political parties, extra-parliamentary political activities, and a partisan print culture.
 
The public's preoccupation with the personal character of the ruling elite paralleled a growing interest in the interior lives of individuals in histories, novels, and the theater. Newspaper reports of the royal family intensified in intimacy and its members became moral exemplars—most often, paradoxically, when they misbehaved. Ad hominem attacks on political leaders became commonplace; politicians of all affiliations continued to assess one another's characters based on their success and daring with women and money. And newly popular human-interest journalism promoted the illusion that the personal characters of public figures could be read by appearances.
Marilyn Morris is associate professor of history at the University of North Texas and the author of The British Monarchy and the French Revolution.
'Marilyn Morris's Sex, Money and Personal Character in Eighteenth-Century British Politics is elegant, witty and wise. Morris complicates the notion that domestic probity became a touchstone for politics by the end of the century. Drawing on fascinating diaries and letters, she reveals that close personal ties could advantage politicians – or endanger them. Her fresh insights into financial and sexual scandals illuminate our own times.' - Anna Clark, author of Scandal: The Sexual Politics of the British Constitution
'Marilyn Morris has mastered an impressive range of evidence to write an informed and lively account of a tremendously significant transformation in British politics. A growing interest in the character of members of the Royal Family developed into intense public scrutiny of the private lives of the political elite. Personal life was the measure of character, and character – as much as political argument – was how politicians were judged. With a superb eye for detail, Morris shows how statesmanship was assessed in press reports of intimate family affairs, sexual scandals and financial imprudence. The author does a huge service to the history of eighteenth-century Britain by reassessing politics and politicians through the lens of gender, sexuality, domesticity and consumption. The result is an emphatic account of how the personal and political were inextricably entwined in eighteenth-century Britain.' - Karen Harvey, author of The Little Republic: Masculinity and Domestic Authority in Eighteenth-Century Britain

"[Based on] extensive research and intricate recounting of scandalous detail."—Dana Rabin, Journal of Modern History
"[Sex, Money and Personal Character] offers a front-row seat alongside genteel participants at the theater, gaming tables, coffee houses, royal court, and houses of Parliament, while simultaneously allowing a glimpse into their most private spaces and thoughts."—Jennine Hurl-Eamon, H-Net Reviews
ISBN:
9780300208450
Publication Date:
January 13, 2015
272 pages, 6 1/8 x 9 1/4
16 color illus.