The Field of Cloth of Gold
WARNING
You are viewing an older version of the Yalebooks website. Please visit out new website with more updated information and a better user experience: https://www.yalebooks.com
Glenn Richardson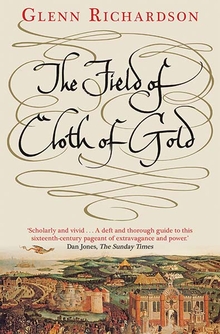 View Inside
Format:

Paper


Price:

$35.00
Also Available in:
Hardcover
Glenn Richardson provides the first history in more than four decades of a major Tudor event: an extraordinary international gathering of Renaissance rulers unparalleled in its opulence, pageantry, controversy, and mystery.
Throughout most of the late medieval period, from 1300 to 1500, England and France were bitter enemies, often at war or on the brink of it. In 1520, in an effort to bring conflict to an end, England's monarch, Henry VIII, and Francis I of France agreed to meet, surrounded by virtually their entire political nations, at "the Field of Cloth of Gold." In the midst of a spectacular festival of competition and entertainment, the rival leaders hoped to secure a permanent settlement between them, as part of a European-wide "Universal Peace." Richardson offers a bold new appraisal of this remarkable historical event, describing the preparations and execution of the magnificent gathering, exploring its ramifications, and arguing that it was far more than the extravagant elitist theater and cynical charade it historically has been considered to be.
Glenn Richardson is professor of early modern history at St. Mary's University, London.
'This is an impressive piece of work. Its great strength is the author's use of original French material, which has enabled Richarson to reconstruct the French preparations in the same detail as the English, and to explore the cultural significance of the Field for Renaissance diplomacy. Richardson is right to conclude that it was seriously intended, and not merely a jeu d'espirit or an excuse for conspicuous consumption.' - David Loades, author of The Tudors: History of a Dynasty
'Glenn Richardson has meticulously scoured the archives, in both French and English, to provide a sparkling new account of the Field of Cloth of Gold as an extraordinary demonstration of ostentatious rivalry. Richardson notes that there has been no new history of the Field for forty years; after his definitive, detailed and careful study, there need be no new one for many years to come.' - Suzannah Lipscomb, author of A Visitor's Companion to Tudor England
"Glen Richardson. . .provides a colourful and thorough guide to this 16th-century pageant of extravagance and power."—John Hinton, Catholic Herald
"Glenn Richardson is rare among scholars of Tudor England in approaching the subject from an international perspective."—David Gelber, Literary Review
'Richardson's book seeks to throw new light on what we know of the Field itself: from how it was organised, provisioned and enacted, to the reasons such a sensational junket should have mattered – and in this it undoubtedly succeeds.'—Thomas Penn, London Review of Books
"…very accessible….Richardson's text will become the new reference point for the Field: it provides an important repository for a wide range of technical details and precise information about the events."—Parergon
"The first major history in 40 years of the famous 1520 meeting between Henry VIII and Francis I. . . . Recommended."—B. Lowe, Choice
"Richardson's interpretation of the Field within the context of court culture and monarchial self-fashioning lends his account greater analytical rigor than preceding narratives. . . His reframing of the Field better situates it in recent, broader understandings of early modern political culture and diplomatic relations. . . . It offers both lay and specialist readers a convincing revision of existing historiography on this celebreated event."—Megan K. Williams, Renaissance Quarterly
"Richardson's account of the spectacular meeting between Henry VIII and Francis I in 1520 is . . . full of meticulous detail, from painstaking work in English and French archives . . . illuminating."—Tim Thornton, Journal of Modern History

ISBN:
9780300248029
Publication Date:
July 21, 2020
288 pages, 5 x 7 3/4
12 b/w illus.