Take Arms Against a Sea of Troubles
WARNING
You are viewing an older version of the Yalebooks website. Please visit out new website with more updated information and a better user experience: https://www.yalebooks.com
The Power of the Reader's Mind over a Universe of Death
Harold Bloom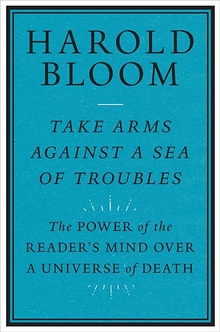 View Inside
Format:

Hardcover


Price:

$35.00
Also Available in:
Paper
"The great poems, plays, novels, stories teach us how to go on living. . . . Your own mistakes, accidents, failures at otherness beat you down. Rise up at dawn and read something that matters as soon as you can."So Harold Bloom, the most famous literary critic of his generation, exhorts readers of his last book: one that praises the sustaining power of poetry.

"Passionate. . . . Perhaps Bloom's most personal work, this is a fitting last testament to one of America's leading twentieth-century literary minds."—Publishers Weekly

"An extraordinary testimony to a long life spent in the company of poetry and an affecting last declaration of [Bloom's] passionate and deeply unfashionable faith in the capacity of the imagination to make the world feel habitable"—Seamus Perry, Literary Review

"Reading, this stirring collection testifies, 'helps in staying alive.'"—Kirkus Reviews, starred review

This dazzling celebration of the power of poetry to sublimate death—completed weeks before Harold Bloom died—shows how literature renews life amid what Milton called "a universe of death." Bloom reads as a way of taking arms against the sea of life's troubles, taking readers on a grand tour of the poetic voices that have haunted him through a lifetime of reading. "High literature," he writes, "is a saving lie against time, loss of individuality, premature death." In passages of breathtaking intimacy, we see him awake late at night, reciting lines from Dante, Shakespeare, Milton, Montaigne, Blake, Wordsworth, Hart Crane, Jay Wright, and many others. He feels himself "edged by nothingness," uncomprehending, but still sustained by reading. Generous and clear‑eyed, this is among Harold Bloom's most ambitious and most moving books.
Harold Bloom (1930–2019) was an American literary critic and the Sterling Professor of the Humanities at Yale University. His books include The Anatomy of Influence, The Shadow of a Great Rock, and Poetry and Repression.
"Perhaps Bloom's most personal work, this is a fitting last testament to one of America's leading 20th-century literary minds."—Publishers Weekly
"This is Bloom at his most capacious and fierce of thought, always ready to surprise. For all the losses he tallies, a great smile hovers through the book."—Kenneth Gross
"In the end, only words have a chance of outliving us, and Bloom records his best guesses at the words that might endure. Until the end, Bloom was a man of incessant curiosity, with more questions than answers about an essential poetic imagination."—Thylias Moss, Professor Emerita, University of Michigan
"This book is superb, utterly convincing, and absolutely invigorating. Bloom's final argument with mortality ultimately has a rejuvenating effect upon the reader, and is nothing short of a revelation."—David Mikics, author of Slow Reading in a Hurried Age
"I felt reading this book the way Virginia Woolf in her diary describes her feeling about reading Shakespeare: 'I never yet knew how amazing his stretch and speed . . . is, until I felt it utterly outpace and outrace my own.'"—Laura Quinney, author of William Blake on Self and Soul
"Bloom helps us grasp what Dickinson calls 'vaster attitudes,' allowing us to take a proud flight and to disdain, for a time, our own mortality."—William Flesch, Brandeis University
"Early on in this astute collection, [Bloom] marks his terrain: 'What you read and how deeply you read matters almost as much as how you love, work, exercise, vote, practice charity, strive for social justice, cultivate kindness and courtesy, worship if you are capable of worship. The mind is an activity and will decay into dark inertia if not sustained by the sustenance of reading.' Reading, this stirring collection testifies, 'helps in staying alive.'"—Kirkus Reviews, starred review
"Bloom! The life, the voice, the sorrowful countenance, the Emersonian swoon, the feasting intellect, the daemonic rapture. His I is an Eye, all-seeing, a container of multitudes, a volcanic primer on the crisis of enchantment in what he dares to name 'a universe of Death.' And here, in this last masterwork—an impassioned meditation on the poets who made him—his living breath is indomitably felt."—Cynthia Ozick
"The arms Bloom advises we take up against our sea of troubles are the poems and prose that gave him so much joy, inspiration, sadness, pain, and vigor over the course of his life."—Lucas Spiro, Arts Fuse
"We hear the intuitive Bloom, the open and receptive reader, the brooder and fabulous conversation partner, talking and chuckling, searching and scowling; we see him rubbing his brow and thinking aloud . . ."—Peter Cole, Caesura
ISBN:
9780300247282
Publication Date:
October 13, 2020
672 pages, 6 1/8 x 9 1/4