Better Business
WARNING
You are viewing an older version of the Yalebooks website. Please visit out new website with more updated information and a better user experience: https://www.yalebooks.com
How the B Corp Movement Is Remaking Capitalism
Christopher Marquis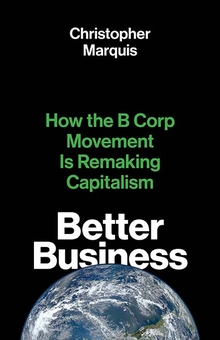 View Inside
Format:

Hardcover


Price:

$28.50
Also Available in:
Paper
A compelling look at the B Corp movement and why socially and environmentally responsible companies are vital for everyone's future—"a valuable guide to an important force" (Financial Times)
 
"An important blueprint for how businesses can and should be both successful and a force for good."—Rose Marcario, President and CEO, Patagonia

"Better Business is the book to read if you want to put values and purpose at the center of your company. It's an inspiring book with great insights to share."—Jerry Greenfield, co-founder, Ben & Jerry's

Gold Medalist in the Business Ethics category, 2021 Axiom Business Book Awards and longlisted for the 2020 Porchlight Business Book Awards

Businesses have a big role to play in a capitalist society. They can tip the scales toward the benefit of the few, with toxic side effects for all, or they can guide us toward better, more equitable long-term solutions. Christopher Marquis tells the story of the rise of a new corporate form—the B Corporation. Founded by a group of friends who met at Stanford, these companies undergo a rigorous certification process, overseen by the B Lab, and commit to putting social benefits, the rights of workers, community impact, and environmental stewardship on equal footing with financial shareholders. Informed by over a decade of research and animated by interviews with the movement's founders and leading figures, Marquis's book explores the rapid growth of companies choosing to certify as B Corps, both in the United States and internationally, and explains why the future of B Corporations is vital for us all.
Christopher Marquis is the Samuel C. Johnson Professor in Global Sustainable Enterprise and Professor of Management at Cornell University.
"Better Business is a compelling demonstration of how redefining the corporate purpose can have impact at scale. The B Corp movement is leading the way to a more resilient economy and society."—Emmanuel Faber, Chairman and CEO, Danone

"Christopher Marquis is one of the world's leading experts on the dynamics of business and social innovation. Drawing on extensive evidence and vivid case studies, he busts myths about shareholder primacy and reveals how it's possible for companies to integrate social good into their missions."—Adam M. Grant, author of Originals and Give and Take and host of the TED podcast Worklife

"Better Business is the book to read if you want to put values and purpose at the center of your company. It's an inspiring book with great insights to share."—Jerry Greenfield, co-founder, Ben & Jerry's

"Chris Marquis' book shows us why the leadership of B Corps and tools like the SDG Action Manager might be our best bet to drive meaningful business action to achieve the Sustainable Development Goals by 2030."—Lise Kingo, CEO & Executive Director, United Nations Global Compact

"Better Business is an important blueprint for how businesses can and should be both successful and a force for good."—Rose Marcario, President and CEO, Patagonia

"American capitalism is self-defeating over the long term and in trouble right now.  Better Business offers sage and practical advice on how business leaders and policy makers can do better while doing well." – Deval Patrick, former Governor of Massachusetts
 
"Marquis convincingly shows how businesses like B Corps cannot only do good, but also do well by doing good. Every business leader that wants to create a resilient, sustainable and high performing company should read this book."—Paul Polman, Former CEO of Unilever and co-founder of IMAGINE

"Better Business presents a compelling account of how the B Corp movement is beginning to transform businesses around the world into something more idealistic and truly productive."—Robert Shiller, Nobel Laureate in Economics

"Better Business is an engaging and thoroughgoing guide to the B Corp movement and provides an essential strategic and moral framework for conducting business in the 21st century."—Vincent Stanley, co-author of The Responsible Company

"By highlighting that a starting point to reform our economy is putting legal power behind the idea that corporations should have to treat all their stakeholders, and particularly their workers, with respect, Better Business convincingly outlines how capitalism can be reshaped to be more fair and equitable for all."—Leo E. Strine Jr., former Chief Justice of the Delaware Supreme Court

"A fascinating and nuanced account of one of the most important business movements of our time."—András Tilcsik, coauthor of Meltdown: Why Our Systems Fail and What We Can Do About It
"Better Business is a valuable guide to an important force"—The Financial Times  
"Marquis does a good job of laying out the complex arguments in favor of B Corporations. The work will be worthwhile reading for current and future pension beneficiaries with a lot of exposure to corporate stock portfolios. Highly recommended. Upper-division undergraduates. Graduate students and professionals."—I. Walter, Choice
"A prescient book when capitalism in its current form is coming under question."—Spear's Magazine
Longlisted for the 2020 Porchlight Business Book Awards, sponsored by the Porchlight Book Company
Winner of the 2021 Axiom Gold Medal, Business Ethics category, sponsored by the Axiom Business Book Awards
ISBN:
9780300247152
Publication Date:
September 13, 2020
312 pages, 5 1/2 x 8 1/2