Reformations
WARNING
You are viewing an older version of the Yalebooks website. Please visit out new website with more updated information and a better user experience: https://www.yalebooks.com
The Early Modern World, 1450-1650
Carlos M. N. Eire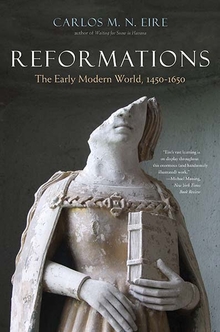 View Inside
Format:

Paper


Price:

$26.95
Also Available in:
Hardcover
A lively, expansive history of the Protestant and Catholic Reformations and the momentous changes they set in motion

This fast-paced survey of Western civilization's transition from the Middle Ages to modernity brings that tumultuous period vividly to life. Carlos Eire, popular professor and gifted writer, chronicles the two-hundred-year era of the Renaissance and Reformation with particular attention to issues that persist as concerns in the present day. Eire connects the Protestant and Catholic Reformations in new and profound ways, and he demonstrates convincingly that this crucial turning point in history not only affected people long gone, but continues to shape our world and define who we are today.
 
The book focuses on the vast changes that took place in Western civilization between 1450 and 1650, from Gutenberg's printing press and the subsequent revolution in the spread of ideas to the close of the Thirty Years' War. Eire devotes equal attention to the various Protestant traditions and churches as well as to Catholicism, skepticism, and secularism, and he takes into account the expansion of European culture and religion into other lands, particularly the Americas and Asia. He also underscores how changes in religion transformed the Western secular world. A book created with students and nonspecialists in mind, Reformations is an inspiring, provocative volume for any reader who is curious about the role of ideas and beliefs in history.
Carlos M. N. Eire is the T. L. Riggs Professor of History and Religious Studies, Yale University. He is the author of several scholarly books and two memoirs, including Waiting for Snow in Havana, for which he received the National Book Award.
"Eire's vast learning is on display throughout this enormous (and handsomely illustrated) work."—Michael Massing, New York Times Book Review
"Carlos Eire's Reformations is a work of remarkable scope and ambition, a magnificent sweep through four centuries, and as many continents, tracing in original and perceptive ways the unforeseeable consequences—in religion, politics, culture, science—of the convulsions that started in western Christianity at the close of the Middle Ages. Eire writes with insight and empathy about the values and visions of a fervent and often violent age. He does not shield us from the strangeness and complexity of the past, but we come away with a much enhanced understanding of the lines connecting it to our present."—Peter Marshall, University of Warwick
"An ambitious and highly successful project. Wonderfully balanced and nicely nuanced, the book is a genuine tour de force in bringing together the various elements of the Reformations, from their meaning for the educated and sophisticated proponents (and opponents) to their reception (or rejection) by the mass of ordinary and unlettered persons who 'lived' amid the swirl of religious change."—Raymond Mentzer, University of Iowa
"Carlos Eire contributes to our understanding of the Reformations as Europe-wide phenomena, highlights the diversity of Protestantism, and shows how vibrant Catholic reform could be."—Kathryn A. Edwards, University of South Carolina
"It takes an unusually perceptive, judicious, knowledgeable, and yes brave person to write a book this big and sweeping, given all the ink spelled and trees felled and terabytes devoted to the Reformation, and Carlos Eire is all of those. It is beautifully structured, gracefully written, evenhanded in its treatment of Catholic, Protestant, and Radical movements, and most importantly equally at home in the Reformation and the present. Read this and you will understand both worlds better."—Craig Harline, Author of Conversions: Two Family Stories from the Reformation and Modern America
"Among the greatest merits of Eire's survey are its remarkable clar¬ity in expounding difficult theological ideas and complex political changes, its calm comprehensiveness, and its sober judgments, expressed with an unemphatic evenhandedness. . . . Eire's majes¬tically comprehensive survey leaves no doubt about the enduring consequences, for good and ill, of the re¬ligious upheavals of the sixteenth and subsequent centuries."—Eamon Duffy, First Things
"Beguiling . . . Though Eire lays out his argument quite clearly, this is not a thesis-driven book. Rather, it is a detail-rich crosscutting narrative . . . you will learn a great deal and be entertained along the way."—John Wilson, National Review
"Any serious study of the Reformation's origins and impact requires a willingness to traverse a veritable minefield of longstanding theological and historiographical arguments . . . Eire does that and more. [Reformations] is likely to become one of the definitive studies of this period."—Samuel Gregg, Library of Law and Liberty
"Magnificent"—Mark Noll, Books and Culture
"Monumental"—Charlotte Methuen, Times Literary Supplement
"This book is written in lucid, engaging prose that makes each single chapter fly by. That an 800-page book on religious history can be so richly entertaining and illuminating should provide motivation for all theologians to aspire to such scholarship and style."—Ulrich L. Lehner, Theology Studies
"Eire's impressive book offers the prelude to the exciting pursuit of reform and innovation that has defined the past three centuries."—Hans J. Hillerbrand, Journal of the American Academy of Religion
"A masterpiece"—James Hankins, Claremont Review of Books
"In recent years, [Eire] has adopted the posture of the outsider, an interpreter out of step with the dominant historiographical consensus, and quite unapologetically so. This makes his nearly one-thousand page contribution to the current anniversary-driven Reformationsindustrie all the more interesting."—Nicholas Terpestra, Renaissance and Reformation
"Carlos Eire tells of how religious ideals brought about epochal change, in an era when religion was 'the very marrow of all social, economic, political, and cultural exchanges' . . . Like the early modern era itself, Eire's book is both traditional in some respects and innovative in others."—Vincent Evener, Journal of World History 
"Reformation scholars will need to study this fine book carefully, to weigh their own judgments against its timely synthesis, and to evaluate its impressive assembling of evidence for a religious revolution in early modern times.
Some may not agree with every judgment or conclusion, but they will have to admit that, like a fine musical recital, it is a bravura performance."—Philip M. Soergel, Irish Theological Quarterly
"Eire is to be commended for the sheer courage of undertaking such an immense project, and pulling it off in a way that consistently engages the reader."–Gordon A. Jensen, Canadian Journal of History
"Carlos Eire writes well, and in a consistently thoughtful, inquiring mode. . . . He addresses big, sweeping questions about the impact of the Reformation era courageously and in a thought-provoking manner."—Euan Cameron, Journal of Modern History
"Reformations is a massive study of early modern Europe, both Protestant and Catholic. It is a volume worth perusing carefully, both to think with and to learn from."—Prof. Benjamin M. Guyer, Reviews in History
"A great amount of material covered coherently in a readable, often charming style."—Rudolph P. Almasy, Anglican and Episcopal History
 "In its ambition, range, and the quality of its prose and perspective, Eire's work belongs to the category of instant classics."—C. Scott Dixon, Renaissance Quarterly
Winner of the 2017 American Publishers Awards for Professional & Scholarly Excellence (PROSE) in the European & World History category.
Winner of the 2017 American Publishers Awards for Professional & Scholarly Excellence (PROSE) in the Excellence in Humanities category.
Winner of the 2017 R.R. Hawkins Award given by the American Publishers Awards for Professional & Scholarly Excellence (PROSE).
Carlos Eire's Reformations: The Early Modern World, 1450-1650is the second winner of the The Pelikan Award, a biannual prize awarded by Yale University Press to a distinguished book on religion published by the Press in the previous two years.
ISBN:
9780300240030
Publication Date:
September 4, 2018
920 pages, 6 1/8 x 9 1/4
155 b/w illus.