Against the Academics
WARNING
You are viewing an older version of the Yalebooks website. Please visit out new website with more updated information and a better user experience: https://www.yalebooks.com
St. Augustine's Cassiciacum Dialogues, Volume 1
Translation, Annotation, and Commentary by Michael P. Foley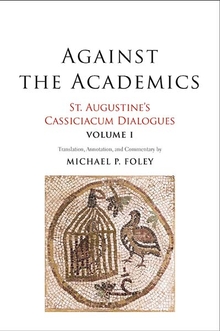 View Inside
Format:

Hardcover


Price:

$60.00
Also Available in:
Paper
A fresh, new translation of Augustine's inaugural work as a Christian convert

"Lively, engaging and accurate translations. . . . There is much in this dialogue and Foley's presentation of it for contemporary readers to take seriously."—Erik Kenyon, Bryn Mawr Classical Review

The first four works written by St. Augustine of Hippo after his conversion to Christianity are the remarkable "Cassiciacum dialogues." In this first dialogue, expertly translated by Michael Foley, Augustine and his interlocutors explore the history and teachings of Academic skepticism, which Augustine is both sympathetic to and critical of. The dialogue serves as a fitting launching point for a knowledge of God and the soul, the overall subject of the Cassiciacum tetralogy.
Michael P. Foley is associate professor of patristics at Baylor University. He is the author or editor of several books, including Frank Sheed's translation of Augustine's Confessions.
"Foley has provided a vital and long-needed service, giving us lively, engaging and accurate translations, and commentaries that are well-grounded without being overwhelming. . . . There is much in this dialogue and Foley's presentation of it for contemporary readers to take seriously."—Erik Kenyon, Bryn Mawr Classical Review
"I heartily recommend this new edition of Augustine's Cassiciacum Dialogues for classroom use and scholarly consideration. They will continue to shine light on the intellectual work of Augustine's early career in particular, and the fascinating intellectual situation of Late Antiquity more broadly."—Evan Dutmer, CJ-Online
"Michael Foley's orchestration of the Cassiciacum dialogues—a four-part translation, annotation, and commentary—renders Augustine's most important voice, the voice of the seeker, readily available to a broad readership. These are perfect teaching texts, and they are equally compelling for experts.  This welcome return of the dialogues, separate and yet intimately related in Foley's handling of them, marks the most important literary event in Augustinian studies since Peter Brown's biography."—James Wetzel, Director of the Augustinian Institute at Villanova University
 
"Yale University Press has excelled in publishing these beautiful volumes. Michael Foley models good translation, deeply engaged with the intricacies of the Latin and yet flowing elegantly and readably across the page. Foley's commentary introduces the reader carefully and invitingly into these important and complex texts from Augustine's first years as a Christian writer. They belong on the shelves of all who value the wisdom of the early Christian tradition."—Lewis Ayres, Durham University
"Michael Foley's orchestration of the Cassiciacum dialogues—a four-part translation, annotation, and commentary—renders Augustine's most important voice, the voice of the seeker, readily available to a broad readership. These are perfect teaching texts, and they are equally compelling for experts.  This welcome return of the dialogues, separate and yet intimately related in Foley's handling of them, marks the most important literary event in Augustinian studies since Peter Brown's biography."—James Wetzel, Villanova University
 
"Yale University Press has excelled in publishing these beautiful volumes. Michael Foley models good translation, deeply engaged with the intricacies of the Latin and yet flowing elegantly and readably across the page. Foley's commentary introduces the reader carefully and invitingly into these important and complex texts from Augustine's first years as a Christian writer. They belong on the shelves of all who value the wisdom of the early Christian tradition."—Lewis Ayres, Durham University
 
"A truly impressive undertaking."—Marc D. Guerra, Assumption College
 
"A consistent, faithful and elegant translation of the crucial but relatively neglected dialogues by Augustine of Hippo."—Simon Oliver, Durham University
 
"Michael Foley's lively, precise new translation makes this dramatic dialogue accessible to today's reader, adding yet another dimension to our understanding of the endless breadth of Augustine's developing thought."—Brian Daley, University of Notre Dame
 
"Foley has provided a vital and long-needed service, giving us lively, engaging and accurate translations, and commentaries that are well-grounded without being overwhelming."—Erik Kenyon, Bryn Mawr Classical Review
 
"Michael P. Foley has given us a clear, compelling, and valuable resource in his new translation of Augustine's inaugural work as a Christian convert. . . . Foley's commentary and introductions somehow manage to be both informative and contextualizing without overshadowing the intricacies and insights of the text they are in service of."—Zachary Thomas Settle, Augustinian Studies
 
"Michael Foley's new translation of Augustine's Cassiciacum dialogues (of which the first two of a projected four volumes are now available) is clear, useful, and long overdue."—Elizabeth Klein, Theological Studies
 
"Foley is to be congratulated on providing a good critical edition and not least a readable translation of the text."—Nicholas Paxton, Melita Theologica
 
"Foley's translation reads easily and is transparent. Literal translation and identical formatting in each volume contribute substantially to the reader's insight into the plan of the Cassiciacum dialogues. Michael Foley's reading and translation are convincing in many respects."—Martin Claes, Augustiniana
 
"Foley's translations and commentaries on the Cassiciacum dialogues offer a smooth presentation of Augustine's earliest dialogues. As the author has intended, the translations, introductions, and commentaries help readers to see these dialogues as a carefully written unified project that has the definite goal of 'intellectually, morally, and religiously converting' its audience. This multivolume work is certainly a contribution that no scholar of Augustine's early works can ignore."—Eetu Manninen, Augustiniana
 
"Michael Foley's new translations of Augustine's Against the Academics and On the Happy Life are brilliant. Every feature that I want in a translation appears here."—Wyatt Graham
 
"Foley offers expert guidance in how to approach these dialogues."—David Barshinger, Exploring Church History
 
"A well-conceived and exciting project, the completed Cassiciacum translation will be an impressive scholarly achievement and service to Augustinian studies, one which will contribute to the resurrection of interest in these fascinating dialogues early in Augustine's career . . . I heartily recommend this new edition of Augustine's 'Cassiciacum dialogues' for classroom use and scholarly consideration. They will continue to shine light on the intellectual work of Augustine's early career in particular and the fascinating intellectual situation of Late Antiquity more broadly."—Evan Dutmer, Culver Academics
 
"Michael P. Foley, then, has provided a great gift to Augustinian studies by producing a fresh and elegant translation of these somewhat neglected dialogues. . . . Augustine's Cassiciacum Dialogues are worth studying. Michael Foley has made this task far less painful than it otherwise might be by providing a superb translation with a remarkable set of study tools to aid in understanding the text."—Ryan Marr
 
"Michael Foley, Associate Professor of Patristics at Baylor University, should be lauded for his work in these volumes. Even more than fresh translations, Foley has provided readers with a helpful series introduction, as well as commentary contained within each of the texts to aid readers in apprehending the nuances of Augustine's thought contained therein. . . . Foley has done readers of Augustine an excellent service in both providing new translations of these early works and commentary notes that provide fresh insight to both the philosophical and theological discussions."—Coleman M. Ford, Church History
ISBN:
9780300238518
Publication Date:
June 25, 2019
352 pages, 5 1/2 x 8 1/4