A Way of Life
WARNING
You are viewing an older version of the Yalebooks website. Please visit out new website with more updated information and a better user experience: https://www.yalebooks.com
Things, Thought, and Action in Chinese Medicine
Judith Farquhar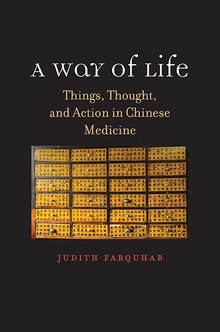 View Inside
Format:

Hardcover


Price:

$28.00
A short, thoughtful introduction to traditional Chinese medicine that looks beyond the conventional boundaries of Western biomedical science

Traditional Chinese medicine is often viewed as mystical or superstitious, with outcomes requiring naïve faith. Judith Farquhar, drawing on her hard-won knowledge of social, intellectual, and clinical spheres in today's China, here offers a concise and nuanced treatment that addresses enduring and troublesome ontological, epistemological, and ethical questions. In this work, which is based on her 2017 Terry Lectures, "Reality, Reason, and Action In and Beyond Chinese Medicine," she considers how the modern, rationalized, and scientific field of traditional Chinese medicine constructs its very real objects (bodies, symptoms, drugs), how experts think through and sort out pathology and health (yinyang, right qi / wrong qi, stasis, flow), and how contemporary doctors act responsibly to "seek out the root" of bodily disorder. Through this refined investigation, East-West contrasts collapse, and systematic Chinese medicine, no longer a mystery or a pseudo-science, can become a philosophical ally and a rich resource for a more capacious science.
Judith Farquhar is the Max Palevsky Professor Emerita in the Department of Anthropology at the University of Chicago. She studies traditional medicine, popular culture, and everyday life in contemporary China and has published five other books, most recently Ten Thousand Things: Nurturing Life in Contemporary Beijing.
"A rare and nuanced scholarly effort that always remains engaging and delightful. As with any memorable journey, at the end we more deeply understand and feel our own point of departure."—Ted J. Kaptchuk, author of The Web That Has No Weaver: Understanding Chinese Medicine
"This wonderfully challenging book is an induction into another world, a translation between traditional Chinese medicine and Western post-Enlightenment bio-medicine. Judith Farquhar guides us expertly through the things, thoughts, and actions of these mutually understandable worlds."—Stephan Feuchtwang, author of Popular Religion in China: The Imperial Metaphor
"Farquhar expertly translates the materials and practices of traditional Chinese medicine into a vision for concrete action in a world that is always in the midst of becoming."—Carla Nappi, author of The Monkey and the Inkpot: Natural History and Its Transformations in Early Modern China
 
"Farquhar guides the reader expertly through the multiple discourses of the art of Chinese medicine.  Her translations capture with clarity and passion an expertise in interpreting the living body that, while rooted in the Chinese classics, nevertheless achieves a commonplace universality; in her own words, 'a space beyond cultural difference, beyond linguistic translation, and beyond the merely conceptual'."—Vivienne Lo, coeditor of Imagining Chinese Medicine
"Written with delicate yet exact prose and pertinent use of cosmopolitan erudition, this book allows the reader to think about medicine through the localized specificities of its practices wherever those are. This is book is an achievement—an immensely inspiring one."—Marisol de la Cadena, author of Earth Beings: Ecologies of Practice across Andean Worlds
"Judith Farquhar's beautiful book is a profound but accessible meditation on the very different world of Chinese medicine. It unsettles Western ways of thinking to recast how we think about the relations between science and religion."—John Law, author of After Method: Mess in Social Science Research
"A Way of Life is an exceptionally illuminating account of the concepts and practices of traditional Chinese medicine and their problematic relationship with Western biomedicine. Judith Farquhar effectively challenges some of the defining assumptions and categories of classical epistemology and contemporary philosophy of science."—Barbara Herrnstein Smith, author of Natural Reflections: Human Cognition at the Nexus of Science and Religion
"Judith Farquhar's anthropological and linguistic focus is novel, making this book a welcome addition to the sometimes-confusing works that attempt to 'translate' Chinese medicine for a Western reader."—William C. Summers, author of The Great Manchurian Plague of 1910-1911: The Geopolitics of an Epidemic Disease
"A Way of Life is original, creative scholarship of the highest quality, presented in lovely and stylish prose. It is truly a pleasure to read."—Dale Martin, author of Biblical Truths: The Meaning of Scripture in the Twenty-first Century and of Sex and the Single Savior: Gender and Sexuality in Biblical Interpretation
"Following in the footsteps of Joseph Needham, the renowned historian of Chinese thought, Judith Farquhar here blazes her own path. Using Chinese medicine as her lamp, she leads us through the misty mountains of "science" and "religion," pointing out the pitfalls of translation along the way. She does so with erudition and eloquence."—Donald Lopez, author of The Scientific Buddha: His Short and Happy Life
"A Way of Life distills decades of anthropological and philosophical study of Chinese medical practice, in which Judith Farquhar was authoritatively trained, into an introduction as lucid as it is deep."—Nathan Sivin, author of  Health Care in Eleventh-Century China
ISBN:
9780300237238
Publication Date:
March 17, 2020
184 pages, 5 1/2 x 8 1/4
3 b/w illus.