The Chessboard and the Web
WARNING
You are viewing an older version of the Yalebooks website. Please visit out new website with more updated information and a better user experience: https://www.yalebooks.com
Strategies of Connection in a Networked World
Anne-Marie Slaughter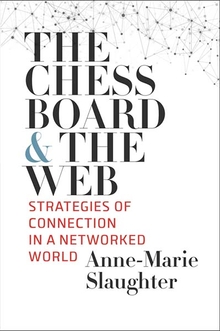 View Inside
Format:

Paper


Price:

$16.00
Also Available in:
Hardcover
From a renowned foreign-policy expert, a new paradigm for strategy in the twenty-first century

In 1961, Thomas Schelling's The Strategy of Conflict used game theory to radically reenvision the U.S.-Soviet relationship and establish the basis of international relations for the rest of the Cold War. Now, Anne-Marie Slaughter—one of Foreign Policy's Top 100 Global Thinkers from 2009 to 2012, and the first woman to serve as director of the State Department Office of Policy Planning—applies network theory to develop a new set of strategies for the post-Cold War world. While chessboard-style competitive relationships still exist—U.S.-Iranian relations, for example—many other situations demand that we look not at individual entities but at their links to one another. We must learn to understand, shape, and build on those connections.
 
Concise and accessible, based on real-world situations, on a lucid understanding of network science, and on a clear taxonomy of strategies, this will be a go-to resource for anyone looking for a new way to think about strategy in politics or business.
Anne-Marie Slaughter is President and CEO of New America, former Director of Policy Planning at the U.S. State Department, and former Dean of Princeton's Woodrow Wilson School of Public and International Affairs. Her previous books include A New World Order and Unfinished Business: Women Men Work Family, named one of the best books of 2015 by the Washington Post, the Economist, and NPR. She lives in Princeton, NJ.
"Perfectly timed, thoughtfully argued, and utterly convincing. . . . Soon to be a dog-eared, heavily underlined guide used by our most effective leaders."—Gen. (Ret.) Stan McChrystal
"The Chessboard and the Web presents a brilliantly imaginative vision of world politics for the age of the Internet and social media, informed by the author's career in government as well as her scholarship."—Robert O. Keohane, Professor of Public and International Affairs, Princeton University
"A profound and insightful view of geopolitics from one of the greatest living foreign policy thinkers. This book should be required reading for any student or practitioner of international relations. It will only become more relevant and prescient over time."—Eric Schmidt, Executive Chairman, Alphabet Inc.
"Must reading for policymakers and citizens alike. Anne-Marie Slaughter has taken on the enormous task of rethinking grand strategy in an interconnected world where government is but one of the key players. There is little doubt that an Open Order world would be more prosperous and safer. The Chessboard and the Web launches an important conversation on how to get there."—Former Secretary of State Condoleezza Rice
"Slaughter's book applies well beyond the field of foreign policy. It speaks directly to the needs of  global business to rethink the architecture and culture of their business models, organizations and strategies."—Tom Pritzker, Executive Chairman Hyatt Hotels Corp.
"Brilliant, imaginative. . . . This book represents an important watershed in thinking about power and interdependence in the contemporary world."—G. John Ikenberry, Foreign Affairs
"This paradigm-changing book cogently encourages fresh ways of thinking about the workplace and the world. . . . Readers will likely end up taking this book to work with them when especially challenging problems arise."—Publishers Weekly, (starred review)
"In happier times, The Chessboard and the Web might have been taken as extended application letters for senior posts under either Hillary Clinton or a mainstream Republican. . . . Where Slaughter is fundamentally at odds with the new Washington is in her belief that foreign policy is not a zero­-sum game. For her, politics is more than a bilateral tussle over trade or security. . . . She argues her case from both an extensive review of the literature and her own experience in government, citing examples such as the 2015 Paris Agreement on climate change."—Mark Malloch-Brown, Financial Times
"I am not interested in critiquing the president's moves or motives at the moment. What I am interested in is a pragmatic and progressive worldview, and ideas that will help bring about lasting peace and stability. And Anne-Marie Slaughter's new book, The Chessboard and the Web, offers it."—Dylan Schleicher, 800-CEO-READ, Editor's Choice
"Networks are becoming more important and deserve more attention in both the theory and practice of foreign policy. Slaughter's exposition is masterful and succinct. This book will command attention, not only because of her scholarship but also because of her reputation and experience."—Joseph S. Nye Jr., author of Soft Power and Is the American Century Over?
"Given that nation-states remain powerful and important actors, Slaughter seeks to guide their leaders into more constructive and productive engagements with this inexorably more interconnected world. Essential for scholars and practitioners."—Choice
"Genius. . . . Slaughter . . . develops a different look at foreign policy and . . .  adds to our basic understanding of networks in the current era."—Robert Agranoff, Public Administration Review
Selected by Foreign Affairs as one of the Best Books of 2017
"May well emerge as a foundational text. . . . One of [its] central contributions . . . is to illuminate how impoverished our understanding of power remains. . . . The Chessboard and the Web is one of the few books in recent memory that goes beyond perfunctory nods to the role of networks in addressing contemporary global challenges."—Ali Wyne, The New Republic
"Both a guide for diplomats and a vision for the future of diplomacy."—Ilan Manor, International Affairs
"Successful. . . it is a commonsensical plea for foreign policy experts to take network power more seriously."
—Jeffrey Collins, TLS
"Slaughter's book is both a guide for diplomats and a vision for the future of diplomacy. . . a new grand strategy to guide foreign-policy making."—Ilan Manor, International Affairs
ISBN:
9780300234664
Publication Date:
March 20, 2018
304 pages, 5 1/2 x 8 1/4
14 b/w illus.