Dangerous Years
WARNING
You are viewing an older version of the Yalebooks website. Please visit out new website with more updated information and a better user experience: https://www.yalebooks.com
Climate Change, the Long Emergency, and the Way Forward
David W. Orr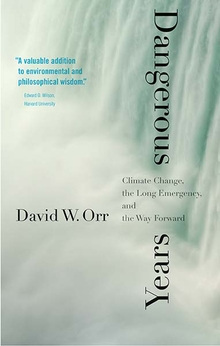 View Inside
Format:

Paper


Price:

$18.00
Also Available in:
Hardcover
A leading environmental thinker takes a hard look at the obstacles and possibilities on the long road to sustainability  

This gripping, deeply thoughtful book considers future of civilization in the light of what we know about climate change and related threats. David Orr, an award-winning, internationally recognized leader in the field of sustainability and environmental education, pulls no punches: even with the Paris Agreement of 2015, Earth systems will not reach a new equilibrium for centuries. Earth is becoming a different planet—more threadbare and less biologically diverse, with more acidic oceans and a hotter, more capricious climate. Furthermore, technology will not solve complex problems of sustainability.
 
Yet we are not fated to destroy the Earth, Orr insists. He imagines sustainability as a quest and a transition built upon robust and durable democratic and economic institutions, as well as changes in heart and mindset. The transition, he writes, is beginning from the bottom up in communities and neighborhoods. He lays out specific principles and priorities to guide us toward enduring harmony between human and natural systems.
David W. Orr is Counselor to the President and Paul Sears Distinguished Professor Emeritus, Oberlin College. Prominent in the creation of the Green Campus movement, he cofounded the Meadowcreek Project, the Oberlin Project, and the journal Solutions.
"A valuable addition to environmental and philosophical wisdom."—Edward O. Wilson, Harvard University
"No one has thought more deeply about the great challenges of our time than David Orr. Dangerous Years is an erudite, impassioned, and deeply wise book."—Elizabeth Kolbert, author of The Sixth Extinction: An Unnatural History
"No one knows more about the hole we're in, and no one has worked any harder to get us out of it—David Orr is a necessary guide to the great climate crisis we find ourselves in, and this is a vital book."—Bill McKibben, author Eaarth: Making a Life on a Tough New Planet
"David Orr has written a perfectly marvelous book, a deep and wide-ranging reflection on the human condition. It's a winner, and a rare one at that."—James Gustave Speth, author of Red Sky at Morning, The Bridge at the End of the World, and America the Possible
"David Orr has for many years provided a broad view of our ecological challenges. Now he provides a long view, sounding the alarm about the future we are heedlessly creating today. Like the Sorcerer's Apprentice, we have put in motion a process of fossil-fueled growth that has gone out of control. In the absence of a wizard to right the situation magically, Orr calls for human intervention before it is too late—not just in our power plants and motor vehicles, but in the way we live our lives and organize society. To do so, he once wrote, 'hope is an imperative.'"—Timothy E. Wirth, former U.S. Senator (Colorado) and President Emeritus, The United Nations Foundation
"An extremely valuable look at humanity's horizon, the challenging millennium ahead and how we might—indeed must—transition to sustainability. The distillation of a lifetime of constructive consideration of the environmental challenges we have brought upon ourselves, Dangerous Years will help us chart the way through the inchoate wilderness of our own making. Destined to become one of the great environmental classics."—Thomas E. Lovejoy, George Washington University
"David Orr, a personal hero and one of the world's great environmental champions and scholars, has delivered a powerful and urgent manifesto. Dangerous Years offers deep insight into the monumental challenges we face and the necessary changes we must make, ones that will shape the future not only of our own species, but of countless others. If only Orr were president."—Richard Louv, author of Last Child in the Woods and The Nature Principle
"In this age of specialized knowledge, David Orr—the visionary founder of The Oberlin Project—has written a masterful roadmap for responding to climate destabilization—with economic, political, and human transformation. Prepare to be shaken, and then profoundly inspired."—Juliet Schor, author of Plenitude: The New Economics of True Wealth
"David Orr's critique of today's economic orthodoxy is devastating, and his case for doing it very differently, very urgently, is equally compelling."—Jonathon Porritt, Forum for the Future
Winner of the Green Prize, given to authors, illustrators, and publishers who produce quality books for adults and young people that make significant contributions to, support the ideas of, and broaden public awareness of sustainability.
ISBN:
9780300234602
Publication Date:
March 27, 2018
320 pages, 5 1/2 x 8 1/4