The War on Music
WARNING
You are viewing an older version of the Yalebooks website. Please visit out new website with more updated information and a better user experience: https://www.yalebooks.com
Reclaiming the Twentieth Century
John Mauceri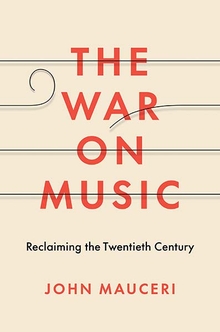 View Inside
Format:

Hardcover


Price:

$28.00
A prominent conductor explores how aesthetic criteria masked the political goals of countries during the three great wars of the past century
 
"[Mauceri's] writing is more exhilarating than any helicopter ride we have been on."—Air Mail
 
"Fluently written and often cogent."—Barton Swaim, Wall Street Journal
 
This book offers a major reassessment of classical music in the twentieth century. John Mauceri argues that the history of music during this span was shaped by three major wars of that century: World War I, World War II, and the Cold War.
 
Probing why so few works have been added to the canon since 1930, Mauceri examines the trajectories of great composers who, following World War I, created voices that were unique and versatile, but superficially simpler. He contends that the fate of composers during World War II is inextricably linked to the political goals of their respective governments, resulting in the silencing of experimental music in Germany, Italy, and Russia; the exodus of composers to America; and the sudden return of experimental music—what he calls "the institutional avant-garde"—as the lingua franca of classical music in the West during the Cold War.
John Mauceri is a world-renowned conductor and musical scholar. He has conducted most of the world's greatest orchestras and opera companies and served on the Yale University faculty for fifteen years, and is the former chancellor of the UNC School of the Arts.
"The great virtue of John Mauceri's The War on Music is that it acknowledges what many writers on the subject know but can't say: that something went badly wrong in music in the 20th century, and especially after 1945. . . fluently written and often cogent."—Barton Swaim, Wall Street Journal
"[Mauceri's] book grapples with what constitutes good classical music by approaching the subject from a provocative angle: Why do we not play more often the music banned by Hitler, specifically Schoenberg, Korngold, Hindemith, and Weill? And why instead do we fall for so much of what John Mauceri calls the "institutional avant-garde," typified by Helicopter String Quartet, by German composer Karlheinz Stockhausen, with, yes, each player in a separate chopper? The reader may not agree with Mauceri's analysis, but his writing is more exhilarating than any helicopter ride we have been on."—Air Mail
"A well-founded, cogent, and forceful argument for a fresh look at all of the century's great music, much of it written under extraordinary circumstances, and why we need to go back and listen."—Jon Burlingame, author of The Music of James Bond
 
"A profound thinker and observer and an eminent American musician, John Mauceri brilliantly explores the contested terrain of twentieth-century classical music and adds a whole new dimension to our understanding of musical politics and musical repertory."— Larry Wolff, author of The Singing Turk 
 
"En garde! In his provocative new book The War on Music: Reclaiming the Twentieth Century—one that is certain to initiate heated and impassioned discussion—the prodigiously talented and multifaceted conductor and writer John Mauceri throws down a musical gauntlet as he endeavors to upend and re-examine some of the reigning assumptions of the history of post-war twentieth-century classical music. No matter how one responds to the thrust of John Mauceri's sweeping musical worldview, one must salute him for his fervent, dauntless, and audacious engagement."—Jonathan Cott, author of Dinner With Lenny: The Last Long Interview With Leonard Bernstein
 "Mauceri's brilliant The War on Music begins with the question, 'Why do we not play the music Hitler banned?' and then pulls back the curtain to answer it, in chilling detail."— Robert Thompson, President, G. Schirmer
"Two world wars changed the course of music in the 20th century. Charting the malign influence of politics, from Hitler to Stalin, Mauceri shows how music became part of the weaponry of identity. Refugee composers lost their place in the mainstream and Mauceri argues for a re-evaluation of those forgotten and discarded."—Richard Fairman, Financial Times 'Best summer books of 2022: Classical music'
ISBN:
9780300233704
Publication Date:
April 26, 2022
248 pages, 6 1/8 x 9 1/4
8 color illus.