Richard Wagner
WARNING
You are viewing an older version of the Yalebooks website. Please visit out new website with more updated information and a better user experience: https://www.yalebooks.com
Joachim Köhler; Translated by Stewart Spencer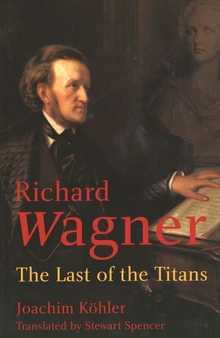 View Inside
Format:

Cloth


Price:

$50.00
In this new biography of Richard Wagner, Joachim Köhler draws on social and political analysis, documentary interpretation, and psychological insights to paint a rounded picture of Wagner as both a controversial historical phenomenon and a complex human being.
Köhler's reading of the letters, diaries, and other documents of the main protagonists, some of them unfamiliar even to seasoned Wagnerians, results in some breathtaking but convincing reappraisals. He examines Wagner's love affairs with Jessie Laussot, Mathilde Wesendonck, and Judith Gautier and assesses their lasting emotional effect. He re-evaluates Wagner's relationships with his mother, step-father, sister, and—most revealingly—his wife, Cosima, a relationship seen as based on fear rather than love. Köhler explores the philosophical roots of Wagner's work, which the composer himself deliberately obfuscated. And he analyzes Wagner's relationship with King Ludwig, whom Wagner is revealed to have blackmailed, and with Nietzsche, whom he tried to destroy.
The traumas of his youth haunted Wagner throughout his life, as his emotional development underlay his notorious anti-semitism. Köhler's interpretation of Wagner's dreams, as recorded in Cosima's diaries, offers astonishing insights into the paranoia and insecurity of a man who was one of the leading composers of his age.
Joachim Köhler is the author of Nietzsche and Wagner: A Lesson in Subjugation, and Zarathustra's Secret: The Interior Life of Friedrich Nietzsche, both published by Yale University Press. He is also the author of Wagner's Hitler. Stewart Spencer is editor of The Selected Letters of Richard Wagner, Wagner's Ring, and Wagner Remembered.
"The most stimulating study of Wagner to have been published for years. An enthralling read."—Barry Millington
"A Titan Wagner remains, but this human portrait may well make him more approachable for many."—Andrew Green, Classical Music
"The present volume draws on newly discovered sources, such as Cosima Wagner's diaries, which lead to reappraisals of the composer's relationships with family members and friends. . . . The translation by Spencer from the original German is masterly. Wagner emerges as even more complex, insidious, and odious than ever. Indispensable for all music collections."—Library Journal
"An extremely readable book, entertaining and provocative, thoughtful and perceptive."—Fred Kirshnit, New York Sun
"Mr. Köhler has perceptive insights into Wagner's letters and essays. The discussions of his life and works are enriched by Mr. Köhler's Olympian knowledge of German history, philosophy and politics. His analysis of the 'Ring,' at nearly 100 pages, takes the form of an engrossing retelling of the story, complete with fascinating comments drawn from his readings of the early drafts of Wagner's librettos."—Anthony Tommasini, New York Times
"Köhler . . . will give us Wagner uncut."—Andrew Crumey, Scotland on Sunday
"The book is undoubtedly a landmark in Wagner studies."—Barry Millington, The Evening Standard
"My must read music book of 2004."—Anna Picard, The Independent on Sunday
"It is never less than intelligent and often compelling."—Simon Heffer, The Literary Review
"An important contribution to the already vast amount of literature about Wagner."—Michael Kennedy, The Sunday Telegraph
"Köhler's book is a monumental and almost breathtaking achievement, as well as a wholly absorbing read."—Ian Beresford Gleaves, The Wagner News
"This deeply probing, extremely 'German' biography, in an unpretentious translation by Stewart Spencer, is as weighty, sometimes unintentionally hilarious, and important as was the titanic Wagner himself."—Nagle Jackson, Trenton, N.J. Times
 

"Köhler gives a vibrant flesh-and-blood view of the man who loved, labored, philosophized, coveted, and over-spent, resented and revenged, and also composed."—Ruth A. Starkman, Musicians and the Modern Era
"Köhler gives us a truly rounded Wagner and gets so far beyond the 'great music—terrible person' trope that one wonders at ever indulging in such simple dichotomies in the first place. . . . This book achieves many things, shedding new and surprising light on Wagner's childhood, on his intellectual debts to Hegel and Feuerbach (including a persuasive argument against the widely-accepted importance of Schopenhauer), on his minor works, on his deep ambivalence about the theater and thus about Bayreuth, even as they became the substance of his waking life."—Celia Applegate, H-Net Reviews
ISBN:
9780300104226
Publication Date:
December 11, 2004
704 pages, 6 1/8 x 9 1/4
24 b/w illus.