Richard Rodgers
WARNING
You are viewing an older version of the Yalebooks website. Please visit out new website with more updated information and a better user experience: https://www.yalebooks.com
William G. Hyland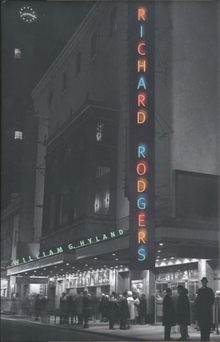 View Inside
Format:

Cloth


Price:

$66.00
Richard Rodgers, a musical genius whose Broadway career spanned six successful decades, composed more than a thousand songs for the American stage. Although he reaped wealth, success, and recognition that included two shared Pulitzer Prizes, Rodgers found happiness elusive. In this first comprehensive biography of Rodgers, William G. Hyland tells the full story of the complex man and his incomparable music.

Hyland's portrait of Rodgers (1902-79) begins with his childhood in an affluent Jewish family living in the Harlem neighborhood of Manhattan. During college years at Columbia University and early work on the amateur circuit and Broadway, Rodgers entered into a historic collaboration with the lyricist Lorenz Hart. The team produced a dozen popular shows and such enduring songs as "The Lady Is a Tramp." Rodgers' next partnership, with Oscar Hammerstein II, led to the creation of the musical play, a new and distinctively American art form. Beginning with Oklahoma! in 1943, this pair dominated Broadway for almost twenty years with a string of hits that remain beloved favorites: Carousel, South Pacific, The King and I, and The Sound of Music. When Hammerstein died in 1960, Rodgers began a new phase in his career, writing the lyrics to his own music, then joining lyricists Stephen Sondheim, Sheldon Harnick, and Martin Charnin. Despite periods of depression, excessive drinking, hypochondria, and devastating illness at different points in his life, Rodgers' outpouring of music seemed little affected, and he continued to compose until his death at age seventy-seven. An icon of the musical theater, Rodgers left a legacy of timeless songs that audiences return to hear over and again.


William G. Hyland is former editor of the quarterly journal Foreign Affairs and author of The Song Is Ended: Songwriters and American Music, 1900-1950.


A selection of the Stage and Screen Book Club and the Movie and Entertainment Book Club

"This is a wonderful book. It tells the story of a fascinating man—but it also presents an equally fascinating look into the world of writing songs. Bill Hyland knows the music and the words and he puts them together beautifully."—Jim Lehrer




"Rodgers and Hammerstein . . . so thoroughly transformed musical theater that it could never revert to what it was. Hyland's account of Rodger's role in this transformation . . . is perceptive and clear. So are his analyses of Rodgers' songs and his descriptions of the trials involved in writing, casting and staging each production."—Clifford A. Ridley, Philadelphia Inquirer

"Hyland['s] . . . biography of Rodgers . . . provides a pleasing view of the American musical theater from the '20s into the '70s." —David Marshall James, The State (Columbia, SC)


"Hyland's new biography of Rodgers doesn't scant this problematic side of the man whose partnerships with lyricists Lorenz Hart and Oscar Hammerstein II are twin peaks of 20th century American musical theater. Neither indicting nor defending, Hyland presents his subject's utterances and behavior in no-frills fashion, leaving readers to draw their own conclusions."—Richard M. Sudhalter, Baltimore Sun

"The book effectively chronicles Rodgers' output in a show-by-show sequence."—Harry Haun, Newark Star-Ledger


"[Hyland] carefully details the creation of each of Mr. Rodgers' musicals."—Lawson Taitte, Morning News- Dallas, TX


"Richard Rodgers comes alive in William Hyland's biography with sparkling anecdotes and a profound understanding of a great composer's work."—Kitty Carlisle Hart


"An excellent and authoritative book—one that will no doubt become the standard biography of Richard Rodgers."—Allen Forte


"In the first biography since the composer's death, Hyland examines his music and his life, both personal and professional, with a sure hand, balancing anecdote with analysis. The result is a refreshingly readable lesson in the history of American musical theater. Recommended for public and academic libraries."—Library Journal


"Hyland's book is especially helpful in its lucid analysis of the evolving technique of Rodgers's music, with its increasingly sophisticated manipulation of forms like the waltz and of stretched scales, and in assessing the symbiosis of composer and lyricist."—Ben Brantley, New York Times Book Review


"Hyland is musically astute, which is the main strength of his book. . . . [He] gives a fine overview of the songwriter's three main periods."—David Patrick Stearns, USA Today


"[Hyland] can write clearly and informatively. . . . He includes just enough technical knowledge to make us understand just how great composer of popular music Rodgers was."—Peter Hepple, Stage


"[An] excellent book. . . . This totally absorbing book not only gives an informative insight into the life of a great man, but also a fascinating look at the world of this incredibly popular tunesmith."—Cinema Theatre Association


"Hyland has scoured every scrap of published and archival material in pursuit of his subject. Richard Rodgers, the result of his labors, assembles a mountain of factual information about the songwriter." —Joel E. Siegal, Washington Post Book World


"Hyland has written a biography of America's great composer of Broadway melodies that any Rodgers aficionado should have on hand. It is loaded with good, interesting information about the tunesmith's progress over the years with Lorenz Hart and Oscar Hammerstein 2d and does a good job of explaining why he and his partners were so important to the history of musical comedy." —Ed Siegel, Boston Globe


"Thoroughly researched. . . Rodgers's first collaborative efforts with both Oscar Hammerstein and Lorenz Hart. . . Examining these two great teams as well as Rodgers collaborations with Sheldon Harnick, Martin Charnin and Stephen Sondheim, Hyland provides his most valuable insights, showing how teams draw on each other's strengths to create great work, but also how often unrealized weaknesses undermine a partnership."—Publisher's Weekly


"Hyland is technically proficient with musical details."—David Kaufman, Nation


"[A] judicious and elegantly written life. . . . Hyland's style is discreet and dispassionate. . . . He is discerning about the influence on Rodgers of his creative partners and has intelligently examined the archives."—Steven Bach, Los Angeles Times


"Pack[ed with] fascinating anecdotes. . . . [An] enjoyable biography."—Stan Brennan, Chicago Tribune


"William Hyland's biography of Richard Rogers is a timely reminder of the richness of American popular music during the past one hundred years. . . . Hyland's contribution in this fine book is to show why Rodgers touched so many lives in such a lasting way."—Lewis L. Gould, Magill's Literary Annual 1999


ISBN:
9780300071153
Publication Date:
April 20, 1998
376 pages, 6 1/8 x 9 1/4
17 b/w illus.