Falling Felines and Fundamental Physics
WARNING
You are viewing an older version of the Yalebooks website. Please visit out new website with more updated information and a better user experience: https://www.yalebooks.com
Gregory J. Gbur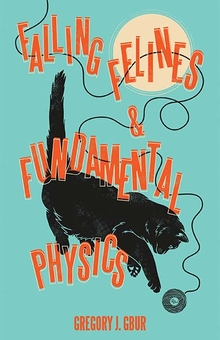 View Inside
Format:

Hardcover


Price:

$28.00
How do cats land on their feet? Discover how this question stumped brilliant minds and how its answer helped solve other seemingly impossible puzzles
 
The question of how falling cats land on their feet has long intrigued humans. In this playful and eye-opening history, physicist and cat parent Gregory Gbur explores how attempts to understand the cat-righting reflex have provided crucial insights into puzzles in mathematics, geophysics, neuroscience, and human space exploration.
 
The result is an engaging tumble through physics, physiology, photography, and robotics to uncover, through scientific debate, the secret of the acrobatic performance known as cat-turning, the cat flip, and the cat twist. Readers learn the solution but also discover that the finer details still inspire heated arguments. As with other cat behavior, the more we investigate, the more surprises we discover.
Gregory J. Gbur is professor of physics and optical science at the University of North Carolina at Charlotte. He contributed to the book Science Blogging: The Essential Guide and writes two blogs about horror and the history of science.
"Falling Felines and Fundamental Physics is a fascinating and fast-moving journey of a book. And author Greg Gbur is a virtuoso guide. The result is an addictively smart and funny don't-miss exploration of science, from free-falling cats to the history of photography, quantum physics, eccentric scientists, and more."—Deborah Blum, author of The Poison Squad: One Chemist's Single-Minded Crusade for Food Safety at the Turn of the Twentieth Century
"Even cats obey the laws of nature. In this engrossing book, Greg Gbur uses cats' mysterious ability to land on their feet to explore how physics works in the real world."—Sean Carroll, author of Something Deeply Hidden: Quantum Worlds and the Emergence of Spacetime
"When the shelves in the science section of bookstores groan under the weight of tomes concerning String Theory and the Higgs Boson, this extremely well-written popular science book concerning such a human-scale problem is refreshing."—James Kakalios, author of The Physics of Superheroes
ISBN:
9780300231298
Publication Date:
October 22, 2019
352 pages, 5 1/2 x 8 1/4
75 b/w illus.