Barbra Streisand
WARNING
You are viewing an older version of the Yalebooks website. Please visit out new website with more updated information and a better user experience: https://www.yalebooks.com
Redefining Beauty, Femininity, and Power
Neal Gabler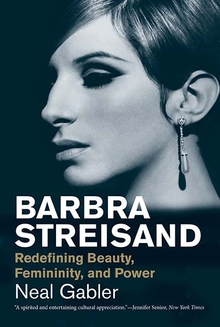 View Inside
Format:

Paper


Price:

$15.00
Also Available in:
Cloth
An enthralling appreciation of the monumentally gifted popular artist and cultural icon who challenged Hollywood's standards of beauty and glamour

Barbra Streisand has been called the "most successful...talented performer of her generation" by Vanity Fair, and her voice, said pianist Glenn Gould, is "one of the natural wonders of the age." Streisand scaled the heights of entertainment—from a popular vocalist to a first-rank Broadway star in Funny Girl to an Oscar-winning actress to a producer and director. But she has also become a cultural icon who has transcended show business. To achieve her success, Brooklyn-born Streisand had to overcome tremendous odds, not the least of which was her Jewishness. Dismissed, insulted, even reviled when she embarked on a show business career for acting too Jewish and looking too Jewish, she brilliantly converted her Jewishness into a metaphor for outsiderness that would eventually make her the avenger for anyone who felt marginalized and powerless.
 
Neal Gabler examines Streisand's life and career through this prism of otherness—a Jew in a gentile world, a self-proclaimed homely girl in a world of glamour, a kooky girl in a world of convention—and shows how central it was to Streisand's triumph as one of the voices of her age.
Neal Gabler is the author of An Empire of Their Own: How the Jews Invented Hollywood; Walt Disney: The Triumph of the American Imagination; Winchell: Gossip, Power and the Culture of Celebrity; and Life: The Movie: How Entertainment Conquered Reality.
"[A] spirited and entertaining cultural appreciation."—Jennifer Senior, New York Times
"A book-length biographical essay, filled with context about Streisand's Jewish persona as a hindrance and, eventually, in unexpected ways, as an aid to her professional successes. . . . Fascinating details abound. . . . A worthy book."—Kirkus Reviews
"Superb . . . [Gabler] vitally anatomizes singer, actor, and director Streisand's unique accomplishments and far-reaching influence. . . . With unabashed appreciation for her tenacious refusal to be bullied by the entertainment establishment or the media, Gabler maps the fecund artistic and social ground that the brilliant and outspoken Streisand has claimed by doing things her way, decade after decade."—Donna Seaman, Booklist (starred review)
"[A] trim, insightful Streisand meta-biography. . . . If Oscar, Tony, Grammy, Emmy, Peabody, and the rest of the polished, postured gang haven't already persuaded you that she's had the enormous influence Gabler claims, his careful reading of her career will."—Alexander C. Kafka, Los Angeles Review of Books
"In this fascinating and insightful exploration of what it means to be Barbra Streisand, and what it took to become her, Mr. Gabler writes with the heart of a fan and the mind of a Freudian. He delves into Ms. Streisand's tragic childhood and her anguish at the hand of neighborhood bullies, who taunted her for her big nose and relative poverty, and shows how they engendered in her an implacable—and stupefyingly correct—belief in the singular power of her talent as a performer."—Rachel Shukert, Wall Street Journal
"No one is better equipped to ponder the Jewish origins of Streisand than Gabler . . . [A] superb book."—Jonathan Kirsch, Jewish Journal
"An enjoyable, unabashedly appreciative biography, one that, unlike most gossip-smattered showbiz lives, sends the reader skipping back to the records and (some of) the films."—Matthew Walther, Washington Free Beacon
"Impassioned. . . . Gabler, one of our leading historians of film and popular culture, offers a number of penetrating observations about Streisand's technique as a performer."—Adam Kirsch, Tablet
"Gabler, the estimable journalist, pop-cultural historian and author . . . returns to his interest in the intersection of Jews, gentiles and Hollywood in BARBRA STREISAND: Redefining Beauty, Femininity, and Power. . . . The author does a neat job of weaving every thread he can pull into the cloth. . . . This brief biography looks at a well-documented star in a new way."—Lisa Schwarzbaum, New York Times Book Review
"Gabler . . . argues that Streisand could never have triumphed as she did if she were a natural winner . . . a convincing account of how, once, Streisand really did bend the world to her will."—Victoria Segal, Sunday Times
"A fascinating look at an icon who achieved her status with her Jewishness—and her Brooklynness—intact."—Chicago Jewish Star
"A clear-eyed, frank, and energetic look at Streisand, filled with revealing details, that fuses her life and career into vivid focus."—Bob Spitz, author of The Beatles: The Biography
"The appeal of this handsome volume is. . . in the pleasure of hearing a well-told story that is ubiquitous in American mythology and self-consciously perpetuated by the subject herself: that of an unlikely, supposedly self-made American superstar."—Jennifer Hall, Reading Religion
ISBN:
9780300230611
Publication Date:
September 12, 2017
296 pages, 5 1/2 x 8 1/4
1 b/w illus.