True Stories
WARNING
You are viewing an older version of the Yalebooks website. Please visit out new website with more updated information and a better user experience: https://www.yalebooks.com
Francis Spufford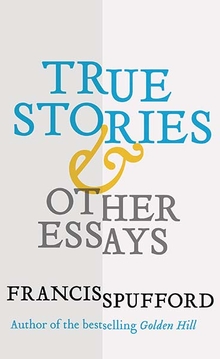 View Inside
Format:

HC - Paper over Board


Price:

$25.00
Also Available in:
Paper
An irresistible collection of favorite writings from an author celebrated for his bravura style and sheer unpredictability

Francis Spufford's welcome first volume of collected essays gathers an array of his compelling writings from the 1990s to the present. He makes use of a variety of encounters with particular places, writers, or books to address deeper questions relating to the complicated relationship between story-telling and truth-telling. How must a nonfiction writer imagine facts, vivifying them to bring them to life? How must a novelist create a dependable world of story, within which facts are, in fact, imaginary? And how does a religious faith felt strongly to be true, but not provably so, draw on both kinds of writerly imagination?
 
Ranging freely across topics as diverse as the medieval legends of Cockaigne, the Christian apologetics of C. S. Lewis, and the tomb of Ayatollah Khomeini, Spufford provides both fresh observations and thought-provoking insights. No less does he inspire an irresistible urge to turn the page and read on.
Francis Spufford is professor of creative writing at Goldsmiths College, University of London. He is the author of several highly praised books of nonfiction, and his novel Golden Hill won four literary prizes including the New York City Book Award of the New York Society Library. He lives in Ely, UK.
"I am not alone in thinking that Francis Spufford has one of the most original minds in contemporary literature."—Nick Hornby
"Intellectually Spufford resembles a many-armed Hindu deity, able to pluck fruit and butterflies from anywhere on earth's most robust tall trees."—Dwight Garner, New York Times
"He can make the most recondite intellectual inquiry into something freewheeling and fabulous."—Rachel Polonsky
"Francis Spufford has long been one of my favourite writers of non-fiction."—Iain Pears
"This debut essay collection from novelist Spufford has many strengths, chief among them the diversity of topics covered. . . . The essays challenge one's imagination, are never repetitive, and show a welcome breadth of mind in an era of narrow specialization. Spufford fits no cookie-cutter definition: he is journalist and scholar, science lover and Christian, word lover and poet, and his writing satisfies deeply."—Publishers Weekly, starred review
"Acclaimed essayist Spufford offers not just a variety of subjects here, but also a variety of sources. . . . A bibliophagist snacks and dines, sharing with us some of the tastiest bits."—Kirkus Reviews
"This career-spanning collection – covering books, religion, technology, musings on Antarctica – makes us consider the world anew."—Anita Sethi, Observer
"Thoughtful, elegantly-written pieces."—Houman Barekat, Financial Times
"Commissioned by editors who knew that Spufford was someone who could talk with authority, passion and an amused intelligence about these subjects. . . He is incapable of dullness."—Nicholas Lezard, Evening Standard
"Quietly gorgeous. . . Spufford has a knack for blending fact with fiction, to be sure, but also for threading through his stories a sense of his own uncertainties. Here's the story, his writing seems to say. Make what you will of it."—Caroline Crampton, New Statesman
"In an age of dwindling attention spans for serious reflection and stimulating journalism, True Stories, and Other Essays provides intelligence and verve."—John L. Murphy, New York Journal of Books
"The essay collection presents its reader with the opportunity to hitch herself to an original mind as it pursues a course plotted by its own idiosyncratic, free-range curiosity. . . . Francis Spufford's True Stories and Other Essays is just such a book. . . . An addictively quotable stylist, Spufford writes sentences and paragraphs that spawn thickets of enthusiastic marginalia."—Laura Miller, Slate
"A delightfully intelligent collection of writings. . . reading them together felt both stimulating and luxurious, and left me with renewed admiration for Spufford's agility, range and insight."—Clare Carlisle, "Books of the Year 2017", TLS
"[Spufford's] unifying perspective in True Stories is the virtue of imagination."—Phillip Lopate, New York Times Book Review
"Components of a broader essay encompassing what it means to be Francis Spufford. The ego here is generous, patient and companionable. . . It seems he is on something of a mission, its purpose heightened throughout True Stories by the sinew, energy and immediacy of his style and by the continual relish he finds for his craft."
—Jonathan Keates, TLS
ISBN:
9780300230055
Publication Date:
October 24, 2017
360 pages, 6 1/8 x 9 1/4