Maternity
Mothers and Children in the Arts of Africa
Herbert M. Cole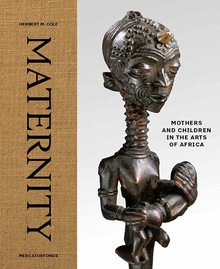 View Inside
Format:

Hardcover


Price:

$90.00
On the African continent, images of mothers and children are found wherever the visual arts are, from early rock-art sites in Egypt and the Sahara to the contemporary arts of South Africa. Discovered in a variety of materials, from stone, ivory, and metals to beadwork, wood, and even paintings, images of maternity enliven virtually every type of object made in the region.
 
Defining maternity as a biological and cultural phenomenon, the author goes beyond obvious notions of fertility to consider the importance of maternity in thought, ritual action, and worldview. Maternity images of all eras evoke deep and significant messages – well beyond what meets the eye. 


Distributed for Mercatorfonds
Herbert M. Cole is professor emeritus of history of art and architecture at the University of California Santa Barbara.
 
Shortlisted for the 2018 Primitive Arts award category given by Le Festival International du Livre d'Art et du Film (FILAF)
ISBN:
9780300229158
Publication Date:
December 5, 2017
Publishing Partner:
Distributed for Mercatorfonds
376 pages, 9 1/2 x 11 3/4
343 color illus.

---
Sales Restrictions: World excluding for Benelux