Baule
WARNING
You are viewing an older version of the Yalebooks website. Please visit out new website with more updated information and a better user experience: https://www.yalebooks.com
African Art, Western Eyes
Susan Mullin Vogel

Read this book online via the A&AePortal, our art and architectural history eBook platform. To learn more about how to access this book, please contact us.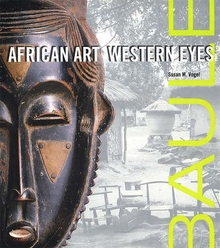 View Inside
Format:

Cloth


Price:

$42.00
Out of Print
The superb sculptures of the Baule people of the Ivory Coast have long been recognized in Europe and the United States as one of Africa's most significant art traditions. The work of many modern artists—Amedeo Modigliani in particular—reflects the direct influence of Baule invention and forms. This original book, filled with the insights of an author who has lived with the Baule and studied their art for more than twenty-five years, explores for the first time the full texture and details of Baule life and art. Abundant illustrations include field photographs showing artworks in the intimacy of daily lives and public performances, and museum photographs of Baule sculptures.

Susan Vogel focuses on the creation and uses of Baule works of art apart from their definition as "art" in Western eyes. She establishes a means for understanding Baule expressive culture from the perspective of the Baule individuals. In an extensive discussion of Baule experiences of art objects, she finds different kinds of looking and seeing—art that is watched (mask dances and entertainment performances), that is seen without looking (works of art too sacred or awesome to be scrutinized), that is glimpsed (sculptures made for personal shrines and kept in private rooms), and that is visible to all (elaborately decorated objects that fulfill the desire for beauty and for open display of talents).
Susan Mullin Vogel is Henry J. Heinz II Director of the Yale University Art Gallery.
"This is a highly readable, even captivating examination of one of Africa's most engaging traditions."—Doran H. Ross
"The tension between Baule and Western ideas about art fuels Vogel's book. Her many photographs of Baule bowls, masks, sculptures and other objects attest to the enduring beauty of these creations. Wherever possible, Vogel accompanies her photos with sensitive descriptions of the Baule artisans whose work is being discussed."—Washington Post Book World
"Vogel has done a masterly job of revealing the meaning, relevance, and power of the full range of sacred, personal, performance, and utilitarian art objects among the Baule."—Library Journal
"A stunning look at the sculpture of the Baule people of the Ivory Coast, by an author who has devoted more than a quarter-century to study of the subject."—The Boston Sunday Globe
"Vogel's [book] provides the first in-depth examination of the Baule's sculptures. . . . With its numerous black and white and color photos, this provides the scholarly, artistic survey lacking elsewhere."—Diane C. Donovan, Midwest Book Review
"Vogel presents the most in-depth study of the art of the Baule culture, one of the largest cultural groups in Côte d'Ivoire, and provides a cohesive catalog of a variety of Baule objects, including intricate gold work, wooden fugural sculpture, masks, and carved architectural elements."—Aimée Bessire, Boston Book Review
"An extensive and very interesting description of Baule society and of the people she knows and has worked with. The illustrations are magnificent and include dances, ceremonies, shrines, and scenes of everyday life, all well annotated."—Atlantic Monthly
"It is hardly possible to summarize the richness of Baule: African Art/Western Eyes in a few lines. . . . This book is an important contribution to the literature on the art and culture of the Baule. More generally, the questions and interpretations contained within it will occupy scholars of African art for a long time to come. Not least, Baule: African Art, Western Eyes is a pleasure. The text is easily read, and the numerous and helpful photographs are beautifully reproduced."—Till Forster, African Arts
"Helps westerners see African art as it is seen on its home ground."—Philadelphia Inquirer
"The book appeals to both an academic audience—as the first comprehensive work on Baule art—and a much wider audience—as an accessible text on an African culture."—Aimee Bessire, Boston Book Review
"[This] book is unique not only because it is, so far, the most comprehensive study of the sculptures of the Baule of Cote d'Ivoire, but also because it charts a new course by examining issues seldom raised by previous researchers. . . . Given the richness of the materials and the rare insights of the author, Baule: African Art/Western Eyes is a groundbreaking work. It is a monumental contribution not only to the art history and anthropology of the Baule, but also to the study of African and non-Western art as a whole. . . . Extremely useful, well conceived, well produced, and highly recommended."—Babatunde Lawal, African Studies Quarterly
"As Vogel puts it in her conclusion, 'Artworks matter not for what they are as created forms, but for what they do.' And what they do is to modify the personal moral and spiritual lives of individuals and enrich with symbolic meaning the rhythms of daily existence. To bring such an insight wrapped in so handsomely illustrated a volume is a considerable achievement for which we owe Susan Vogel a debt of gratitude."—David H. Groff, International Journal of African Historical Studies
ISBN:
9780300073171
Publication Date:
October 20, 1997
Publishing Partner:
Published in association with the Yale University Art Gallery
312 pages, 9 x 11 3/4
100 b/w + 150 color illus.