The Elements of Power
WARNING
You are viewing an older version of the Yalebooks website. Please visit out new website with more updated information and a better user experience: https://www.yalebooks.com
Gadgets, Guns, and the Struggle for a Sustainable Future in the Rare Metal Age
David S. Abraham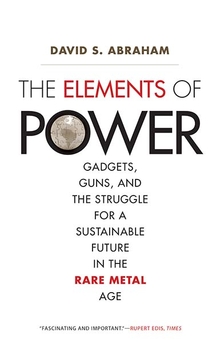 View Inside
Format:

Paper


Price:

$15.00
Also Available in:
Hardcover
A natural resource strategist investigates the growing global demand for rare metals and what it means to the environment and our future

Our future hinges on a set of elements that few of us have even heard of. In this surprising and revealing book, David S. Abraham unveils what rare metals are and why our electronic gadgets, the most powerful armies, and indeed the fate of our planet depend on them. These metals have become the building blocks of modern society; their properties are now essential for nearly all our electronic, military, and "green" technologies. But their growing use is not without environmental, economic, and geopolitical consequences.

Abraham traces these elements' hidden paths from mines to our living rooms, from the remote hills of China to the frozen Gulf of Finland, providing vivid accounts of those who produce, trade, and rely on rare metals. He argues that these materials are increasingly playing a significant role in global affairs, conferring strength to countries and companies that can ensure sustainable supplies.

Just as oil, iron, and bronze revolutionized previous eras, so too will these metals. The challenges this book reveals, and the plans it proposes, make it essential reading for our rare metal age.
David S. Abraham is a natural resource strategist who currently directs the Technology, Rare and Electronics Materials Center. His writing has appeared in the New York Times and the Los Angeles Times.
"A thought-provoking book that follows the trail of these elements [that] . . . are no less transformative—and are possibly just as valuable—as oil and coal."—The Economist
"Abraham deftly explains why the age of technology is also the age of rare metals—and what that could mean for the world. This book lays the groundwork for an important discussion we need to have."—Ian Bremmer, president of Eurasia Group, and author of Every Nation for Itself
"For those of us who marvel at hybrid cars, smartphones, and wind turbines, but don't really know where indium, europium, and tantalum come from, an uneasy feeling is beginning to gnaw. In this extraordinary book, Abraham shows that the countries that control rare metals will control the future. His exhaustive research and vivid explanations are alarming and compelling."—Robert C. (Bud) McFarlane, former National Security Advisor and cofounder of the United States Energy Security Council
"With intelligence and nuance, Abraham sounds the alarm and brings attention to a coming resource conundrum. We are entering an age when the need for mere grams of obscure-sounding metals will have vast geopolitical consequences."—James Stavridis, Dean of the Fletcher School of Law and Diplomacy at Tufts University and Supreme Allied Commander, NATO (2009 to 2013)
"Abraham unearths fascinating tales of a set of metals which may seem inconsequential, but underpin our lifestyles in ways few outside of scientific and select business circles understand."—Roderick G. Eggert, Colorado School of Mines and Critical Materials Institute
"David Abraham makes a complex, hidden but important subject both accessible and fascinating. Combining first-hand accounts with global statistics, he portrays the full picture of rare metals. His warnings and recommendations deserve our attention."—Dennis Blair, Former Director of National Intelligence
"In The Elements of Power, David Abraham attempts to peel back the screen on our devices and discover what's behind."—Henry Sanderson, Financial Times
"Excellent . . . Anyone concerned about how we balance sustainability with a high-tech future should read this book."—Disruptive Discoveries Journal
"In TheElements of Power, David Abraham explores a phenomena essential to our everyday lives and our future, but rarely studied or understood in the context of global policy or daily life. This is a book not just for specialists but also for those who are trying to chart a sustainable future for the world."—Christie Todd Whitman, 50th governor of New Jersey, former Administrator of the Environmental Protection Agency
"[A] fascinating and important book."—Rupert Edis, Sunday Times
Winner of the 2016 Excellence in Journalism Award given by the Renewable Natural Resources Foundation
ISBN:
9780300226904
Publication Date:
April 25, 2017
336 pages, 5.5 x 8.25
3 b/w illus.