Martin Luther
WARNING
You are viewing an older version of the Yalebooks website. Please visit out new website with more updated information and a better user experience: https://www.yalebooks.com
Scott H. Hendrix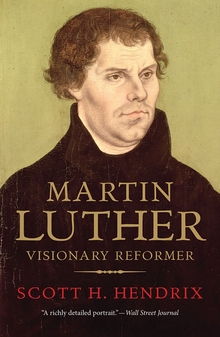 View Inside
Format:

Paper


Price:

$22.00
Also Available in:
Hardcover
A bold, insightful biography of Martin Luther

"[A] richly detailed portrait."—D.G. Hart, Wall Street Journal

"Even-handed and engaging. . . . A nuanced portrait of Luther as a complex person of many roles."—Marilyn J. Harran, Theological Studies

The sixteenth-century German friar whose public conflict with the medieval Roman Church triggered the Protestant Reformation, Martin Luther was neither an unblemished saint nor a single-minded religious zealot according to this provocative new biography by Scott Hendrix. The author presents Luther as a man of his time: a highly educated scholar and teacher and a gifted yet flawed human being driven by an optimistic yet ultimately unrealized vision of "true religion."
 
This bold, insightful account of the life of Martin Luther provides a new perspective on one of the most important religious figures in history, focusing on Luther's entire life, his personal relationships and political motivations, rather than on his theology alone. Relying on the latest research and quoting extensively from Luther's correspondence, Hendrix paints a richly detailed portrait of an extraordinary man who, while devout and courageous, had a dark side as well. No recent biography in English explores as fully the life and work of Martin Luther long before and far beyond the controversial posting of his 95 Theses in 1517, an event that will soon be celebrated as the 500th anniversary of the Reformation.
Scott H. Hendrix is emeritus professor of history, Princeton Theological Seminary, and the author of numerous works on Martin Luther and the sixteenth-century Reformation. He lives in Fearrington Village, NC.
"One of the best things about this humane and sensitive biography is that it sets Luther in context. Rather than the tormented hero of romantic myth, we have a busy scholar, teacher, preacher and writer surrounded by colleagues, friends and family, responding to the myriad unforeseen challenges that his epoch-changing insights had brought down on him. Enlivening circumstantial details ensure that Scott Hendrix's Luther truly inhabits his cultural, political and spiritual world."—Euan Cameron, author of The European Reformation
"I did not expect to learn much from reading yet another Luther biography. But I was wrong. Scott Hendrix's Luther is in many respects a primus inter pares—establishing a point of view that is not, in my opinion, the least of Hendrix's achievements in this important biography."—David Steinmetz, author of Luther in Context
"With astonishing conciseness, Hendrix goes a long way toward restoring the reputation of the father of the Reformation. . . . A fine, sturdy biography."—Ray Olson, Booklist (starred review)
"[A] richly detailed portrait."—D.G. Hart, Wall Street Journal
"Comprehensive . . . [Hendrix] balances theology and history well. . . . Highly recommended."—Risto Saarinen, First Things
"Outstanding . . . the material is colored in distinctively new hues . . . mining Luther's correspondence in a new, more thorough way. . . . To a great extent [Hendrix] allows Luther to tell us in his own words about the growth of his inner self."—Denis R. Janz, America
"Freshly insightful . . . [Hendrix] paints a sympathetic portrait of the movement's enigmatic founder."—S. Craig Sanders, Towers
"[Hendrix] presents an even-handed and engaging narrative of Luther's life and theological development . . . a nuanced portrait of Luther as a complex person of many roles."—Marilyn J. Harran, Theological Studies
"With a remarkable, admirable degree of precision and lucidity, Hendrix illuminates the life of one who has influenced five centuries of thought and action in the Western world and beyond, adding to his already significant contributions to Reformation scholarship."—Robert Kolb, Renaissance Quarterly
"His aim is both to present Luther's strengths and faults and to highlight the importance of the men (and women) in Luther's circle . . . written in an accessible style that should make the book of particular interest to a wider audience."—Karin Maag, Theology and History
"Hendrix draws out significant themes and ideas, which give his account a freshness and immediacy . . . he set himself the task of writing 'a good Luther biography [that] covered his entire life and was both free of Luther lore and based on the latest research'. He acknowledged that this is a significant challenge, but it is one that he has met here with great success."—Philip Broadhead, Journal of Modern History
"[Hendrix] truly deserves our gratitude, for he has [brought] Luther to life for twenty-first century readers. . . . This is a valuable and readable introduction to one of the great religious minds in western history that will no doubt be a staple resource for years to come."—W. Bradford Littlejohn, Anglican and Episcopal History
"A well-rounded perspective on the reformer. . . . Belongs on the bookshelves of all those interested in this hinge moment of Western intellectual and theological history."—Mark D. Tranvik, Interpretation: A Journal of Bible and Theology
"Compact . . . packs a great deal of information into a very readable narrative . . . Hendrix's biography demonstrates with admirable skill the ways in which the success of Luther's movement depended on a wider cast of friends, colleagues, rivals, and even enemies."—David Fink, Marginalia
"The narrative is vivid, not least because the author often brings together in a diary-like manner the countless and diverse writings, tasks, people, and events which filled Luther's days. . . . Hendrix [uses a] balanced historical as well as theological approach."—Dorothea Wendebourg, Lutheran Quarterly
ISBN:
9780300226379
Publication Date:
January 3, 2017
368 pages, 5 x 7 3/4
25 b/w illus.