A Little History of Archaeology
WARNING
You are viewing an older version of the Yalebooks website. Please visit out new website with more updated information and a better user experience: https://www.yalebooks.com
Brian Fagan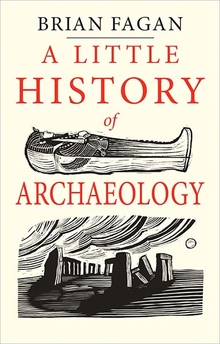 View Inside
Format:

Hardcover


Price:

$25.00
Also Available in:
PB-with Flaps
A "learned and lively" (Wall Street Journal) history of archaeological adventure—with tales of danger, debate, audacious explorers, and astonishing discoveries around the globe—for readers of all ages

What is archaeology? The word may bring to mind images of golden pharaohs and lost civilizations, or Neanderthal skulls and Ice Age cave art. Archaeology is all of these, but also far more: the only science to encompass the entire span of human history—more than three million years!
 
This Little History tells the riveting stories of some of the great archaeologists and their amazing discoveries around the globe: ancient Egyptian tombs, Mayan ruins, the first colonial settlements at Jamestown, mysterious Stonehenge, the incredibly preserved Pompeii, and many, many more. In forty brief, exciting chapters, the book recounts archaeology's development from its eighteenth-century origins to its twenty-first-century technological advances. Shining light on the most intriguing events in the history of the field, this absolutely up-to-date book illuminates archaeology's controversies, discoveries, heroes and scoundrels, global sites, and newest methods for curious readers of every age.
Brian Fagan is emeritus professor of anthropology, University of California, Santa Barbara, an internationally recognized authority on global prehistory, and the author of dozens of books on archaeological topics, including Fishing: How the Sea Fed Civilization.
"A wonderful introduction to the history of archaeology. . . . Captivating."—Archaeology
"The perfect introduction to archaeology and its rich and exciting history. Brian Fagan is a renowned excavator and author of numerous best-selling books on the subject, but this is not a textbook: it reads like a thriller and is impossible to put down."—Francis Pryor, author of Britain BC: life in Britain and Ireland before the Romans 
 
"Crisp, engaging and accessible ... In archaeology today, Brian Fagan is among the very best writers who are able to clearly and effectively communicate with the general public.  This excellent book is no exception." —Jeremy A. Sabloff, author of Archaeology Matters
 
'Brain Fagan is a masterful storyteller.  In this "history of," he captures the personality of archaeology though the principal voices of those who have directed its course for well over two centuries. Marvelous.'—Vernon L. Scarborough, University of Cincinnati
"An engaging and authoritative historical tour of archaeology. As Fagan reminds us, "The past is around for us all to experience and enjoy"—and there can be no better encouragement to do this than the story told in these pages."—Chris Scarre, author of The Human Past
"A terrific and engaging read by a master at the top of his game, told with great gusto and drawn from a lifetime of travelling, digging, observing and thinking about what makes us human."—Michael Wood, author of In Search of the Trojan War
"In a book about the study of archaeology, it would be easy to fill the pages with tales of digging derring-do. . . Brian Fagan, the noted prehistorian, does not disappoint in that regard, but neither does he provide a narrative of just one remarkable discovery after another. . . He charts the story from 19th-century treasure-hunting among the ruins of ancient Eygpt, up to today's professional, multi-disciplinary, scientific approaches."
—David Musgrove, BBC History
"Brian Fagan provides an entertaining account of the development of archaeology across the world. . . Fagan's recollections. . . help bring the history to life."—Current World Archaeology
"Learned and lively."—Wall Street Journal
"Anyone wishing to appreciate the pedigree of this unjustly overlooked item of furniture should dive between the covers of this volume to experience the ultimate bedtime story."—Current World Archaeology, January 2020
ISBN:
9780300224641
Publication Date:
April 10, 2018
288 pages, 5 1/2 x 8 1/2
40 b/w illus.