A Little History of Science
WARNING
You are viewing an older version of the Yalebooks website. Please visit out new website with more updated information and a better user experience: https://www.yalebooks.com
William Bynum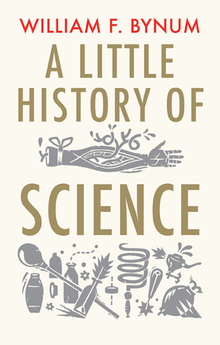 View Inside
Format:

PB-with Flaps


Price:

$15.00
Also Available in:
Cloth
e-book
Visit the Little History website
A spirited volume on the great adventures of science throughout history, for curious readers of all ages

Science is fantastic. It tells us about the infinite reaches of space, the tiniest living organism, the human body, the history of Earth. People have always been doing science because they have always wanted to make sense of the world and harness its power. From ancient Greek philosophers through Einstein and Watson and Crick to the computer-assisted scientists of today, men and women have wondered, examined, experimented, calculated, and sometimes made discoveries so earthshaking that people understood the world—or themselves—in an entirely new way.
This inviting book tells a great adventure story: the history of science. It takes readers to the stars through the telescope, as the sun replaces the earth at the center of our universe. It delves beneath the surface of the planet, charts the evolution of chemistry's periodic table, introduces the physics that explain electricity, gravity, and the structure of atoms. It recounts the scientific quest that revealed the DNA molecule and opened unimagined new vistas for exploration.
Emphasizing surprising and personal stories of scientists both famous and unsung, A Little History of Science traces the march of science through the centuries. The book opens a window on the exciting and unpredictable nature of scientific activity and describes the uproar that may ensue when scientific findings challenge established ideas. With delightful illustrations and a warm, accessible style, this is a volume for young and old to treasure together.
William Bynum is professor emeritus, history of medicine, University College London. He is author or editor of numerous publications, including most recently Great Discoveries in Medicine. He lives in Suffolk, UK.
"[An] entertaining history . . . for curious teen and adult readers."—Publishers Weekly
"A super-accessible introduction to science."—Booklist
"Bynum's lively narrative . . . certainly delivers on his opening line: 'Science is special.'"—Kirkus Reviews, starred review
"One advantage of a brief history is that this impressive roll of modern achievements unfolds while the leaps of prior centuries are still fresh in mind. That juxtaposition of what we know now verses what we knew then is breathtaking to contemplate. In Mr Bynum's telling, a little history goes a long way."—Alan Hirshfeld, Wall Street Journal
"I wish there had been such a book when I was a child. Bill Bynum's Little History of Science may be short but it tells a grand story: all of science lightly placed in ever-changing historical and philosophical contexts, but presented in a single arc from Empedocles to Tim Berners-Lee, Galen to Thomas Hunt Morgan, alchemy to insulin, the steam engine to the particle accelerator. It is a book I will be recommending for many years to come."—Christopher Potter, author of You Are Here: A Portable History of the Universe
"Well done Bill Bynum, a master of the scientific ordinance from the Big Bang to the Digital Age."—David Bellamy
"Science is not a dry recitation of data; it's thousands of years of questions that people have posed about the universe. In A Little History of Science, William Bynum ably distills this human saga into a delightfully clear tale. It may be little, but it manages to find room for galaxies, computers, chemistry, evolution and much more."—Carl Zimmer, author of A Planet of Viruses
"Small, but perfectly formed. In this little history, Bill Bynum has done a splendid job of weaving all the material into a narrative that is easy to understand. You will not find a better summary of the history of science."—Bernard Wood, author of Human Evolution: A Very Short Introduction
"This freshest entry in Yale's youngster-friendly Little History series covers science from Babylonian astronomy to the Human Genome Project and the Higgs Boson, in a series of lucid short chapters on telescopes, gases, engines, planetary orbits, cells, magnetism, pneumatic chemistry, continental drift and so forth. The author is particularly interesting on the history of medicine (his own field) . . . and he shows a gentle tolerant humour throughout."—Steven Poole, The Guardian
"A wonderful book to keep on the shelf and revisit over time."—PopMatters
"Yale's youngster-friendly Little History series continues with science from Babylonian astronomy to the Higgs boson particle in a series of lucid short chapters on telescopes, gases, engines, plantetary orbits, cells, magnetism, pneumatic chemistry, continental drift, and so forth . . .  [Bynum] takes a sly pleasure in pointing out that famous scientists have been deeply religious, and shows a gentle, tolerant humour throughout."—Steven Poole, The Guardian
"The book is a noble enterprise, an attempt to pull it all together."—David H. Galaty, The Historian
ISBN:
9780300197136
Publication Date:
September 10, 2013
272 pages, 5 1/2 x 8 1/2
40 b/w illus.