Latest Readings
WARNING
You are viewing an older version of the Yalebooks website. Please visit out new website with more updated information and a better user experience: https://www.yalebooks.com
Clive James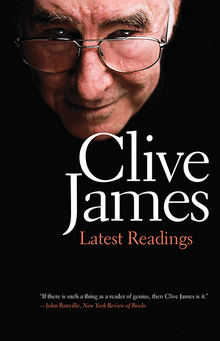 View Inside
Format:

Paper


Price:

$15.00
Also Available in:
Cloth
An esteemed literary critic shares his final musings on books, his children, and his own impending death

In 2010, Clive James was diagnosed with terminal leukemia. Deciding that "if you don't know the exact moment when the lights will go out, you might as well read until they do," James moved his library to his house in Cambridge, where he would "live, read, and perhaps even write." James is the award-winning author of dozens of works of literary criticism, poetry, and history, and this volume contains his reflections on what may well be his last reading list. A look at some of James's old favorites as well as some of his recent discoveries, this book also offers a revealing look at the author himself, sharing his evocative musings on literature and family, and on living and dying.

As thoughtful and erudite as the works of Alberto Manguel, and as moving and inspiring as Randy Pausch's The Last Lecture and Will Schwalbe's The End of Your Life Book Club, this valediction to James's lifelong engagement with the written word is a captivating valentine from one of the great literary minds of our time.
Clive James is an Australian memoirist, poet, translator, critic, and broadcaster. He has written more than thirty books of fiction, nonfiction, and poetry, including Cultural Amnesia.
"As a reader and writer confronting death, Clive James has all the creative energy and charm of a man discovering life. These thoughtful essays are immensely appealing, their tone is beautifully judged. Cleverly, he re-reads in order to measure the past. With this and his recent poetry, he could outlive us all."—Ian McEwan
"Clive James is perhaps the most original and distinctive literary-critical voice of the last half-century."—Martin Amis
"Clive James, brilliant to the (near) end, turns his readings and re-readings of everyone and everything from Hemingway and Conrad to Patrick O'Brian and Game of Thrones into sharp, funny meditations on—among much else—class, beauty, mimicry, memory, manhood, death (other people's), and life (his own). Long may his dazzling, long farewell continue."—Salman Rushdie
"In these farewell marginal notes to a life of bookishness, enthusiasm and playful dissent, Clive James disdains to go gentle or regretfully into Dylan Thomas's good night. He retains his energetic piquancy as he makes one more round of the garden of literary delights. The comparison of one old favourite to a Cord automobile is a signature flourish entirely, typically, his own. We shall miss him, but that rare tone of voice will stay with us."—Frederic Raphael
"Clive James's inevitable humor, sanity, erudition, enthusiasm, and crystal keenness are everywhere evident in Latest Readings, but perhaps its greatest grace is the opportunity it gives to feel as if you're spending time in his company, listening and learning for at least a little while longer. If its mini essays (and some not so mini) seem to float from James's mind into yours, it is only because a lifetime of reading, thinking, feeling, and formulating has gone into them, registering the pure, responsive authority of a writer with nothing left to prove but so much left to say."—James Wolcott
"A collection of beautifully thought-out, piquant essays, some only a few pages, that survey what [James] has been reading with the clock ticking. The results are entirely free of self-pity, and emanate vitality and invention . . . James relishes the limited reading time he has and makes no bones about it, providing sparkling commentary on his old favorites and new discoveries."—Publishers Weekly
"A box of bonbons for devoted readers."—Booklist
"The literary judgments in Latest Readings are as a sound as ever . . . [James's] credo: 'The critic should write to say not "look how much I've read" but "look at this, it's wonderful."' I submit: reader, look at this book, it's wonderful."—Philip Collins, Times
"This book possesses an undercurrent of brave, unsentimental reflection; the author is intermittently philosophical and, in the face of death, funny."—Thomas Swick, Weekly Standard
"[James] suggests that a critic 'should write to say, not "look how much I've read," but "look at this, it's wonderful."' I can think of no better advice to give for James's new book, as well as Manning's Balkan Trilogy. Look at these, they're wonderful."—Robert Gray, Shelf Awareness
"For the literature-obsessed, this slim volume is a delectable gift, a reminder of why one reads at all, especially when the mortal countdown timer is ticking loudly. And it proves that James is the rare literary critic who can speak deeply to a general audience, with a sense of humor and levity that suggests that high art can indeed be for everyone."—NPR Books
"If there is such a thing as a reader of genius, then Clive James is it. The pieces in Latest Readings are small, but small in the way that a Patek Philippe watch is—in other words, gleaming and intricately assembled miniatures."—John Banville, New York Review of Books
"Pick up Latest Readings. It's wonderful."—Michael Dirda, Washington Post
"This is the kind of writing we have always appreciated him for: perceptive, acerbic, laconic, witty . . . There is so much to enjoy here, so many infectious enthusiasms."—Sue Gaisford, The Tablet
"For a book written near to death, with 'the clock ticking,' there's nothing depressing about this. It's as light-hearted and enthusiastic as the best of his work; every passage a palpable pleasure and every essay full of provocative observations."—Hans Rollman, Popmatters
"The only complaint that people who consider serious reading to be essential to their lives can have with this book, is that it is over too soon. Latest Readings is an economical summing up of a long literary life. A life that James's readers will hope contains more years, more writing, and much more reading."—Larry Thornberry, American Spectator
"James is a critic inimitably and undeniably himself. Every sentence echoes with the confidence and calm of decades of thoughtful, attentive reading."—Maggie Galehouse, Houston Chronicle
"His qualities are his capacious intelligence, sardonic voice and fondness for wordplay and paradox . . . James has approached the time of his vanishing with grace and good humour, not sentimentality or anger. These essays and poems are death-haunted but radiant with the felt experience of what it means to be alive, even when mortally sick, especially when mortally sick."—Jason Cowley, Financial Times
"The courageous James is keeping his vitality and critical eye intact as his existential clock winds down. James writes in an endearingly personal voice about recommitting himself to stocking his ever-growing home library, and how the joy he takes in reading and collecting books hasn't diminished, unlike his physical state. Each of Latest Reading's slim, brisk essays feels like sitting with a genial old friend as he recites from and comments on the pile of books he keeps close at hand."—ArtsFuse
"[James's] splendid survival since against the odds has had the paradoxical effect of reacquainting readers on both sides of the Atlantic with just how great a figure he has been and how much we stand to lose at the end of the kindnesses of fate and modern medicine."—Buffalo News
"For those who prefer something more literary, this year's collection of Clive James's essays on a variety of literary topics, Latest Readings, is an eye-opener. Mr. James is terminally ill. This is sanity, humor and acuity in the face of death."—Mary Beard, Wall Street Journal
"Latest Readings is a plain demonstration that Mr. James remains as learned and as funny as any critic on earth."—Dwight Garner, New York Times
"If the [Nobel Prize in Literature] were ever to go to a critic, I'd give it to Clive James. He has so much erudition and high-stepping passion. He writes excellent poems and even better memoirs. He has delivered very good books of translation. He is a polymath. He is also very funny."—Dwight Garner, New York Times
ISBN:
9780300223552
Publication Date:
September 13, 2016
192 pages, 5 x 7 3/4