The Lost World of Byzantium
WARNING
You are viewing an older version of the Yalebooks website. Please visit out new website with more updated information and a better user experience: https://www.yalebooks.com
Jonathan Harris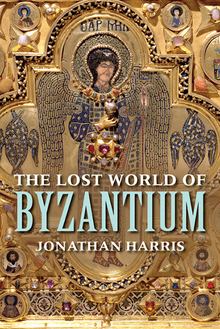 View Inside
Format:

Paper


Price:

$18.00
Also Available in:
Cloth
A fresh, concise, and accessible history of one of the medieval world's greatest empires

For more than a millennium, the Byzantine Empire presided over the juncture between East and West, as well as the transition from the classical to the modern world. Jonathan Harris, a leading scholar of Byzantium, eschews the usual run-through of emperors and battles and instead recounts the empire's extraordinary history by focusing each chronological chapter on an archetypal figure, family, place, or event.
 
Harris's action-packed introduction presents a civilization rich in contrasts, combining orthodox Christianity with paganism, and classical Greek learning with Roman power. Frequently assailed by numerous armies—including those of Islam—Byzantium nonetheless survived and even flourished by dint of its somewhat unorthodox foreign policy and its sumptuous art and architecture, which helped to embed a deep sense of Byzantine identity in its people.
 
Enormously engaging and utilizing a wealth of sources to cover all major aspects of the empire's social, political, military, religious, cultural, and artistic history, Harris's study illuminates the very heart of Byzantine civilization and explores its remarkable and lasting influence on its neighbors and on the modern world.
Jonathan Harris is professor of the history of Byzantium at Royal Holloway, University of London. He lives in London.
"For long consigned to the shadows of history, ignored, derided or caricatured, the preserve of academic specialists or Greek nationalists, the thousand-year Byzantine empire is only now belatedly emerging into the light of recognition as a major force in the development of Europe, the Mediterranean and the Near East. In this lively, learned, enlightening and accessible new study, Jonathan Harris explores and explodes past misconceptions by focusing on ten pivotal figures across ten centuries to demonstrate the protean quality of a civilization that masked vibrant, often desperate change behind a show of immemorial continuity. Harris's deft, engaging use of primary evidence allows Byzantium to reveal itself while always directing the reader to what is significant and illuminating, from vivid stories of individual drama to searching analysis of the social and cultural structures of the most lasting political institution of the Christian world."—Christopher Tyerman, author of God's War: A New History of the Crusades
"Jonathan Harris has done it again. His timely new history of Byzantium avoids 'the usual suspects' and instead offers a fresh take on this fabled but hidden civilization. Each chapter goes straight to the heart of history, opening a carefully chosen window onto one era in Byzantium's thousand-year lifespan. Frame by revealing frame, a story unfolds that is as lively and gripping as it is original and insightful. A hugely rewarding read from this generation's most exciting Byzantine historian."—Colin Wells, author of Sailing From Byzantium: How a Lost Empire Shaped the World
"Given the glut of introductory books on Byzantium now available there is the danger that another volume could be redundant, but Jonathan Harris's book is fresh and exciting. He writes with great verve and makes excellent use of case studies and anecdotes, summing things up efficiently and effectively. Harris rightly remarks on how Byzantium is sidelined and that its long survival needs to be appreciated and explained. This book provides a very valuable service."—Shaun Tougher, author of The Reign of Leo VI
"Harris' aim is to present a more nuanced account of Byzantine history, which emphasizes the vibrancy of the empire's culture, the extent of its influence, and, above all, the empire's remarkable adaptability . . . [the book] strikes a good balance between succinct exposition and elucidation of broader themes in political, military, social, religious and cultural history, thereby providing an excellent and engaging introduction to Byzantine history."—Doug Lee, History Today
"Harris is an efficient writer with an eye for entertaining detail, and as a result, the volume can be read with pleasure by general readers and younger students."—Choice
"Drawing on a diverse array of sources from numerous disciplines, Harris presents an accessible introduction to the major personalities, important disputes, and defining events of the Byzantine polity. . . . Casual readers as well as specialists will appreciate Harris's insightful and well-informed paean to an intriguing and resilient culture."—Publishers Weekly
"The Lost World of Byzantium is an excellent presentation for the literate general reader who wants to know more about Byzantine history, or for students who would like more story with their history."—Diana Gilliland Wright
"What about the remarkable society in which this distinctive imaginative world, based on the tension between matter and spirit, had been built up over so many centuries? Those who want to know can turn with confidence to Jonathan Harris's The Lost World of Byzantium."—Peter Brown, New York Review of Books
"Harris canters through the 11 centuries that followed the refoundation of the city of Byzantium by Constantine in the fourth century until its fall in 1453. He keeps up a swift pace as the fortunes of the empire ebb and flow . . . a welcome addition to an increasingly crowded field."—Peter Frankopan, Daily Telegraph
"Readers who want a well-written popularization of Byzantine history by an expert will . . . find Jonathan Harris's The Lost World of Byzantium the best choice available."—Warren Treadgold, Speculum
ISBN:
9780300223538
Publication Date:
October 25, 2016
280 pages, 5 x 7 3/4
16 pp. b/w