The Real Lives of Roman Britain
WARNING
You are viewing an older version of the Yalebooks website. Please visit out new website with more updated information and a better user experience: https://www.yalebooks.com
Guy de la Bédoyère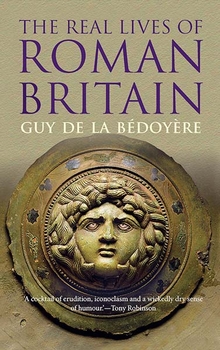 View Inside
Format:

Paper


Price:

$25.00
Also Available in:
Cloth
An innovative, informative, and entertaining history of Roman Britain told through the lives of individuals in all walks of life

The Britain of the Roman Occupation is, in a way, an age that is dark to us. While the main events from 55 BC to AD 410 are little disputed, and the archaeological remains of villas, forts, walls, and cities explain a great deal, we lack a clear sense of individual lives. This book is the first to infuse the story of Britannia with a beating heart, the first to describe in detail who its inhabitants were and their place in our history.
 
A lifelong specialist in Romano-British history, Guy de la Bédoyère is the first to recover the period exclusively as a human experience. He focuses not on military campaigns and imperial politics but on individual, personal stories. Roman Britain is revealed as a place where the ambitious scramble for power and prestige, the devout seek solace and security through religion, men and women eke out existences in a provincial frontier land. De la Bédoyère introduces Fortunata the slave girl, Emeritus the frustrated centurion, the grieving father Quintus Corellius Fortis, and the brilliant metal worker Boduogenus, among numerous others. Through a wide array of records and artifacts, the author introduces the colorful cast of immigrants who arrived during the Roman era while offering an unusual glimpse of indigenous Britons, until now nearly invisible in histories of Roman Britain.
Guy de la Bédoyère is author of Roman Britain: A New History and many other histories. He lives in Lincolnshire, UK.
"Guy de la Bédoyère brings Roman Britain to life in his own unique way: a cocktail of erudition, iconoclasm and a wickedly dry sense of humor."—Tony Robinson
'To redeem the dead and the forgotten from the shadows of obscurity is one of the noblest responsibilities that a historian can take on. All honour, then, to Guy de la Bédoyère for breathing life back into the spectres of Roman Britain.' - Tom Holland
"This is a very enjoyable book: well-organized, smartly presented and written in a lively style. A 'good read.'"—David Kennedy, author of The Roman Army in the East

'There could be no better guide to four centuries of British history than the men and women who lived and died in a completely different world to the emperors and kings of standard history books. Given a voice by someone who really understands them, Guy de la Bedoyere presents us with real lives of real people, from the Britons themselves to the Roman troops and settlers from across the ancient world as far afield as North Africa. This is history as everyday reality - this is Guy de la Bedoyere at his best.' - Joann Fletcher, author of Cleopatra the Great
"De la Bédoyère is engaging and thought-provoking throughout, telling the well-worn story of Roman Britain from a compelling and deeply affecting standpoint. This is history at its best." – Miles Russell, BBC History 
"[An] amazing, not overly-long book. . . . Mr. de la Bédoyère[,] your commentaries on the Boudican War, tribal politics, architecture, religion, the Imperial crisis of the third century, and much, much more provide a rich historical backdrop for the stories of the lives of the ordinary people who are the real stars of your book. Great read, and my hat is off to you, sir!"—Alex Johnston, UNRV.com
"De la Bédoyère considers each bit of evidence with wit and imagination, leading the reader with him on the path of discovery."—Pamela Toler, blogging at History in the Margins, from Shelf Awareness for Readers
"Guy de la Bedoyere brings Roman Britain back to life through an engrossing study of those many individuals whose lives may escape the grand narratives of historians but leave their trace in the archeological record… This is an imaginative and refreshing study which I enjoyed immensely."—Matthew Leigh, History Today
"The author's engaging style cannot hide his deep knowledge of the past. He puts the people back into Roman Britain to give us a refreshing and welcome take on a familiar history."—Edward Biddulph, Current Archaeology 
"The Real Lives of Roman Britain is a fine volume. It is an easy read that brings to lifemany everyday characters from Roman Britain and presents material that will be new to many readers."—Sam Moorhead, Journal of British Studies

"As a short history of Roman Britain, unencumbered by the apparatus of too much military history, it is one of the best available, both up-to-date and refreshingly skeptical."—Mary Beard, New York Review of Books
ISBN:
9780300223491
Publication Date:
November 22, 2016
264 pages, 5 13/16 x 8 15/16
32 color illus.