The Ukrainian Night
WARNING
You are viewing an older version of the Yalebooks website. Please visit out new website with more updated information and a better user experience: https://www.yalebooks.com
An Intimate History of Revolution
Marci Shore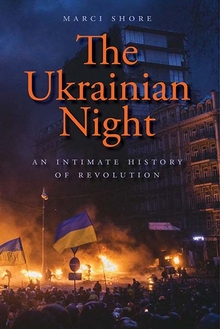 View Inside
Format:

Hardcover


Price:

$26.00
A vivid and intimate account of the Ukrainian Revolution, the rare moment when the political became the existential
 
"[Shore's] history entails an extraordinary declaration of the power of human will and self-determination."—Kate Brown, Times Literary Supplement
 
What is worth dying for? While the world watched the uprising on the Maidan as an episode in geopolitics, those in Ukraine during the extraordinary winter of 2013–14 lived the revolution as an existential transformation: the blurring of night and day, the loss of a sense of time, the sudden disappearance of fear, the imperative to make choices.
 
In this lyrical and intimate book, Marci Shore evokes the human face of the Ukrainian Revolution. Grounded in the true stories of activists and soldiers, parents and children, Shore's book blends a narrative of suspenseful choices with a historian's reflections on what revolution is and what it means. She gently sets her portraits of individual revolutionaries against the past as they understand it—and the future as they hope to make it. In so doing, she provides a lesson about human solidarity in a world, our world, where the boundary between reality and fiction is ever more effaced.
Marci Shore is associate professor of history at Yale University and award-winning author of Caviar and Ashes and The Taste of Ashes. She has spent much of her adult life in Central and Eastern Europe.
"[Shore's] history entails an extraordinary declaration of the power of human will and self-determination."—Kate Brown, Times Litererary Supplement
"The Ukrainian Night . . . seeks to portray the ideals that animated the protesters. Shore succeeds admirably, particularly because she tells the story through their words. . . . Her depictions of the sights, sounds and smells on the Maidan [are] superb."—Rajan Menon, New York Times Book Review
"Shore draws evocative portraits of the Ukrainian demonstrators who braved beatings and even death in 2013 to protest the government of President Viktor Yanukovych."—New York Times Book Review, Editors' Choice
"Ms. Shore identifies the surrealism exemplified in the war as an enduring cultural divide. In the West people tended to believe that 'there were constraints on reality', whereas 'eastern Europeans knew that anything was possible'. One fear that stalks this short, powerful book is that this distinction is breaking down, and not as the revolutionaries intended—that Ukraine, with its saturating propaganda and warped identity politics, might be a vision of the West's future rather than the other way round."—The Economist
"[Shore] records the simple but searing thoughts and impulses of those who fought or were caught up in the war. . . . Literature offers added resonance: for Shore, echoes from novels and short stories run through the tales she hears; for some of those who lived through these events, poetry was a sustaining force."—Robert Legvold, Foreign Affairs
"The Ukrainian Night is an engrossing study of key perspectives on the Maidan protests from 2013 to 2014 and presents a lived experience of these tumultuous and uncertain days for Ukrainian society."—Elliot Dolan-Evans, Journal of Soviet and Post-Soviet Politics and Society
"The Ukrainian Night is a must-read for reformers, the diplomatic corps, journalists, and friends of Ukraine—if for no other reason than to remember what they sacrificed, what bound strangers together, and how far the country has come. It can also be read as a call for renewal. . . . Shore is a skillful and beautiful writer, and it's impossible to come away from the book without a renewed sense of optimism and hope for Ukraine's future."—Melinda Haring, Atlantic Council
"The book is written in a Hemingway-esque style, making judicious choice of vignettes and swiftly moving from one topic to another. . . . The Ukrainian Night contributes to the burgeoning literature on Ukraine's Revolution of Dignity by capturing the essence of the revolution through the lens of Ukrainian intellectuals."—Olena Nikolayenko, Slavic Review
"Her book addresses [this series of] questions [on revolution] obliquely, in a beautifully written series of snapshots that will bring the 'extraordinary' quality of recent events to a general reader."—Mayhill C. Fowler, Russian Review
"Shore gives us a moving and readable account of a major conflict of values in twenty-first-century Europe."—Zbigniew Wojnowski, Journal of Modern History
"As a guide, an historian, and a storyteller, Shore shows us the complex choices faced by the Ukrainians by artfully interweaving their personal experiences with the intellectual, social, and political history of the region."—Anne Applebaum, Pulitzer Prize-winning author of Gulag: A History and Iron Curtain: The Crushing of Eastern Europe, 1944–1956
"An excellent guide to understanding the Maidan Revolution in Ukraine, and its consequences. Shore has deep knowledge of the region, its history, and its current torment, and offers a lucid evaluation of the complicated evolution of Eastern Europe, which faces a dangerous situation. Her book is well written and honestly and deeply documented through direct and acute observations of facts on the ground."—Norman Manea, Francis Flournoy Professor of European Studies and Writer in Residence, Bard College
"Shore has the rare capacity to listen to hundreds of voices and turn them into both story and history—the finest possible achievement for any writer. In this book, she brings to life the protests and revolution in Ukraine from 2013-2014 by pairing personal anecdotes with political and historical analysis, showing readers how violence can affect one's own friends and acquaintances, inspiring them to start a revolution."—Slavenka Drakulic, author of How We Survived Communism and Even Laughed
"The best way to make sense of a revolution unfolding in front of your eyes is to fall in love with it. This is exactly what Marci Shore does in this insightful, moving, and beautifully written reflection on the Ukrainian Maidan."—Ivan Krastev, Chairman, Center for Liberal Strategies, Sofia, Bulgaria
"Marci Shore, one of the most original American historians today, conjures up the Maidan, the first truly postmodern revolution, with lively scenes and invocations of the layers of a complex past. Her book preserves the memory of this historical moment, which has a unique significance for our political future."—Hans Ulrich Gumbrecht, Albert Guérard Professor in Literature, Stanford University
"This remarkable book gives you a sense of the Euromaidan in Kiev as lived experience, seen through the eyes of a host of very different participants. Shore brilliantly captures the contingency, uncertainty, and chaos that was transmuted into the remarkable, seemingly transcendent solidarity of the Maidan's unified resistance to a corrupt and cruel régime."—Charles Taylor, Professor Emeritus of Philosophy, McGill University
"Marci Shore shows us the history of the Ukrainian revolution set against the backdrop of ideas lived by concrete people. This professional historian does not hesitate to transcend the boundaries of her discipline by writing about herself, befriending her subjects, and openly identifying with the ideas she writes about. The empathetic criticism she practices makes for an excellent read and encourages engagement on the part of the reader."—Slawomir Sierakowski, Krytyka Polityczna, Institute for Advanced Study in Warsaw
ISBN:
9780300218688
Publication Date:
January 9, 2018
320 pages, 5 1/2 x 8 1/4
2 b/w illus.