Itch, Clap, Pox
WARNING
You are viewing an older version of the Yalebooks website. Please visit out new website with more updated information and a better user experience: https://www.yalebooks.com
Venereal Disease in the Eighteenth-Century Imagination
Noelle Gallagher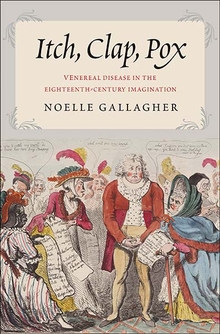 View Inside
Format:

Hardcover


Price:

$65.00
A lively interdisciplinary study of how venereal disease was represented in eighteenth-century British literature and art

In eighteenth-century Britain, venereal disease was everywhere and nowhere: while physicians and commentators believed the condition to be widespread, it remained shrouded in secrecy, and was often represented using slang, symbolism, and wordplay. In this book, literary critic Noelle Gallagher explores the cultural significance of the "clap" (gonorrhea), the "pox" (syphilis), and the "itch" (genital scabies) for the development of eighteenth-century British literature and art.
 
As a condition both represented through metaphors and used as a metaphor, venereal disease provided a vehicle for the discussion of cultural anxieties about gender, race, commerce, and immigration. Gallagher highlights four key concepts associated with venereal disease, demonstrating how infection's symbolic potency was enhanced by its links to elite masculinity, prostitution, foreignness, and facial deformities. Casting light where the sun rarely shines, this study will fascinate anyone interested in the history of literature, art, medicine, and sexuality.
Noelle Gallagher is Senior Lecturer in Eighteenth-Century Literature and Culture at the University of Manchester. She is the author of Historical Literatures: Writing About the Past in England, 1600-1740.
"A fascinating exploration, rich in unexpected finds and insightful commentaries. Noelle Dückmann Gallagher is a smart and accomplished guide to eighteenth-century disease and its surprising array of meanings." - Thomas Keymer, University of Toronto
"Lively and lucid, rigorous and wide-ranging, Itch, Clap, Pox is essential reading for anyone interested in the metaphorics and cultures of disease in the literature and art of the British long eighteenth century." - Professor Clark Lawlor, Author of Consumption and Literature: The Making of the Romantic Disease.
"In eighteenth-century Britain, what do high-ranking men, prostitutes, foreigners and those with deformities, especially disfigured noses, have in common? Venereal disease, as Gallagher demonstrates in this wonderfully original, groundbreaking work."—Peter Sabor, McGill University
"Tainted love, self-destructing bodies, and corrupted nationhood - Noelle Gallagher's richly-documented study reveals the pervasive grip of venereal disease on the 18th-century fictional imagination."—Faramerz Dabhoiwala, author of The Origins of Sex: A History of the First Sexual Revolution
"Books about sex and illness in the long eighteenth century routinely issue from prestigious academic presses, yet each time something more continues to cry out to be said. Itch, Clap, Pox adroitly demonstrates how far the subject is from being exhausted." - George Rousseau, co-author of Gout: The Patrician Malady, Yale University Press
"Sensitive . . . deftly researched."—A.W. Lee, Choice
"[A] deeply erudite and richly illuminating study of images of venereal disease in British literature and visual art in the 'long eighteenth century' that began with the restoration of the monarchy in 1660."—Fintan O'Toole, New York Review of Books
"Noelle Gallagher's fascinating and entertaining new book, Itch, Clap, Pox, is not so much about the reality of sexually transmitted infections (STIs) during the 18th century as it is about how STIs were imaginatively constructed during the period.  The book is important and successful because it looks at how artists and writers used 'venereal disease'…. to negotiate issues such as sexism, capitalism, nationalism, and racism."—Norbert Schurer, Los Angeles Review of Books
"Gallagher's lively account of literary works and visual imagery points us to the larger significance of what might appear randomly unpleasant examples. She suggests there is more to be done in connecting the material explored in this book with representations of infection in other periods; but that is to miss the particularity, and oddity, almost relish, that we find in literary and artistic expression between 1660 and 1800."—Norma Clarke, The Times Literary Supplement
"As Noelle Gallagher shows in her elegant book, venereal disease was intellectually and imaginatively useful in this period: the obscurity, changeability and shiftiness people saw in its symptoms could be turned outwards.... The great appeal of Gallagher's approach is that she recognises [the eighteenth century's] weirdness.... The pox and the clap altered bodies but they also altered minds, infiltrating language and image: like conspiracies, they made everything seem connected."—Clare Bucknell, London Review of Books
"A delightful and important study. . . . Itch, Clap, Pox is a pleasure to read. It is also invariably thought-provoking. As a study of disease, its representation, and its cultural implications, Gallagher's study will engage any scholar of sexuality, as well as anyone interested in medicine, art, literature, or eighteenth-century culture."—Marie E. McAllister, Journal of the History of Sexuality
ISBN:
9780300217056
Publication Date:
January 29, 2019
288 pages, 6 1/8 x 9 1/4
40 b/w illus.