Christ's Associations
WARNING
You are viewing an older version of the Yalebooks website. Please visit out new website with more updated information and a better user experience: https://www.yalebooks.com
Connecting and Belonging in the Ancient City
John S. Kloppenborg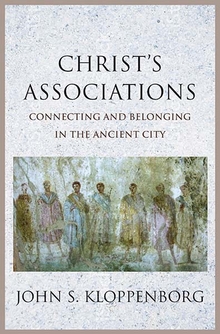 View Inside
Format:

Hardcover


Price:

$40.00
A groundbreaking investigation of early Christ groups in the ancient Mediterranean

As an urban movement, the early groups of Christ followers came into contact with the many small groups in Greek and Roman antiquity. Organized around the workplace, a deity, a diasporic identity, or a neighborhood, these associations gathered in small face-to-face meetings and provided the principal context for cultic and social interactions for their members. Unlike most other groups, however, about which we have data on their rules of membership, financial management, and organizational hierarchy, we have very little information about early Christ groups.

Drawing on data about associative practices throughout the ancient world, this innovative study offers new insight into the structure and mission of the early Christ groups. John S. Kloppenborg situates the Christ associations within the broader historical context of the ancient Mediterranean and reveals that they were probably smaller than previously believed and did not have a uniform system of governance, and that the attraction of Christ groups was based more on practice than theological belief.
John S. Kloppenborg is university professor and chair of the Department for the Study of Religion at the University of Toronto. A specialist in Christian origins, he has written extensively on the Synoptic Sayings Gospel (Q) and the parables of Jesus.
"This exceptionally important book offers a clearer understanding of who the early Christ followers really were, where they came from, and how their way of life eventually evolved into the preferred 'religion' of the Roman Empire."—Anders Runesson, author of The Origins of the Synagogue
 
 
"John Kloppenborg employs his unmatched knowledge of Greek and Roman associations to construct the first systematic comparison of these small groups with early Christ assemblies. This is a masterpiece of historical research and a model of comparative method."—Larry L. Welborn, author of The Young Against the Old
"Why did early Christian groups organize themselves the way they did? What might have attracted people to them? These are questions John Kloppenborg addresses with exemplary clarity and force of argument."—Arjan Zuiderhoek, author of The Ancient City
"This data-rich book is a must-read for those interested in the world of earliest Christianity, providing new understandings of social history and of philology. The reader will learn about the rich, the powerful, the citizen and about the immigrant, the artisan, the laborer, the enslaved, and the poor."—Laura Nasrallah, author of Archaeology and the Letters of Paul
 
"A watershed in New Testament scholarship, Christ's Associations is an exciting interpretation of epigraphic sources, which reframes questions of constant debate. One example is Kloppenborg's choice to translate membership lists of guilds, rather than focusing on spaces for assemblies."—David Balch, author of Contested Ethnicities and Images
"This is an outstanding work, written by one of the most experienced scholars on Greco-Roman associations and the history of Early Christianity. Kloppenborg offers exciting new insights that will effectively change our perception of Christ groups in the first three centuries."— Markus Öhler, author of History of Early Christianity
"Employing a decade's work on Greek and Roman associations, John Kloppenborg answers important questions about Christ assemblies such as: What was their size? How was membership monitored? This volume liberates readers to think about early Christianity afresh."—Clare K. Rothschild, author of New Essays on the Apostolic Fathers
 
"An impressive achievement and a leap forward for scholarship of early Christianity. Kloppenborg paints a vivid picture of life in Greco-Roman associations and shows that early Christ assemblies can only be understood when seen in that light."—Koenraad Verboven, author of The Economy of Friends
 
"This historical masterpiece delivers at last a comprehensive analysis and catalogue of the many lawful associations that documented themselves publicly within the Roman world. The riveting title alone frees us from the conceptual stereotypes of religion, church and Christianity.  We can now focus clearly on what it was that marks off Christ's associations from the rest, for example their didactic drive."—Edwin Judge, Emeritus Professor of History, Macquarie University
 
"Kloppenborg's combination of a wide range of evidence based on epigraphic, documentary, literary and archaeological data to present a fresh perspective for understanding the New Testament and early Christ assemblies, is both remarkable and worthy of applause…A must-read for New Testament scholars and deserves a permanent spot on reading lists for classes on Paul and the social-historical context of the New Testament."—C.M. Kreinecker, Ephemerides Theologicae Lovanienses
"Kloppenborg's incisive study . . . [makes] novel yet cogent suggestions regarding the size, patronization, social complexion, and funding technologies of early Christ groups. . . . Its technical incision and historical perspicacity render Christ's Associations useful for social historians of Mediterranean antiquity . . . [and] an essential methodological conditioner for scholars, teachers, and students of early Christianity."—Jonah Bissell, Religious Studies Review
 
Winner of the 2021 Frank W. Beare Award, sponsored by the Canadian Society of Biblical Studies
ISBN:
9780300217049
Publication Date:
November 26, 2019
536 pages, 6 1/8 x 9 1/4
27 b/w illus.